Skin-Deep Orange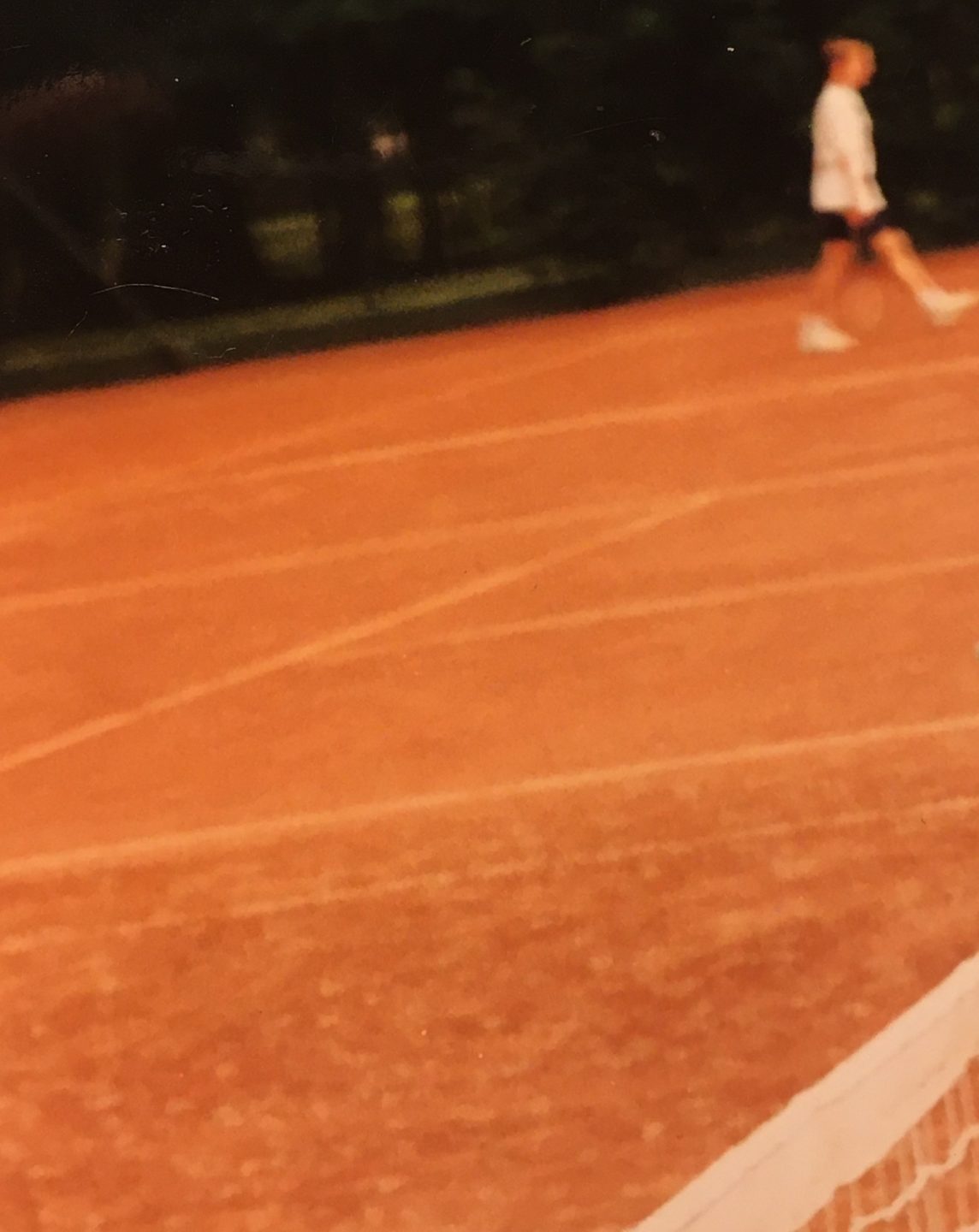 The COLOR CODEX series — to which SEMIOVOX has invited our semiotician colleagues from around the world to contribute — explores the unexpected associations evoked for each of us by specific colors found in the material world.
---
For me, the color orange signifies a positive, hopeful future — a promise that not only my life but the world is headed in the right direction. Until I was asked to participate in this series, I couldn't have explained why I felt this way. After giving it some thought, however, I've come to realize that it's a specific hue of orange — that of clay tennis courts — which has become associated, for me, with high points in my family history.
In the late 1920s, my grandmother was an amateur tennis champion of Białystok, a city in northeastern Poland. I have vivid memories of her reminiscing — for hours — about Fred Perry's flawless technique, and about how the Paris Major switched to the Roland Garros stadium in 1928, where matches were contested on clay courts whose orange-ish color came from red brick dust on top of a layer of crushed white limestone. This post-Great War period of hope and prosperity was the best time of her life.
My father, who was born after the Second World War, could not fulfill his dream of becoming a tennis player in the postwar Poland ruled by the communist state. Not until he went to university in Sopot (home of one of the oldest tennis clubs in Poland) during the "Polish thaw" of 1956, when the country's hardline Stalinist faction was weakened, was he able to get himself a racket and practice his tennis game regularly. He even rented an apartment directly overlooking eight full-sized orange clay courts.
In 1988, massive workers' strikes broke out in the Polish People's Republic, eventually leading to the first elections in postwar Poland — in June 1989 — and the end of communist rule. I was six years old, at the time; my father signed me up at Sopot's tennis club. The orange of the tennis courts was remarkable, to me; it offered a striking contrast with the dull, backward grayness of the communist era's concrete buildings. My childhood revolved around the club; the dust stained my clothing and possessions. When I fell on the court, little bits of orange brick became embedded under my skin. I literally became orange — which gave me terrific confidence in whatever was coming.
I gave up tennis in 2001, and although the lumps of brick are still under my skin, they're no longer colorful. However, whenever I pass by an orange tennis court — for example, when taking a walk to a nearby forest with my family — I feel reassured.
---
COLOR CODEX: Martha Arango (Sweden) on FALUKORV RED | Audrey Bartis (France) on KYOTO MOSS | Maciej Biedziński (Poland) on SKIN-DEEP ORANGE | Natasha Delliston (England) on MARRAKECH MINT | Whitney Dunlap-Fowler (USA) on RESURRECTION CANARY BLUE | Josh Glenn (USA) on TOLKIEN GREEN | Aiyana Gunjan (India) on LETTERBOX RED | Sarah Johnson (Canada) on ARMY GREEN | Gemma Jones (Netherlands) on TBD | Lucia Laurent-Neva (England) on TEAL BLUE VOYAGER | Rachel Lawes (England) on DEVIL GREEN | Charles Leech (Canada) on STORMTROOPER WHITE | William Liu (China) on PINING GREEN | Ramona Lyons (USA) on GOTH PURPLE | Sónia Marques (Portugal) on RUNAWAY BURRO | Max Matus (Mexico) on CALIFORNIAN BLUE | Chirag Mediratta (Canada / India) on AUROVILLE ORANGE | Clio Meurer (France) on PARIS LUMINOUS GREY | Elodie Laye Mielczarek (France) on TBD | Serdar Patkin (Turkey / England) on AMBIENT AMBER | Maria Papanthymou (Russia / Greece) on AGALMATOLITE WHITE | Vijay Parthasarathy (USA) on ALPHONSO YELLOW | Greg Rowland (England) on LAUNDROMAT FUTURA | Tim Spencer (England) on ELECTRO-EROTIC COBALT | Ximena Tobi (Argentina) on VILLA MISERIA BRICK | Alfredo Troncoso (Mexico) on BORGES GLAUQUE.
Also see these series: COVID CODES | SEMIO OBJECTS | MAKING SENSE WITH… | COLOR CODEX