Agal­mato­lite White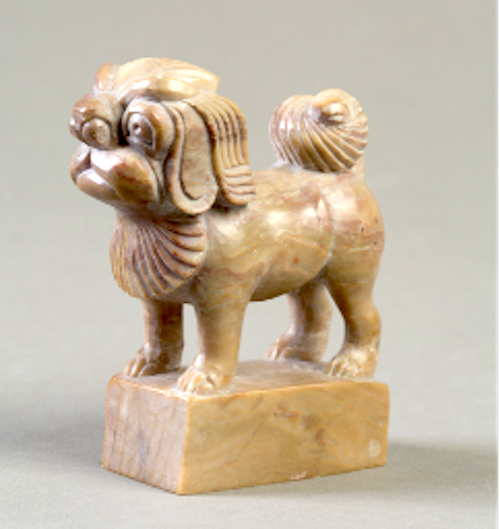 The COLOR CODEX series — to which SEMIOVOX has invited our semiotician colleagues from around the world to contribute — explores the unexpected associations evoked for each of us by specific colors found in the material world.
---
When I was 7 or 8, we lived in Tuva, a small republic in southern Siberia — at the geographical center of Asia.
I used to spend a lot of time at home alone, where I'd often contemplate a figurine of a lion (arzylan) straight out of Siberian fairy tales — a kind fairy-tale lion, not an angry one — that I'd watched my uncle carved using traditional Tuvinian technique. Although the stone he used looked firm, my uncle transformed it into a lion's shape easily, as though working with a piece of soap. He'd employed agalmatolite, a soft stone often used by Chinese carvers to create miniature pagodas. The agalmatolite stone's color was white: mainly ivory, but with small patches of creamy white, light brown, and grey.
I never grew tired of examining the lion figurine — which is long gone, unfortunately. (The carving above resembles it, though.) The satiny matte surface was pleasant to the eye as well as to the touch; it retained the white agalmatolite's depth and complexity. There was always something new and interesting — a little detail, a shade, which would change in a blink of light — to discover.
If I want to summon up the feeling of calmness I possessed in those days, particularly during a sunny Siberian autumn, all I have to do is close my eyes and think about that stone lion.
---
COLOR CODEX: Martha Arango (Sweden) on FALUKORV RED | Audrey Bartis (France) on KYOTO MOSS | Maciej Biedziński (Poland) on SKIN-DEEP ORANGE | Natasha Delliston (England) on MARRAKESH MINT | Whitney Dunlap-Fowler (USA) on RESURRECTION CANARY BLUE | Josh Glenn (USA) on TOLKIEN GREEN | Aiyana Gunjan (India) on LETTERBOX RED | Sarah Johnson (Canada) on ARMY GREEN | Gemma Jones (Netherlands) on TBD | Lucia Laurent-Neva (England) on TEAL BLUE VOYAGER | Rachel Lawes (England) on DEVIL GREEN | Charles Leech (Canada) on STORMTROOPER WHITE | William Liu (China) on PINING GREEN | Ramona Lyons (USA) on GOTH PURPLE | Sónia Marques (Portugal) on RUNAWAY BURRO | Max Matus (Mexico) on CALIFORNIAN BLUE | Chirag Mediratta (Canada / India) on TBD | Clio Meurer (France) on PARIS SKY SILVER | Elodie Laye Mielczarek (France) on TBD | Serdar Patkin (England) on AMBIENT AMBER | Maria Papanthymou (Greece) on AGALMATOLITE WHITE | Vijay Parthasarathy (USA) on ALPHONSO YELLOW | Greg Rowland (England) on LAUNDROMAT FUTURA | Ximena Tobi (Argentina) on VILLA MISERIA BRICK | Alfredo Troncoso (Mexico) on BORGES GLAUQUE.
Also see these series: COVID CODES | SEMIO OBJECTS | MAKING SENSE WITH… | COLOR CODEX