Resur­rection Canary Blue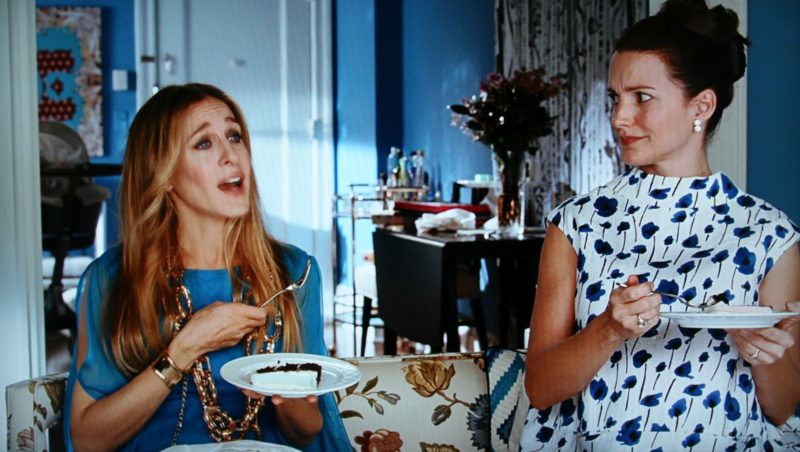 The COLOR CODEX series — to which SEMIOVOX has invited our semiotician colleagues from around the world to contribute — explores the unexpected associations evoked for each of us by specific colors found in the material world.
---
The first time I really took notice of the color was in Carrie Bradshaw's apartment — yes, that Carrie Bradshaw. It coated multiple walls and closet spaces, as if to announce to the world Carrie's survival (in spite of the wedding with Mr. Big that failed to happen). I had never seen such a brightly saturated hue in a small space done so well, and to this day it sticks with me.
I did not realize I'd encountered this color before — shortly after the death of my mother.
After a tumultuous four-year struggle with cancer, my mother left me and my brother the only things she could: invaluable life lessons, a ridiculous amount of love, and a little bit of spending money. Her death, for me, evoked a confusing mix of emotions that ranged from relief to abysmal dismay. One particularly unexpected outcome was a newfound sense of freedom. I'd been living in Chicago with little to no money or job security — having moved there at the height of an economic recession. Suddenly I was free to move on, knowing that my mother would be at my side, in spirit, for all of my adventures to come.
Now that I had the means to furnish my apartment, the first thing I did with the money she left me was purchase a couch. Months later, at an art show on Chicago's South Side, I came across a painting; it was on the ground, and reached as high as my waist. When I glanced down at it, it appeared to be nothing more than abstract pieces of sheet metal. Walking away, I glanced back… and saw very clearly a woman looking back at me, a woman depicted in vibrant shades of canary blue, teal, magentas, and dark blues. Stunned, I thought about all the work that went into creating such a beautiful mosaic — and about the way in which the artwork drew me in, coy at first but clearly strong and present. I had to have it. Similar to Carrie, I'd lost someone significant, and now I was emerging anew. And despite the differences in our storylines, the color of our resurrection was the same: canary blue.
Today, the painting is a key centerpiece in my living room. In fact, it serves as an inspiration for everything else with which I decorate my home. While it reminds me of a time filled with uncertainty and tearful nights, more than anything it reminds me of the peace and sense of renewal that came after that time.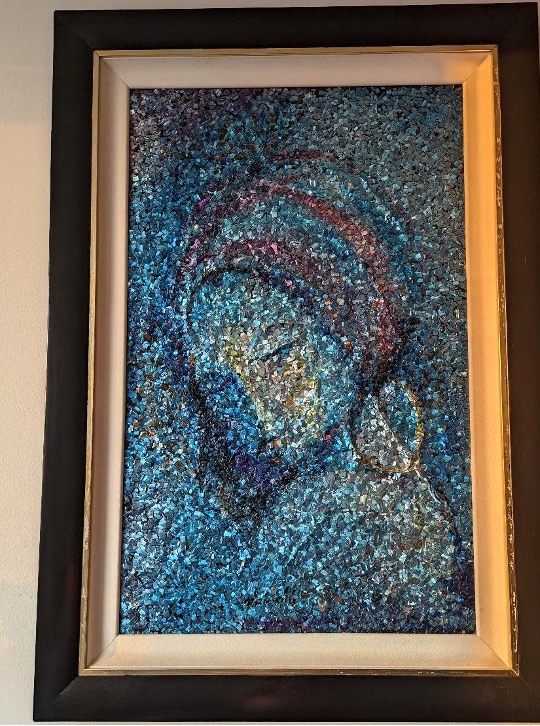 ---
COLOR CODEX: Martha Arango (Sweden) on FALUKORV RED | Audrey Bartis (France) on KYOTO MOSS | Maciej Biedziński (Poland) on SKIN-DEEP ORANGE | Natasha Delliston (England) on MARRAKESH MINT | Whitney Dunlap-Fowler (USA) on RESURRECTION CANARY BLUE | Josh Glenn (USA) on TOLKIEN GREEN | Aiyana Gunjan (India) on LETTERBOX RED | Sarah Johnson (Canada) on ARMY GREEN | Gemma Jones (Netherlands) on TBD | Lucia Laurent-Neva (England) on TEAL BLUE VOYAGER | Rachel Lawes (England) on DEVIL GREEN | Charles Leech (Canada) on STORMTROOPER WHITE | William Liu (China) on PINING GREEN | Ramona Lyons (USA) on GOTH PURPLE | Sónia Marques (Portugal) on RUNAWAY BURRO | Max Matus (Mexico) on CALIFORNIAN BLUE | Chirag Mediratta (Canada / India) on AUROVILLE ORANGE | Clio Meurer (France) on PARIS LUMINOUS GREY | Elodie Laye Mielczarek (France) on TBD | Serdar Patkin (Turkey / England) on AMBIENT AMBER | Maria Papanthymou (Russia / Greece) on AGALMATOLITE WHITE | Vijay Parthasarathy (USA) on ALPHONSO YELLOW | Greg Rowland (England) on LAUNDROMAT FUTURA | Tim Spencer (England) on ELECTRO-EROTIC COBALT | Ximena Tobi (Argentina) on VILLA MISERIA BRICK | Alfredo Troncoso (Mexico) on BORGES GLAUQUE.
Also see these series: COVID CODES | SEMIO OBJECTS | MAKING SENSE WITH… | COLOR CODEX