Villa Miseria Brick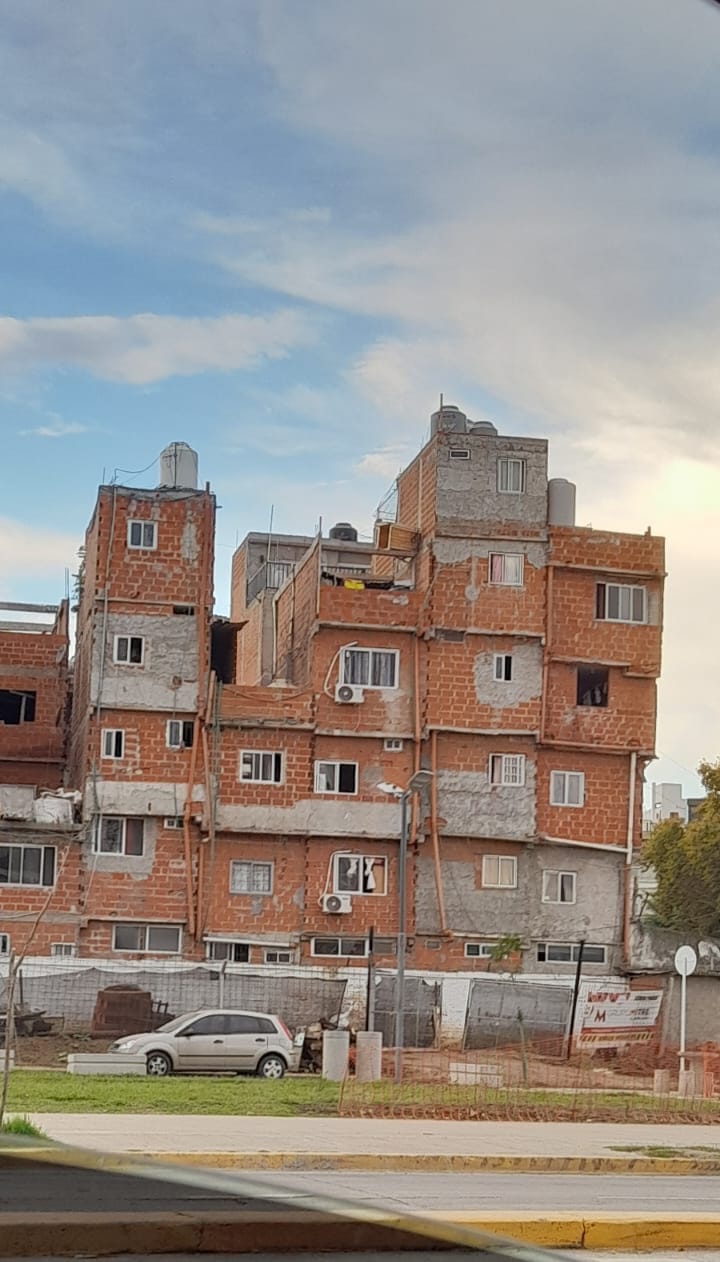 The COLOR CODEX series — to which SEMIOVOX has invited our semiotician colleagues from around the world to contribute — explores the unexpected associations evoked for each of us by specific colors found in the material world.
---
From the train, or from the car driving along the highway, in Buenos Aires we see informal neighborhoods, built on state land occupied by poor people, many of them migrants from the provinces or neighboring countries. Each of these is a shanty town — popularly known as a villa miseria, or simply a villa. In the last fifty years, these villas have grown larger as social inequality in the region has deepened. They are instantly recognizable by the unplastered and unpainted brick buildings, squeezed together to make the most of what little land is available.
These buildings have been constructed without meeting any standards other than the solidity of walls and roofs to shelter the life and dreams of a family in a single room. A distant glimpse of the grid of walls attached to each other, also gridded by the cement lines that join the rows of bricks, is enough for many people to decide not to go any closer, because a villa is a dangerous area. It is true that it is dangerous, but it is not only that. Three years ago I started doing voluntary work in a villa in the southern part of Buenos Aires. As I continued to walk around those unplastered brick walls, once a week, I started to know what was happening on the other side of those irregular walls — and why the process of construction is endless.
I learned that erecting those brick walls is a typical activity each time a family gets bigger — and a new room is needed. Bricklaying is one of the most common trades among men living in villas; knowing how to build those walls is the difference between having and not having a house to live in. The families may not own the land they live on, but they own the walls and roof they have built with their own hands. Plastering and exterior painting are lower on the list of priorities than other comforts of the house, when there is not enough money for everything.
The lack of "finished" construction has made the pale brick color — interrupted by the rough grey of cement — an unmistakable visual sign of material poverty here in Argentina. However, to me it's also the color of communal knowledge shared among neighbors seeking have a better life, stories of resilience in overcoming adversity, and joyous celebrations of children's achievements. We noticed these villas less and less, as we grow used to their existence… but I hope that I will never stop noticing them. For me, they are a reminder of my place in my country's social pyramid — and of the burning question What I can do about it?
---
COLOR CODEX: Martha Arango (Sweden) on FALUKORV RED | Audrey Bartis (France) on KYOTO MOSS | Maciej Biedziński (Poland) on SKIN-DEEP ORANGE | Natasha Delliston (England) on MARRAKESH MINT | Whitney Dunlap-Fowler (USA) on RESURRECTION CANARY BLUE | Josh Glenn (USA) on TOLKIEN GREEN | Aiyana Gunjan (India) on LETTERBOX RED | Sarah Johnson (Canada) on ARMY GREEN | Gemma Jones (Netherlands) on TBD | Lucia Laurent-Neva (England) on TEAL BLUE VOYAGER | Rachel Lawes (England) on DEVIL GREEN | Charles Leech (Canada) on STORMTROOPER WHITE | William Liu (China) on PINING GREEN | Ramona Lyons (USA) on GOTH PURPLE | Sónia Marques (Portugal) on RUNAWAY BURRO | Max Matus (Mexico) on CALIFORNIAN BLUE | Chirag Mediratta (Canada / India) on AUROVILLE ORANGE | Clio Meurer (France) on PARIS LUMINOUS GREY | Elodie Laye Mielczarek (France) on TBD | Serdar Patkin (Turkey / England) on AMBIENT AMBER | Maria Papanthymou (Russia / Greece) on AGALMATOLITE WHITE | Vijay Parthasarathy (USA) on ALPHONSO YELLOW | Greg Rowland (England) on LAUNDROMAT FUTURA | Tim Spencer (England) on ELECTRO-EROTIC COBALT | Ximena Tobi (Argentina) on VILLA MISERIA BRICK | Alfredo Troncoso (Mexico) on BORGES GLAUQUE.
Also see these series: COVID CODES | SEMIO OBJECTS | MAKING SENSE WITH… | COLOR CODEX