Haunted Spoon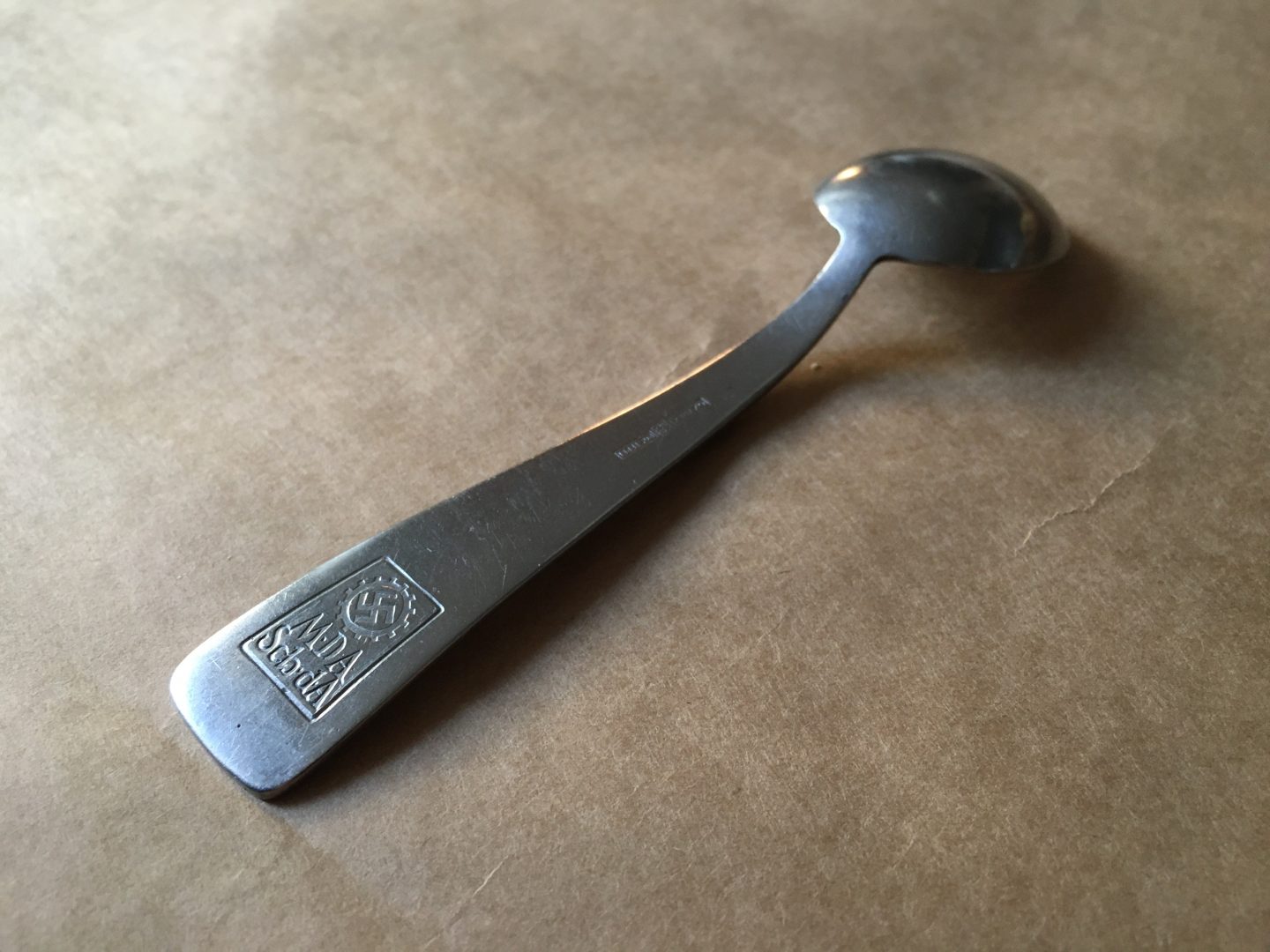 The spoon appeared in my family's cupboard in 1946. That year, right after World War II, a bunch of Soviet soldiers were heading back home — straight through the village my great-grandparents then lived in. The soldiers needed some food and booze to make the trip somehow bearable, so they carried a lot of Nazi-robbed items with them, for exchange.
At one point they came across my great-grandparents, who were initially reluctant to offer them help — as they'd barely escaped Soviet as well as Nazi death squads during the war. Eventually however, they agreed to give those men some bimber (a moonshine made traditionally in Polish villages) in exchange for a German spoon. This was a quality spoon, I must point out — made of a thick stainless steel, very robust and shiny, not like other defective, worn-out cutlery that my family owned back then. However, it was haunted by both Soviet and Nazi ghosts; the swastika engraved on its handle makes this fact even more palpable.
The spoon's everyday existence was always in-between — wrong and sacred at the same time. When my great-grandma put it in the drawer, she would never place it together with other spoons but instead stuck it outside the cutlery tray. It could only be used in the house, specifically in one bedroom locked from a more public living room or a kitchen and never taken outside or lent to anyone. It was also utilized only for special dishes — those that children (first my grandmother, then my mother, then me) hated the most. However, it did not make the food taste worse, but on the contrary, it was able to turn a disgusting porridge into a delicious meal. My great-grandmother somehow managed to breathe magic into the spoon.
After my great-grandparents passed away the spoon made it to my family home. I noticed it only few years ago in my mother's cupboard while paying a visit. I took it, prepared a porridge and tried to eat it with the spoon, but it didn't work. Its size (somewhere between a tablespoon and a teaspoon), its sharp edges (which almost hurt the corners of my mouth), and its unpleasant metallic taste make it a terrible eating utensil. And then there's the swastika, the meaning of which was quite obscure for me as a child… but which now made any food intake seem wrong, even uncanny.
The spoon is still in my mother's cupboard. It is never used as a spoon, anymore. Instead, it offers an opportunity to tell stories in which are mixed our country's history, our family's past, and our childhoods.
---
Semioticians' stories: Josh Glenn on MONKEY WHIMSEY | Malcolm Evans on QUEEN MARY FOB |Lucia Laurent-Neva (England) on TEAL BLUE VOYAGER | Rachel Lawes (England) on DEVIL GREEN | Charles Leech (Canada) on STORMTROOPER WHITE | Ramona Lyons on RABBIT BOX | Matthew De Abaitua on HATCHET | Chris Arning on INKSTONE BROOM | Hamsini Shivakumar on SOUL MOTHER SAREES | Lucia Laurent-Neva on SPONGEBOB BUS | Samuel Grange on SALT & PEPPER HOLDER | Ximena Tobi on VASALISA | Luca Marchetti on TEAPOT | Charles Leech on ORNAMENT | Brian McIntyre on BONE & FLINT NECKLACE | Gabriela Pedranti on MAFALDA DOLL | Sarah Johnson on JOAN OF ARC FIGURINE | Vijay Parthasarathy on BINGO | Aiyana Gunjan on WEDDING DUCKS | Serdar Paktin on NEY | Paulina Goch-Kenawy on VASE | Daria Arkhipova on POKER CHIP | Iván Islas on THERMOS | Sónia Marques on CABBAGE TUREEN | Thierry Mortier on BICYCLE BELL | Louise Jolly on CHALICES | Wei Fen Lee on CURRY PUFF POT | Mariane Cara on MINI WINDSOCK | Malex Salamanques Amiel on MARIA LIONZA | Seema Khanwalkar on THANJAVUR DOLL | Maria Papanthymou on KITCHEN WHISK | Martha Arango on ST. ANTHONY OF PADUA | Max Matus on WOODEN ROBOT | Rasika Batra on PRAYER BEADS | Anastasia Kārkliņa on CHESTNUTS | Maciej Biedziński on HAUNTED SPOON | Shirsha Ganguly on TINTIN FIGURINE | Clio Meurer on GLOW-IN-THE-DARK ROSARY | Enya Autumn Trenholm-Jensen on PINKY RING.
Also see these series: COVID CODES | SEMIO OBJECTS | MAKING SENSE WITH… | COLOR CODEX