Mini Windsock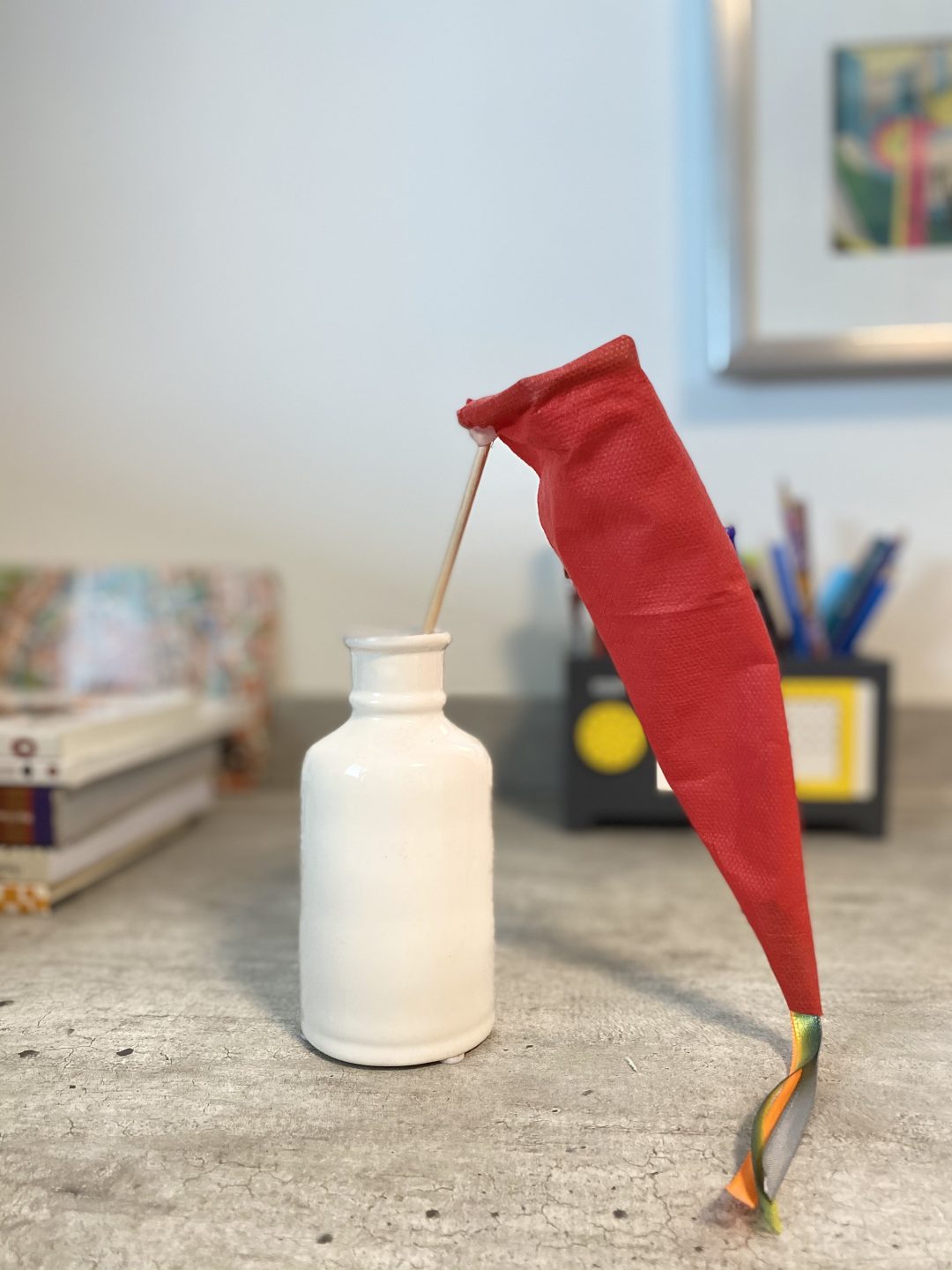 What could be more maternal than collecting memorabilia from a child's early years at school? Naturally, as a mother of two, I keep a huge box filled with cards, artwork and other cute things. Among these items, there is one particular little gadget that has a unique twist.
It was the end of an ordinary third grade afternoon, in those innocent days when almost any class might have the ability to bring a moment of "aha" and Sofia climbed into the car with a mini windsock that she had just made in her science class. A piece of sticks, straws and a red non-woven textile decorated with colourful ribbons. She offered it to me as a gift, meant to be added to the contents of my famous mommy-box-of-school- keepsakes. Her eyes were so alight with anxiousness as she described the marvels of that little stick that held up an odd little cone, seeming half a butterfly catcher, half a Santa's hat. What had fascinated her was the fact of the wind — that invisible breath — could made itself tangible through a simple piece of cloth whose movement make pilots sure of where to land.
I made all the faces of an attentive mother, thanked her profusely for the gift and, before I could put the mini windsock away in the box, I realized that I had just received a sort of Woody (Toy Story's hero): an object of somewhat superior status that it would be placed atop my all but elegant freelancer's desk. And for a semiotician's reason.
Peirce would say that my mini windsock was a legitimate replica of a dicent sinsign, reproducing the indexical representation of the direction of the wind in its purest secondness (enough to give an academic the chills!). Nonetheless, it might better serve instead as a metaphor for our condition as commercial semioticians — a symbol of how we map out the direction and speed of the winds of change, their dominant and emerging forces, without offering some ultra-technical or millimetric quantitative data, yet providing excellent parameters for a safe brand's landing.
And this ultra-signifying albeit ordinary object has also some interesting trivia about naming:
If for Anglo-Saxons, it is the sock that is worn on the feet of the wind, for the Spanish and the Portuguese it is the sleeve of an invisible power, and for the Germans a sack that keeps the air orderly.
For Brazilians, it is none of the above! In our all-but-classical way of naming things, we strip ourselves of all wearable (and almost poetic) associations with socks, sleeves and sacks and simply award the object the name "biruta": a term that has also a colloquial connotation for restless weirdos and eccentric (plus) uncanny folks. After all, someone able to capture the shifting of winds in such singular manner can only be outside the box!
---
Semioticians' stories: Josh Glenn on MONKEY WHIMSEY | Malcolm Evans on QUEEN MARY FOB |Lucia Laurent-Neva (England) on TEAL BLUE VOYAGER | Rachel Lawes (England) on DEVIL GREEN | Charles Leech (Canada) on STORMTROOPER WHITE | Ramona Lyons on RABBIT BOX | Matthew De Abaitua on HATCHET | Chris Arning on INKSTONE BROOM | Hamsini Shivakumar on SOUL MOTHER SAREES | Lucia Laurent-Neva on SPONGEBOB BUS | Samuel Grange on SALT & PEPPER HOLDER | Ximena Tobi on VASALISA | Luca Marchetti on TEAPOT | Charles Leech on ORNAMENT | Brian McIntyre on BONE & FLINT NECKLACE | Gabriela Pedranti on MAFALDA DOLL | Sarah Johnson on JOAN OF ARC FIGURINE | Vijay Parthasarathy on BINGO | Aiyana Gunjan on WEDDING DUCKS | Serdar Paktin on NEY | Paulina Goch-Kenawy on VASE | Daria Arkhipova on POKER CHIP | Iván Islas on THERMOS | Sónia Marques on CABBAGE TUREEN | Thierry Mortier on BICYCLE BELL | Louise Jolly on CHALICES | Wei Fen Lee on CURRY PUFF POT | Mariane Cara on MINI WINDSOCK | Malex Salamanques Amiel on MARIA LIONZA | Seema Khanwalkar on THANJAVUR DOLL | Maria Papanthymou on KITCHEN WHISK | Martha Arango on ST. ANTHONY OF PADUA | Max Matus on WOODEN ROBOT | Rasika Batra on PRAYER BEADS | Anastasia Kārkliņa on CHESTNUTS | Maciej Biedziński on HAUNTED SPOON | Shirsha Ganguly on TINTIN FIGURINE | Clio Meurer on GLOW-IN-THE-DARK ROSARY | Enya Autumn Trenholm-Jensen on PINKY RING.
Also see these series: COVID CODES | SEMIO OBJECTS | MAKING SENSE WITH… | COLOR CODEX