Salt & Pepper Holder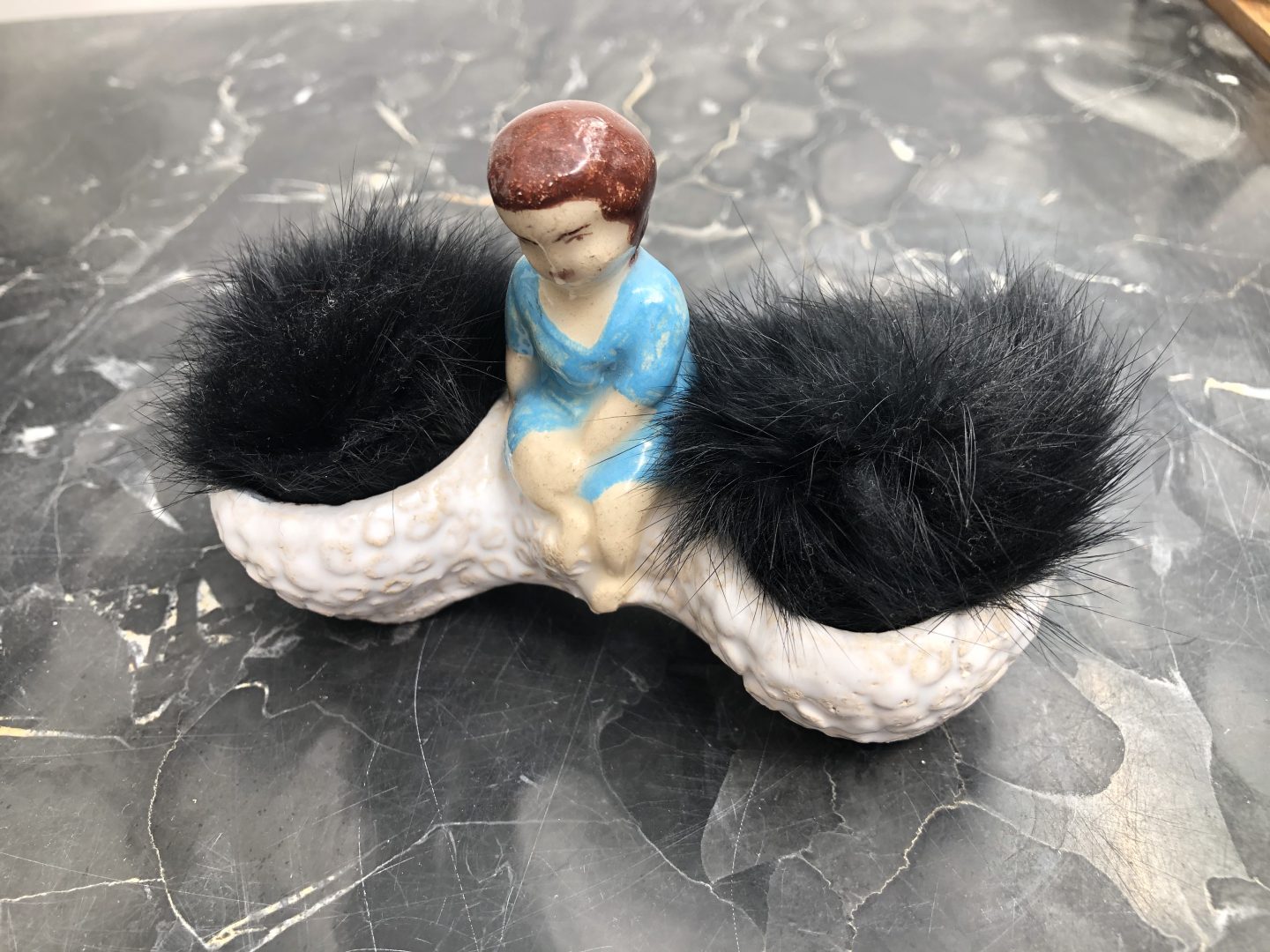 One in a (sub-)series of posts contributed to SEMIOVOX's Object Oriented series by applied-semiotics colleagues and friends from around the world.
---
This is a present. A present made by a woman to a man.
A present to thank him for something he did for her.
He got a vasectomy to cut her chemical consumption associated to contraception. A one way ticket, with no return…
After surgery she offered him this object. A salt and pepper holder.
The salt and the pepper were replaced by fluffy hairy pompoms. The innocent smiling child is now offering a symbol of castration.
Having one's capacity of reproduction embodied by an asexual child can be disturbing. Yet, the function of the object and its destination remain spicing-up. It embodies the pleasure of sex through salt and pepper. A thank-you but also a promise of pleasure to be continued.
This object is standing in my living room as a symbol of love between a man and a woman. But also a testimony that things can change and that women don't have necessarily to be the one in charge of contraception. It is a sign of modernity in terms of relationships between men and women, a sign of modernity considering men's conception of virility.
It also raises the question of kids in general. Kids in context of 7 billion human beings. Kids in a context of search for sustainability.
Here it stands as a crystal clear answer: No more kids, but keep the salt and pepper…
---
Semioticians' stories: Josh Glenn on MONKEY WHIMSEY | Malcolm Evans on QUEEN MARY FOB |Lucia Laurent-Neva (England) on TEAL BLUE VOYAGER | Rachel Lawes (England) on DEVIL GREEN | Charles Leech (Canada) on STORMTROOPER WHITE | Ramona Lyons on RABBIT BOX | Matthew De Abaitua on HATCHET | Chris Arning on INKSTONE BROOM | Hamsini Shivakumar on SOUL MOTHER SAREES | Lucia Laurent-Neva on SPONGEBOB BUS | Samuel Grange on SALT & PEPPER HOLDER | Ximena Tobi on VASALISA | Luca Marchetti on TEAPOT | Charles Leech on ORNAMENT | Brian McIntyre on BONE & FLINT NECKLACE | Gabriela Pedranti on MAFALDA DOLL | Sarah Johnson on JOAN OF ARC FIGURINE | Vijay Parthasarathy on BINGO | Aiyana Gunjan on WEDDING DUCKS | Serdar Paktin on NEY | Paulina Goch-Kenawy on VASE | Daria Arkhipova on POKER CHIP | Iván Islas on THERMOS | Sónia Marques on CABBAGE TUREEN | Thierry Mortier on BICYCLE BELL | Louise Jolly on CHALICES | Wei Fen Lee on CURRY PUFF POT | Mariane Cara on MINI WINDSOCK | Malex Salamanques Amiel on MARIA LIONZA | Seema Khanwalkar on THANJAVUR DOLL | Maria Papanthymou on KITCHEN WHISK | Martha Arango on ST. ANTHONY OF PADUA | Max Matus on WOODEN ROBOT | Rasika Batra on PRAYER BEADS | Anastasia Kārkliņa on CHESTNUTS | Maciej Biedziński on HAUNTED SPOON | Shirsha Ganguly on TINTIN FIGURINE | Clio Meurer on GLOW-IN-THE-DARK ROSARY | Enya Autumn Trenholm-Jensen on PINKY RING.
Also see these series: COVID CODES | SEMIO OBJECTS | MAKING SENSE WITH… | COLOR CODEX