Queen Mary Fob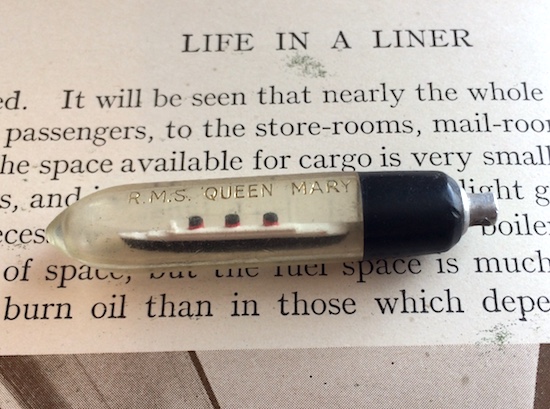 Its bullet shape lodges in a sediment of undiscarded objects. The keyring and chain are lost. The time-capsule souvenir survived. My parents were like children themselves when they showed it to us onboard. A miniature Queen Mary imagined by a five year-old boy as a world with invisible people.
Ocean liners represented empire, speed and scale. The blue ribband; how the ship would look dwarfing Nelson's column diagonal across Trafalgar Square; boys' own comic illustrations with precise portholes, cabins, engine room, kitchens, pools, theatres. Big model ships you walked around in museums. Dream toys for giants.
Our first sight of it was at Southampton docks. The hull's black cliff, three huge funnels above, gulls filling the air. There's a picture of us at dinner. Mum and Dad's eyes shine. Nigel, aged seven, seen from behind looking towards them. Me half rising from my seat, smiling at the photographer. I'm always surprised when it surfaces, never looking quite as in memory.
The Welsh village's young schoolteachers fall in love. He goes to war, eventually captains a torpedo boat. War ends, they marry and have children, then leap into the blue — cross the Atlantic, overnight by train from Grand Central to Miami. Landing on an island of white sand, tropical seas, palm fronds. With five families interbreeding for a couple of centuries since a ship carrying puritans to America wrecked on a reef nearby.
Then three years lit by dazzling sun. Smell of hog plums, mango, decomposing guava. Children lost to the sea at night. Evangelists arriving each year by seaplane. Everybody suddenly born again. How Dad's unfamiliar burnt cooking tasted the day Mum had to be flown to Nassau to be looked after.
They say about my generation that just when you think you're through all the lows and highs — jobs, children, divorces, hopes and dreams — the biggest thing yet arrives as if from nowhere. Death of parents, unimaginable turmoil of bereavement, actual grief. When you say "I lost my dad" the euphemism is literal. You are there, lost, five years old in a place with no bearings. I would visit my mother at the home near the end of her life, when she couldn't leave bed or say more than a word or two. It became a ritual, like the prelude to a story, to ask at some point "Do you remember the day we walked to Lower End?" Her eyes would open wide in amazement, then she would look at me and nod. That was the deserted part of the island, where nature was still in charge. The walk was unplanned, hazy always in memory, just the happiest time. For reasons of its own.
The walk would always reach a horizon where neither of us could see what happened next. Here it ends with the key fob diminishing to nothing. A grain of sand between numb fingers.
---
Semioticians' stories: Josh Glenn on MONKEY WHIMSEY | Malcolm Evans on QUEEN MARY FOB |Lucia Laurent-Neva (England) on TEAL BLUE VOYAGER | Rachel Lawes (England) on DEVIL GREEN | Charles Leech (Canada) on STORMTROOPER WHITE | Ramona Lyons on RABBIT BOX | Matthew De Abaitua on HATCHET | Chris Arning on INKSTONE BROOM | Hamsini Shivakumar on SOUL MOTHER SAREES | Lucia Laurent-Neva on SPONGEBOB BUS | Samuel Grange on SALT & PEPPER HOLDER | Ximena Tobi on VASALISA | Luca Marchetti on TEAPOT | Charles Leech on ORNAMENT | Brian McIntyre on BONE & FLINT NECKLACE | Gabriela Pedranti on MAFALDA DOLL | Sarah Johnson on JOAN OF ARC FIGURINE | Vijay Parthasarathy on BINGO | Aiyana Gunjan on WEDDING DUCKS | Serdar Paktin on NEY | Paulina Goch-Kenawy on VASE | Daria Arkhipova on POKER CHIP | Iván Islas on THERMOS | Sónia Marques on CABBAGE TUREEN | Thierry Mortier on BICYCLE BELL | Louise Jolly on CHALICES | Wei Fen Lee on CURRY PUFF POT | Mariane Cara on MINI WINDSOCK | Malex Salamanques Amiel on MARIA LIONZA | Seema Khanwalkar on THANJAVUR DOLL | Maria Papanthymou on KITCHEN WHISK | Martha Arango on ST. ANTHONY OF PADUA | Max Matus on WOODEN ROBOT | Rasika Batra on PRAYER BEADS | Anastasia Kārkliņa on CHESTNUTS | Maciej Biedziński on HAUNTED SPOON | Shirsha Ganguly on TINTIN FIGURINE | Clio Meurer on GLOW-IN-THE-DARK ROSARY | Enya Autumn Trenholm-Jensen on PINKY RING.
Also see these series: COVID CODES | SEMIO OBJECTS | MAKING SENSE WITH… | COLOR CODEX