Chestnuts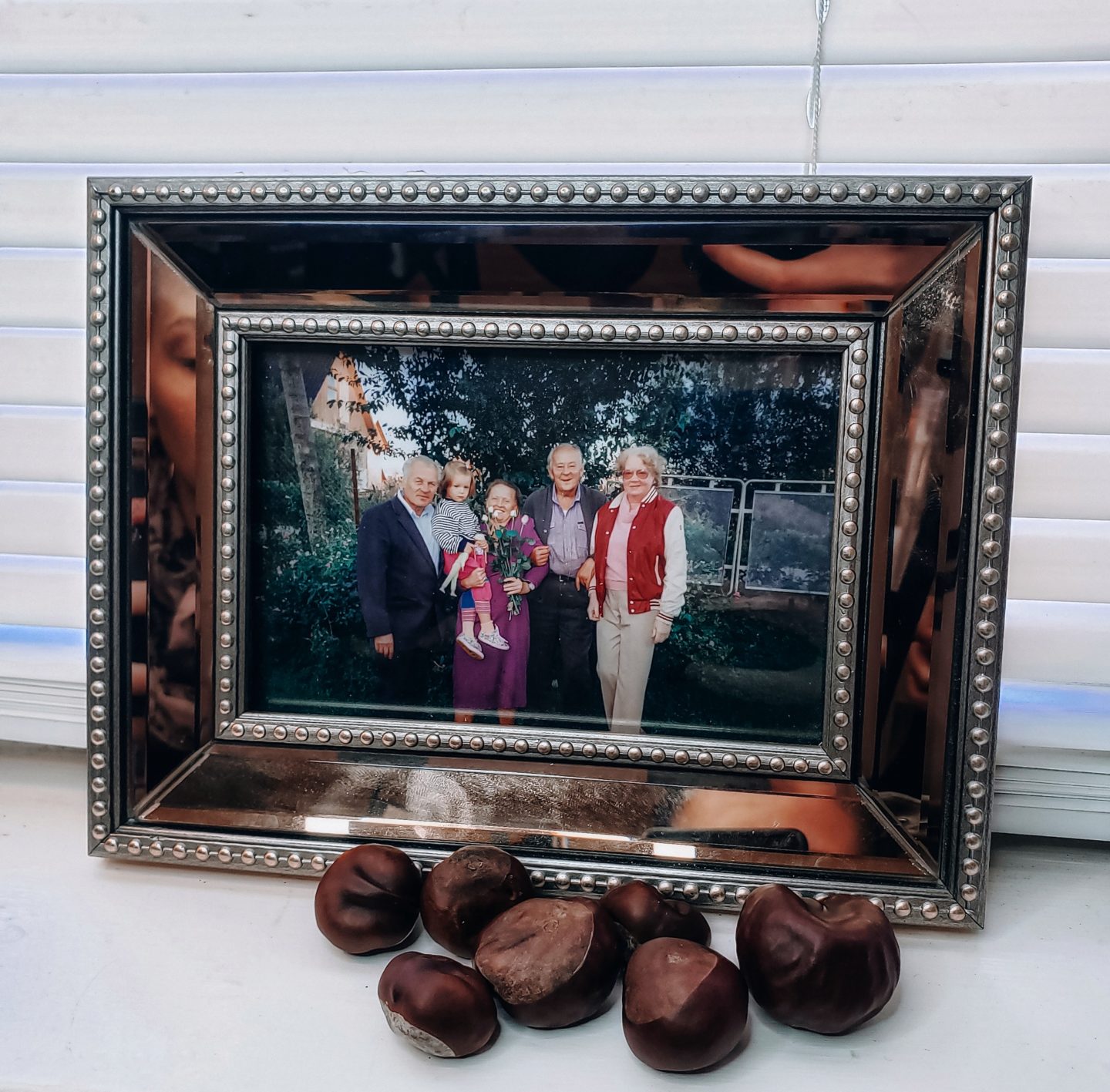 A handful of chestnuts I keep on the windowsill by my bed seem rather unremarkable. Dark brown and so smooth to touch, they seem just like all the chestnuts that in the fall cover the narrow, cobblestone alleys of Rīga, where I grew up. These chestnuts, though, are among my most treasured possessions. The very thought of ever losing them feels like a suffocating punch in my gut. They hold in them a story of immigration and ancestral longing: my story of leaving my family at sixteen and on my own. They are a lost part of me that I'm always in search of.
These very chestnuts belonged to my late grandmother Vilma, who always kept a bowl full of chestnuts on a dresser in the hallway by the front door. She would also place them in the pockets of her winter coat, for good luck and protection. In Latvian culture, chestnuts are believed to invite goodness and repel all that is evil. Some might even use them much like the baoding balls to keep the hands occupied and relieve the worries of the day. You also might notice a tidy row of chestnut trees planted by older buildings, as the generations before us often believed that chestnuts would bring the residents financial and emotional stability.
Trees, like the chestnut or the oak, hold a special place in the nation's psyche. Modern quotidian rituals that treat the chestnut as a talisman are residual practices that reflect broader spiritual reverence for trees in Latvian indigenous culture, much of which was wiped out by German, Swedish, imperial Russian, and Soviet occupations. My grandmother's chestnuts signify to me this longing for ancestral connection, for what, and who, has been lost to time but not forgotten: those I loved but was unable to hold and lay to rest; those I so desperately try to touch when they come to me in my dreams and then again slip away into the darkness of my subconscious.
In romanticized narratives of high achievement among 'successful' U.S. immigrants, little is ever said about this — about what is sacrificed and lost in the process of becoming someone worth celebrating. Sometimes, chestnuts are all that we, the immigrants, have and what we so devotedly hold onto and worship. There are other sacred treasures, too: grandfather's handkerchief, the Lord's prayer scribbled by grandma on a piece of wrinkled paper, a pink-striped old kitchen towel, and a faded green apron full of holes.
My grandmother's chestnuts remind me of many bittersweet goodbyes, too, during which she would secretly slip a couple of chestnuts into my pocket, where I'd find them hours later, often while on the plane back to "America." I find some comfort in a viral quote I saw on the Internet: "your grandmother's prayers are still protecting you," it said. I so want to believe that it's true.
These otherwise unremarkable chestnuts are a symbol of my ancestors' hopes for me. They are what I need to remember that even if the immigrant's story is one of loss, sacrifice, and shattering grief, it is equally a story of infinite, unbreakable love that knows no borders.
---
Semioticians' stories: Josh Glenn on MONKEY WHIMSEY | Malcolm Evans on QUEEN MARY FOB |Lucia Laurent-Neva (England) on TEAL BLUE VOYAGER | Rachel Lawes (England) on DEVIL GREEN | Charles Leech (Canada) on STORMTROOPER WHITE | Ramona Lyons on RABBIT BOX | Matthew De Abaitua on HATCHET | Chris Arning on INKSTONE BROOM | Hamsini Shivakumar on SOUL MOTHER SAREES | Lucia Laurent-Neva on SPONGEBOB BUS | Samuel Grange on SALT & PEPPER HOLDER | Ximena Tobi on VASALISA | Luca Marchetti on TEAPOT | Charles Leech on ORNAMENT | Brian McIntyre on BONE & FLINT NECKLACE | Gabriela Pedranti on MAFALDA DOLL | Sarah Johnson on JOAN OF ARC FIGURINE | Vijay Parthasarathy on BINGO | Aiyana Gunjan on WEDDING DUCKS | Serdar Paktin on NEY | Paulina Goch-Kenawy on VASE | Daria Arkhipova on POKER CHIP | Iván Islas on THERMOS | Sónia Marques on CABBAGE TUREEN | Thierry Mortier on BICYCLE BELL | Louise Jolly on CHALICES | Wei Fen Lee on CURRY PUFF POT | Mariane Cara on MINI WINDSOCK | Malex Salamanques Amiel on MARIA LIONZA | Seema Khanwalkar on THANJAVUR DOLL | Maria Papanthymou on KITCHEN WHISK | Martha Arango on ST. ANTHONY OF PADUA | Max Matus on WOODEN ROBOT | Rasika Batra on PRAYER BEADS | Anastasia Kārkliņa on CHESTNUTS | Maciej Biedziński on HAUNTED SPOON | Shirsha Ganguly on TINTIN FIGURINE | Clio Meurer on GLOW-IN-THE-DARK ROSARY | Enya Autumn Trenholm-Jensen on PINKY RING.
Also see these series: COVID CODES | SEMIO OBJECTS | MAKING SENSE WITH… | COLOR CODEX