Pinky Ring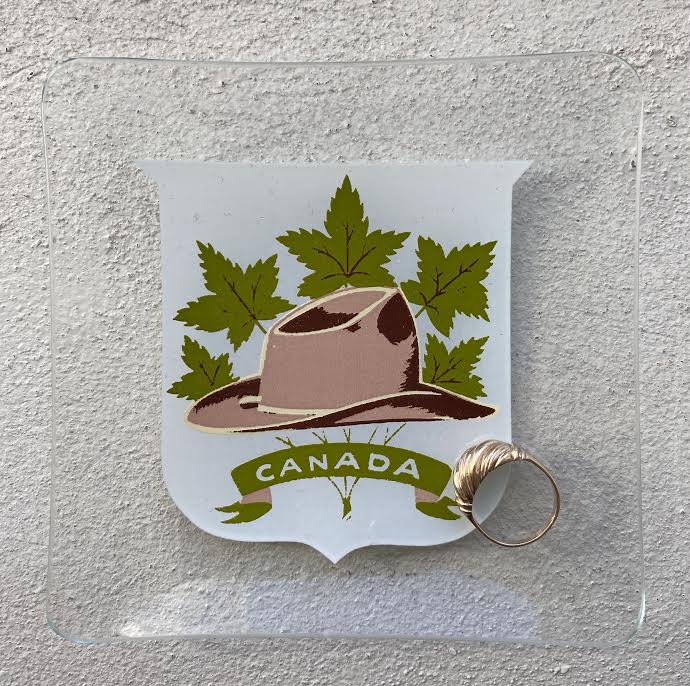 I was six and a half when my Danish father moved our family from Canada to Sweden. My parents were told not to bring anything irreplaceable as, occasionally, containers went careening off the side of the freight ship and were lost at sea. For this reason, many keepsakes — family photos, jewellery, letters etc. — remain in my aunt's North American hockey-themed basement to this day. 
As a child, I didn't miss these things but, as I grew older, I started to look for artefacts to root me to a certain time or place. I would research cultural stereotypes and experiment with accents — something I had written off as standard third-culture-kid behaviour although, in hindsight, maybe that was just me. 
When I then moved to Scotland in my late teenage years, the number of belongings I could bring with me were halved again. I began to lose any semblance of a personal cultural identity, smothered in Scotland's deep history, thick accents and lifelong football allegiances. Everyone had their thing. 
On a weekend trip to Kent, my eye was drawn to a small gold ring in an old independent jewellery shop window. The shopkeeper noticed it sat loosely on my pinky finger and insisted she would resize it. Despite feeling robbed of my Cinderella moment, it felt right that the ring had to change to fit its new circumstances. I have worn my sham heirloom every day since. 
The complex nature of so many of my fixed attributes — my accent, my nationality, my appearance — have often felt left open to interpretation, mutating from one conversation to the next. Hence, my gold pinky ring, cut off from the past and imbued with no preordained cultural significance, feels perfect for my purposes. Looking back, this identity struggle might have been one of the reasons why I became enamoured with semiotics too. How much does something need to matter, to how many people, before it holds meaning?
---
Semioticians' stories: Josh Glenn on MONKEY WHIMSEY | Malcolm Evans on QUEEN MARY FOB | Ramona Lyons on RABBIT BOX | Matthew De Abaitua on HATCHET | Chris Arning on INKSTONE BROOM | Hamsini Shivakumar on SOUL MOTHER SAREES | Lucia Laurent-Neva on SPONGEBOB BUS | Samuel Grange on SALT & PEPPER HOLDER | Ximena Tobi on VASALISA | Luca Marchetti on TEAPOT | Charles Leech on ORNAMENT | Brian McIntyre on BONE & FLINT NECKLACE | Gabriela Pedranti on MAFALDA DOLL | Sarah Johnson on JOAN OF ARC FIGURINE | Vijay Parthasarathy on BINGO | Aiyana Gunjan on WEDDING DUCKS | Serdar Paktin on NEY | Paulina Goch-Kenawy on VASE | Daria Arkhipova on POKER CHIP | Iván Islas on THERMOS | Sónia Marques on CABBAGE TUREEN | Thierry Mortier on BICYCLE BELL | Louise Jolly on CHALICES | Wei Fen Lee on CURRY PUFF POT | Mariane Cara on MINI WINDSOCK | Malex Salamanques Amiel on MARIA LIONZA | Seema Khanwalkar on THANJAVUR DOLL | Maria Papanthymou on KITCHEN WHISK | Martha Arango on ST. ANTHONY OF PADUA | Max Matus on WOODEN ROBOT | Rasika Batra on PRAYER BEADS | Anastasia Kārkliņa on CHESTNUTS | Maciej Biedziński on HAUNTED SPOON | Shirsha Ganguly on TINTIN FIGURINE | Clio Meurer on GLOW-IN-THE-DARK ROSARY | Enya Autumn Trenholm-Jensen on PINKY RING.