Joan of Arc Figurine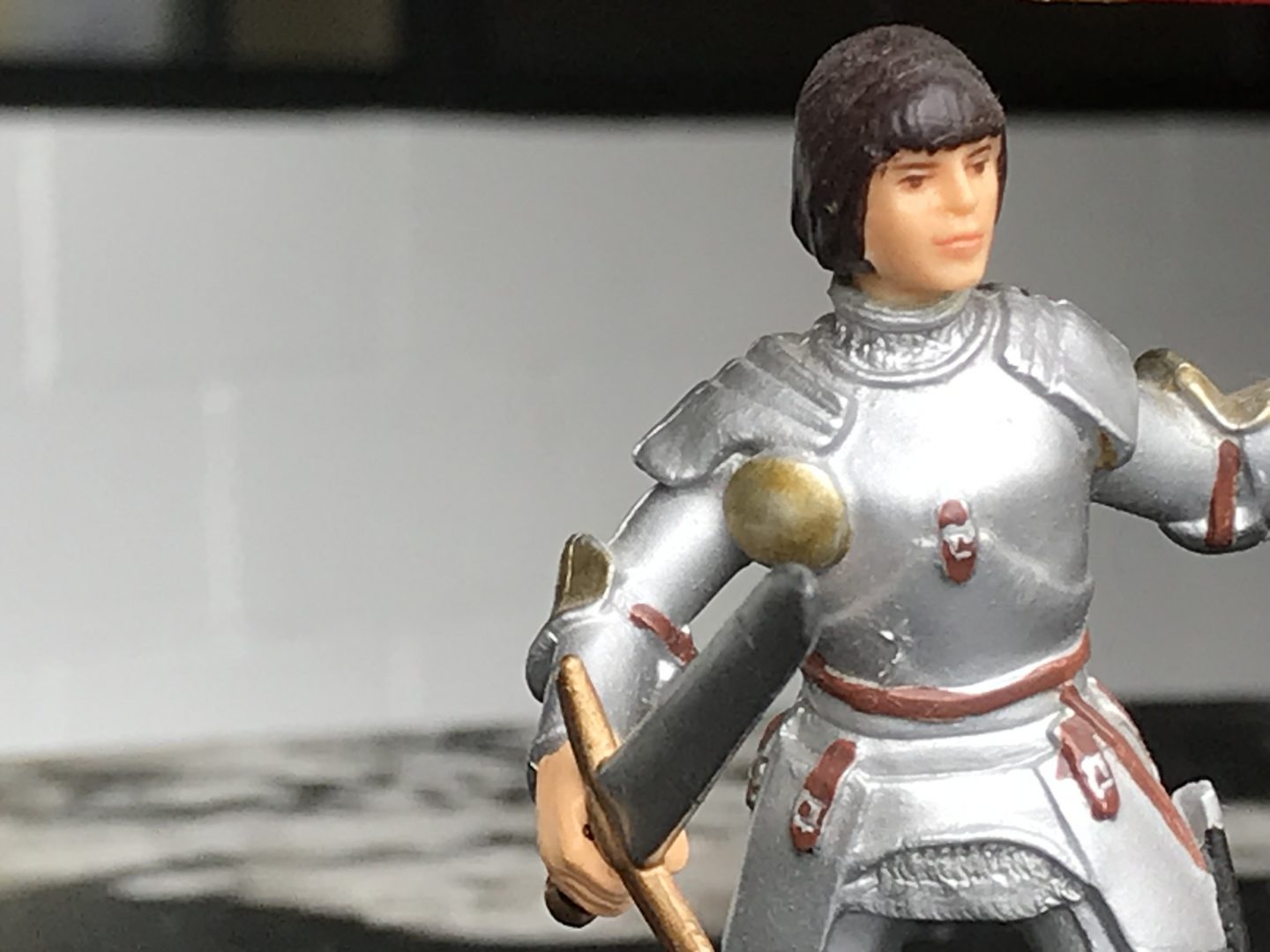 One in a (sub-)series of posts contributed to SEMIOVOX's Object Oriented series by applied-semiotics colleagues and friends from around the world.
---
I am eight or nine. I am watching Saturday morning cartoons, interspersed with "educational" shorts depicting critical moments of — mostly American — history. (I am Canadian, I am already used to most of my content having this lens). I see one short about a young peasant girl. She hears voices telling her to save France. She dresses up as a boy. She goes to the French court. She immediately identifies the king from a room of courtiers. She rides into battle. She is badass (although, in those days, badass was not a term anyone used). She is a character from the feminist fairy-tales my hippie parents got me, but she is real. She is burned at the stake. That part is not so good, but I am hooked.
I am fifteen. I am preparing for my audition to a drama school. (Keanu Reeves also went there. What should that tell me?). I memorize a monologue from Saint Joan: "Light your fire! Do you think I dread it as much as the life of a rat in a hole? My voices were right!" (I do not have to look this up today). I fondly believe I have a unique relationship to this role. I do not realize I am a drama teen cliché.
I am seventeen. I am in English class. Another girl is presenting her analysis of "Joan of Arc" by Leonard Cohen. Of course I know and love this song. Of course I know and love Leonard Cohen. I am a teenage would-be beatnik. The other girl says Joan is tired of the war and wants to go home. I contribute that the poem is a metaphor for female desire. The girl looks at me, bewildered. The class looks at me disdainfully. I burn with shame but also righteousness: isn't it obvious? And yet, clearly the others think that I am twisted. "It's there," the teacher reassures me quietly. But I am only partly reassured.
I am eighteen. I go to McGill, in Montreal, home of Leonard Cohen. I don't think much about Joan of Arc but we all think about Leonard, all the time.
I am thirty. I go to the Loire Valley with a group of friends. All the other tourists are either senior citizens or school children. We say we are the youngest old people or the oldest young people in The Loire. I wanted to go to the Loire because it has chateaux, but also because it is Joan of Arc country. I take my friends through a guided tour of chateaux associated with Joan. We start at the castle where she first met the Dauphin. The throne room is the size of a suburban rec room. We imagine Joan and the Dauphin. We think about history and mythology.
Somewhere on this trip I found this plastic figurine. It looks like it was made in Japan. It is a mini action figure. It is kind of badass, although it does not stand up very well. It sits on my bookcase.
---
Semioticians' stories: Josh Glenn on MONKEY WHIMSEY | Malcolm Evans on QUEEN MARY FOB |Lucia Laurent-Neva (England) on TEAL BLUE VOYAGER | Rachel Lawes (England) on DEVIL GREEN | Charles Leech (Canada) on STORMTROOPER WHITE | Ramona Lyons on RABBIT BOX | Matthew De Abaitua on HATCHET | Chris Arning on INKSTONE BROOM | Hamsini Shivakumar on SOUL MOTHER SAREES | Lucia Laurent-Neva on SPONGEBOB BUS | Samuel Grange on SALT & PEPPER HOLDER | Ximena Tobi on VASALISA | Luca Marchetti on TEAPOT | Charles Leech on ORNAMENT | Brian McIntyre on BONE & FLINT NECKLACE | Gabriela Pedranti on MAFALDA DOLL | Sarah Johnson on JOAN OF ARC FIGURINE | Vijay Parthasarathy on BINGO | Aiyana Gunjan on WEDDING DUCKS | Serdar Paktin on NEY | Paulina Goch-Kenawy on VASE | Daria Arkhipova on POKER CHIP | Iván Islas on THERMOS | Sónia Marques on CABBAGE TUREEN | Thierry Mortier on BICYCLE BELL | Louise Jolly on CHALICES | Wei Fen Lee on CURRY PUFF POT | Mariane Cara on MINI WINDSOCK | Malex Salamanques Amiel on MARIA LIONZA | Seema Khanwalkar on THANJAVUR DOLL | Maria Papanthymou on KITCHEN WHISK | Martha Arango on ST. ANTHONY OF PADUA | Max Matus on WOODEN ROBOT | Rasika Batra on PRAYER BEADS | Anastasia Kārkliņa on CHESTNUTS | Maciej Biedziński on HAUNTED SPOON | Shirsha Ganguly on TINTIN FIGURINE | Clio Meurer on GLOW-IN-THE-DARK ROSARY | Enya Autumn Trenholm-Jensen on PINKY RING.
Also see these series: COVID CODES | SEMIO OBJECTS | MAKING SENSE WITH… | COLOR CODEX