Inkstone Broom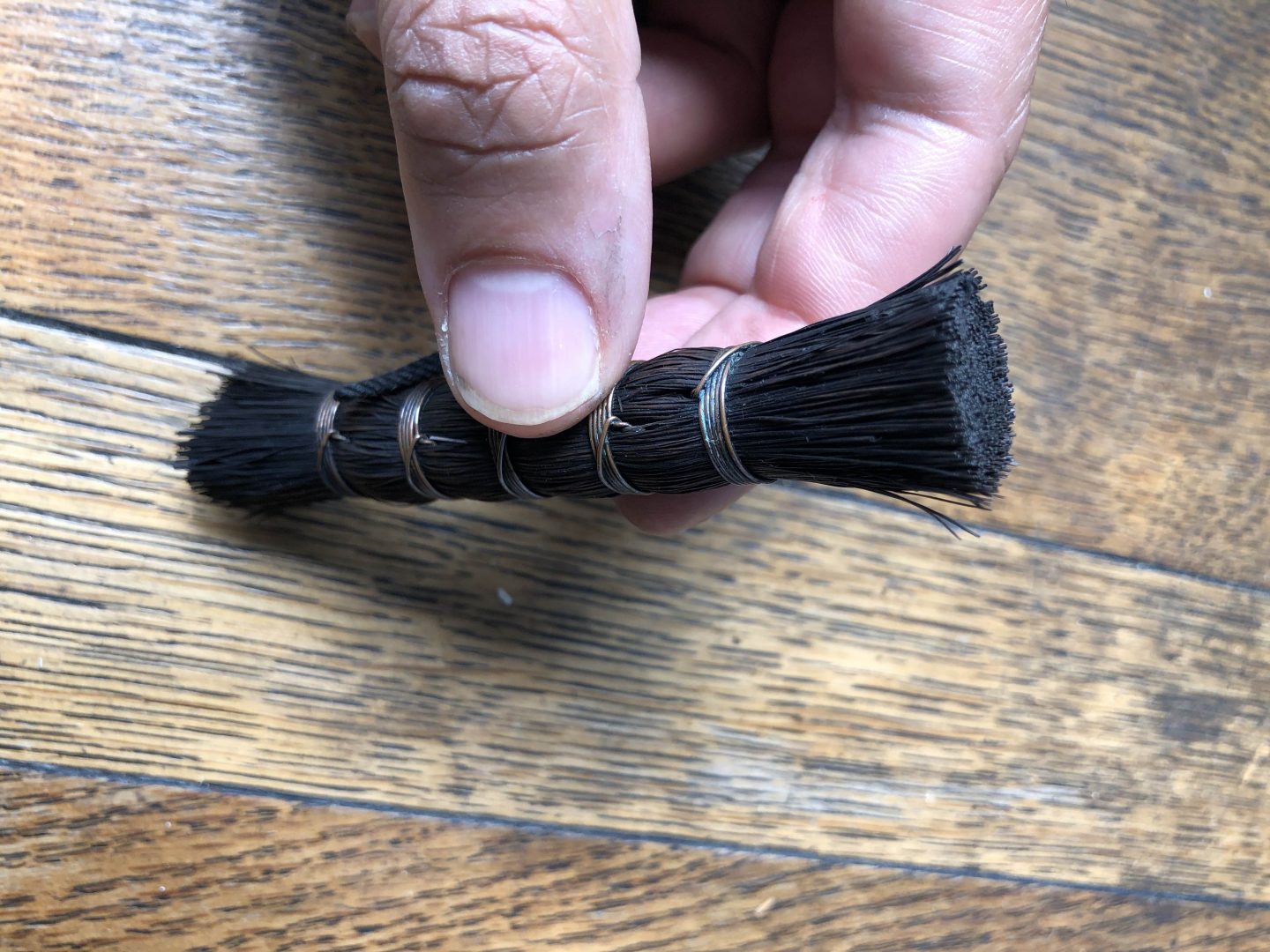 One in a (sub-)series of posts contributed to SEMIOVOX's Object Oriented series by applied-semiotics colleagues and friends from around the world.
Chris Arning on INKSTONE BROOM | Hamsini Shivakumar on SOUL MOTHER SAREES | Lucia Laurent-Neva on SPONGEBOB BUS | Samuel Grange on SALT & PEPPER HOLDER | Ximena Tobi on VASALISA | Charles Leech on ORNAMENT | Brian McIntyre on BONE & FLINT NECKLACE | Gabriela Pedranti on MAFALDA DOLL | Sarah Johnson on JOAN OF ARC FIGURINE | Luca Marchetti on TEAPOT. Also see: Josh Glenn on MONKEY WHIMSEY | Malcolm Evans on QUEEN MARY FOB | Ramona Lyons on RABBIT BOX | Matthew De Abaitua on HATCHET.
---
What I love about this object, firstly, is that when you see it you've no idea what it is. Then there is the fact that it is so small and dinky. Also, the tactility — the bristly ends and the tight binding of the thing with wires in the middle.
I've done calligraphy since I lived in Japan in 2000, and though it still frustrates me it is part of my practise. The function of this object is to make the inkstone smoother, by cleaning detritus and flecks of congealed ink from its surface. To clean is meditative; in fact, Zen monks clean as part of their meditation. The Japanese love a utensil, and this one — which is amazing in its simplicity — is very Japanese. The broom's construction manifests a humility that ties in with the aesthetics and ethos of wabi-sabi.
In 2012, I met Misato, a calligrapher and type designer who will create thousands of individual characters in order to finish off a set of moji (inked traces) — all with such love and precision of execution. My nickname for her is the Moji Machine. I visited her in Tokyo in 2014, during which time she took me through her truly incredible moji sets. I was very touched by this thoughtful gift from her, which I use often — because I often leave ink too long in the inkstone. Its abrasiveness (or what you might call asperity) is perfectly calibrated to get rid of flecks without damaging the inkstone.
Trust the Japanese, who are very persnickety about their tools and especially about stationery, to come up with a tool like this. It's so eccentric, and so thoughtful and highly functional. Which is what I love about Japanese culture. It brings back fond memories of Japan whenever I use it.