Rabbit Box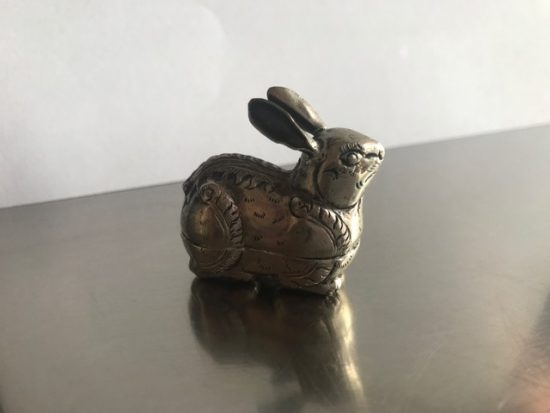 Traveling in Chiang Mai, Thailand many years ago, I stumbled upon a tiny vintage silver rabbit box in a small shop. I thought it'd be a nice gift for my mother, who has a soft spot for animal figurines. It was also an unexpected gift for her, since she often negates whimsy for the sake of practicality, and would never buy such a thing for herself. I thought she'd be delighted by it. I was delighted by it. I should have known that'd be trouble.
I tucked the little rabbit away in my suitcase, pleased with my choice and the ease with which I'd acquired it. The next day I checked my case just to see if it was still in the corner where I'd tucked it away. The day after, I double-checked. And so on — until this day. I never gave that little silver rabbit to my mother, though there have been plenty of gifting occasions that would have been perfect. Instead, I wrapped it in a square of silk and shifted it to my jewelry box for "safekeeping."
Just to step back for a moment, I'm not into any other "cute" little animal-shaped things; cow-shaped creamers and adorable kitty miniatures feel like objects of misplaced sentimentality that make me cringe. But the rabbit box has become a kind of beautiful worry-stone for me. Its curved, engraved surfaces are delicate and intricate, the mark of a singular hand. It has detailed paws and a stylized but beautifully rendered line of fur that ruffles down its back. The box is also well crafted and tidy; the interior is hollowed out precisely, and the top and bottom halves meet snugly. All of these things make it compellingly and satisfyingly tactile.
I still check for it every week. If things have gotten messy, I frantically scrabble around in the tangle until I find it, feeling a deep miserly pleasure when I nestle it in my palm and run my fingers over its sweetly engraved surfaces.
---
Semioticians' stories: Josh Glenn on MONKEY WHIMSEY | Malcolm Evans on QUEEN MARY FOB |Lucia Laurent-Neva (England) on TEAL BLUE VOYAGER | Rachel Lawes (England) on DEVIL GREEN | Charles Leech (Canada) on STORMTROOPER WHITE | Ramona Lyons on RABBIT BOX | Matthew De Abaitua on HATCHET | Chris Arning on INKSTONE BROOM | Hamsini Shivakumar on SOUL MOTHER SAREES | Lucia Laurent-Neva on SPONGEBOB BUS | Samuel Grange on SALT & PEPPER HOLDER | Ximena Tobi on VASALISA | Luca Marchetti on TEAPOT | Charles Leech on ORNAMENT | Brian McIntyre on BONE & FLINT NECKLACE | Gabriela Pedranti on MAFALDA DOLL | Sarah Johnson on JOAN OF ARC FIGURINE | Vijay Parthasarathy on BINGO | Aiyana Gunjan on WEDDING DUCKS | Serdar Paktin on NEY | Paulina Goch-Kenawy on VASE | Daria Arkhipova on POKER CHIP | Iván Islas on THERMOS | Sónia Marques on CABBAGE TUREEN | Thierry Mortier on BICYCLE BELL | Louise Jolly on CHALICES | Wei Fen Lee on CURRY PUFF POT | Mariane Cara on MINI WINDSOCK | Malex Salamanques Amiel on MARIA LIONZA | Seema Khanwalkar on THANJAVUR DOLL | Maria Papanthymou on KITCHEN WHISK | Martha Arango on ST. ANTHONY OF PADUA | Max Matus on WOODEN ROBOT | Rasika Batra on PRAYER BEADS | Anastasia Kārkliņa on CHESTNUTS | Maciej Biedziński on HAUNTED SPOON | Shirsha Ganguly on TINTIN FIGURINE | Clio Meurer on GLOW-IN-THE-DARK ROSARY | Enya Autumn Trenholm-Jensen on PINKY RING.
Also see these series: COVID CODES | SEMIO OBJECTS | MAKING SENSE WITH… | COLOR CODEX