Zippo Lighter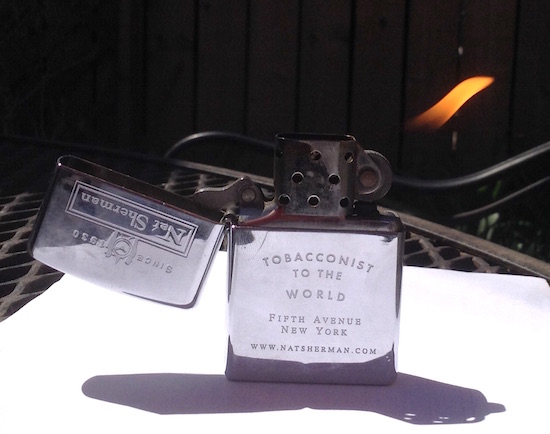 The New York architectural firm of Shreve, Lamb & Harmon, founded by an enterprising Nova Scotian, produced one building of genius: the Empire State. I'm biased — I wrote a book about it — but this is the superlative tall building of the twentieth century. Not far uptown from the ESB, on the northwest corner of 42nd and Fifth, stands a lesser-known masterpiece by the same designers, 500 Fifth Avenue. At this crowded intersection near Bryant Park and Grand Central Terminal, it radiates sublime Art Deco grace.
On the ground floor of the building there used to be a sprawling cigar store, the flagship location of the Nat Sherman Company. (The store has since moved two blocks east along 42nd Street.) One day in 2001, after some research at the Empire State, I walked here, climbing the spine of the island.
Nat Sherman cigars are not, despite their fulsome self-hype, all that great; the Cuban embargo ensured that. But the store was lavish, festooned with men's-club swank, a cocoon of burgundy leather and dark wood panelling. You could rent a humidor here and store your cigar stock, like jewels or mink coats, under ideal conditions.
I didn't get any cigars that day. Instead, I bought a silver Nat Sherman Zippo lighter, an object I've carried every day since.
Zippos are a dubious property, with the clouds of military sentimentality about bullet-stopping incidents, and the range of bad-tattoo design pitfalls: screaming American eagle, Harley-Davidson logo, Jack Daniels label, Playboy silhouette, etc. The distinctive strike and lid-catch have invited finger tricks and palm actions that cool-boy aficionados treasure. (You can see George Clooney, as Elmore Leonard's Jack Foley, playing with his at the beginning of 1998's Out of Sight.)
That's all frippery — or maybe jackassery. It's the inner workings of this perfect little device that make me think of it as a miniature Modernist building. There is infrastructure here, the steelwork of a solid interior frame. There is an HVAC system, and a considered interior program, that work to illuminate the summit, braced by its tiny windless balcony. The components — the red flint (with a spare in the bottom), the textured strike-wheel, the dime-turned wick coil — are tough, functional, and simple. The outside case is the cladding. Choose it wisely.
I like my design because it conjures up a happy Manhattan sojourn, and the book I wrote. But ultimately a lighter is more atavistic: it's fire in your pocket. Walking by a student one day not long ago, I was asked for a light. I flipped the Zippo open and spun the wheel to a fail — just sparks, the fuel all spent. I smiled sadly: it happens.
Walking on, I tried again. A little blue-and-yellow flame shot up and I called to the boy. "I love you," he said, running over. Smoking cigarettes is bad for you, pal, but I love you too.