Ceramic Ducks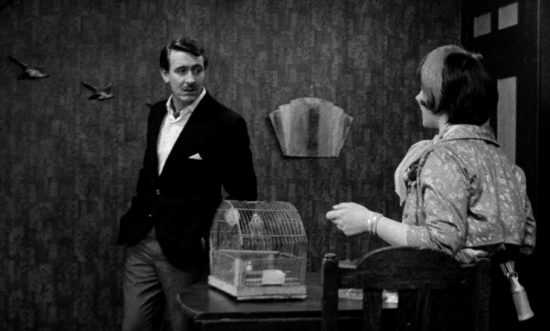 A Taste of Honey is a movie about interior design. Sure, it's also a pioneering look at working-class Northern English life in the early 1960s, written by and about a poor teenage girl, and featuring some of British cinema's first positive depictions of out gay characters and interracial relationships. But really, it's mostly about fixtures and fittings.
Before you argue with this description, remember that Tony Richardson's 1961 film and the Shelagh Delaney play it's based on are often dubbed "kitchen sink drama." The first set piece sees bright, curious 17-year-old Jo squeezing through the bedroom window as she and Helen, her neglectful, dissolute mother, sneak out of their unsalubrious flat to avoid paying the rent. Their new place is even more of a dive, which upsets Jo. "I do hate to see an unshaded electric lightbulb dangling away from the ceiling like that," she tells her mother. (The ever-practical Helen tells Jo not to look if it upsets her.) Deeper into the film, even though she is pregnant and out of touch with the father, Jo is at her happiest when her home is clean and beautifully appointed. By then she's living in her own place, which she shares with gay textile-design student Geoffrey, who supplies her with the finer things in life, including cheerful curtains and a Chinese paper lantern to cover the bare bulb.
My favorite piece of wall art appears during Jo's miserable cohabitation with her mother. When Helen's younger, middle-class boyfriend, Peter, comes to visit, he clearly finds the dingy little flat distasteful, but he's never more uncomfortable than when finds himself trapped in a tiny room with Jo and Helen's caged budgerigar. On the wall behind him are three flying duck sculptures. Some viewers might dismiss these tacky decorations as mere wallpaper, but for me they represent a classic piece of working-class chic.
I first saw flying ducks in the long-running Northern English soap opera Coronation Street. Cleaner Hilda Ogden — dirt poor, not very bright, but with a heart of gold — had three handsome mallards soaring over the mural (or "muriel" as she always called it) in her terraced house. When I left the terraced house in Manchester that I grew up in to go to university, I decorated my college bedroom with my own set of ducks bought from an ad in the back pages of Private Eye. Private Eye is written by and for upper-class men (and oiks like me who longed to know the ways of the ruling classes), so they were almost certainly sold by folks who thought them outrageously common, but they reminded me where I was from. In my second year, I hung them on a beach mural the room's previous resident had painted to remind him of his Jamaican homeland. It was a taste of heaven.