Argus Coin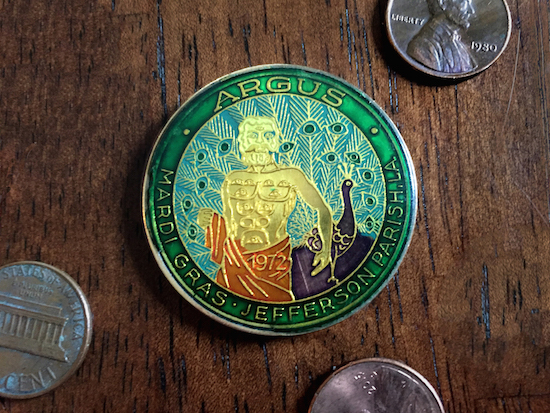 Sometime after my Dad's funeral I bought the Argus coin in pursuit of my own mythologies and seeking strength as a new father.
In the years leading up to his death, Dad obsessively collected Packard hood ornaments, burrowing into eBay for every incarnation of The Swan, The Goddess, or The Sliding Boy. Derived from Greek mythology, these figureheads were the mascots of his childhood spent in a garage. He marveled at their artistry but then surrounded himself with only the lesser pieces of his collection, certain thieves would come for "the good stuff" if he let down his guard. His favorite ornament was a sweeping, 13-pronged Art Deco bird with lighted plumage, which he secreted away. He'd step onto his pleather office chair and slip his favorite treasures under the Styrofoam ceiling tiles of my childhood home.
Despite this expensive hobby, Dad's working-class outrage kept him from paying for health insurance. In the months before his cancer diagnosis, my wife and I urged him to get medical coverage but his response was sharp and nihilistic: If he got sick, he didn't care what happened; it was on the rest of us to care. His brother died with similar conviction in his trailer home, only telling anyone he had cancer once it was too late, and never receiving treatment.
I carry the Argus coin in defense of the cynicism that's come before me and might be kept from my daughters. Argus was a benevolent giant of Greek myth, a guardian with one-hundred eyes. When he died, those eyes were put into the peacock's tail to live eternally on glorious display — so unlike the fate of the elegant bird my dad kept hidden in paranoia, even on his deathbed.
Each morning I transfer the coin from one pair of pants to another, a conscious daily ritual. It's a talisman steering me clear of the Siren song of fear and indifference, and encouraging me toward meaningfulness.