Glow-in-the-Dark Rosary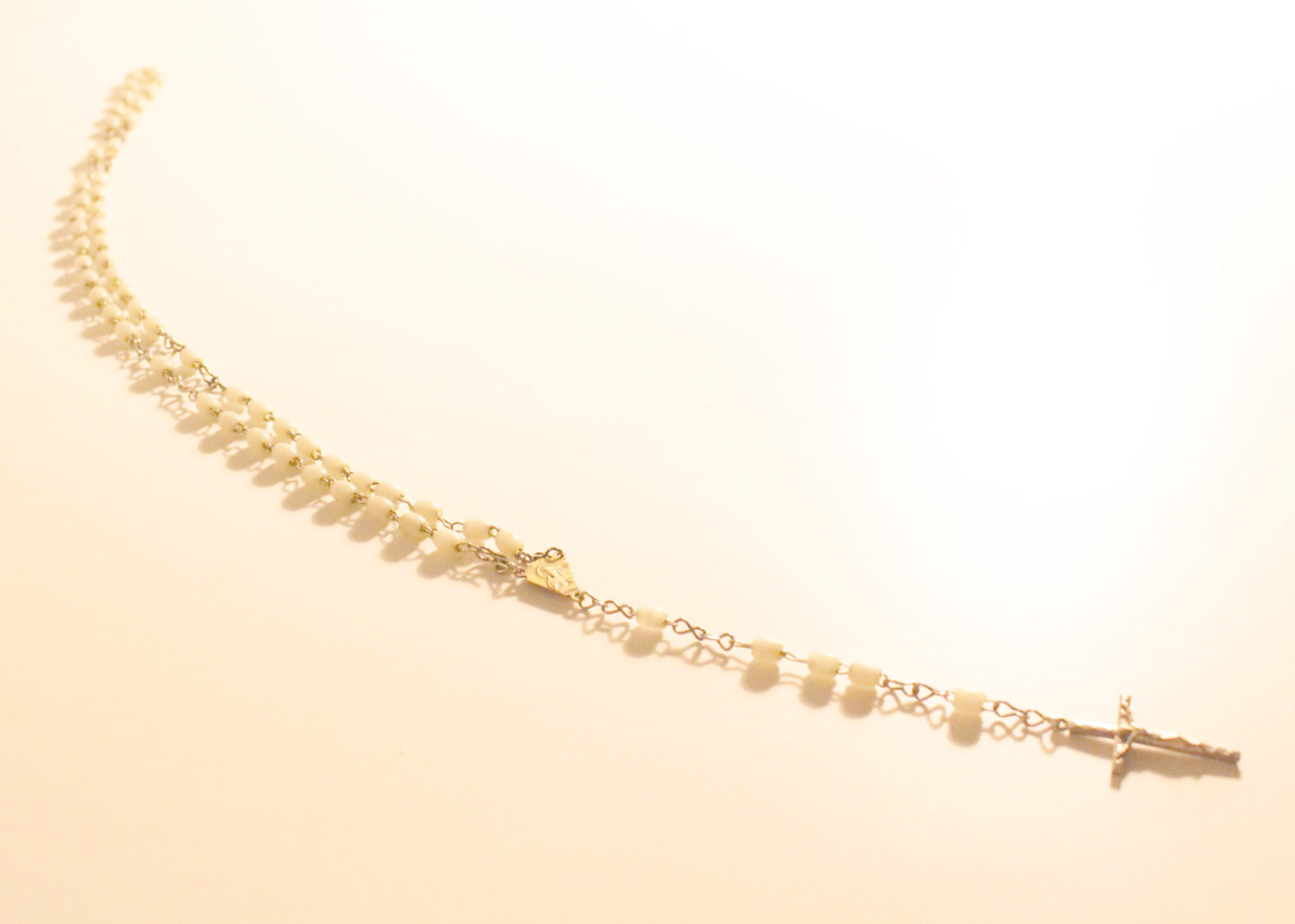 Growing up, I would spend the school year dreaming of vacations at the beach. In my nomadic existence, summers in Florianópolis were my only source of spatial steadiness. It was then that my brother and I would be reunited with our cousins and our childhood friends for days and nights of nonstop play.
This was before Florianópolis became a major tourist destination. Back then, our tiny beach house was more like a campsite. We were surrounded by wilderness. For years our only neighbours were an orchestra of hammer frogs. Lizards would calmly cross our path in the street. When going for potable water at the stream spout, we risked being chased by clouds of mosquitoes. We could see incredible birds during the day, and then in the evenings try to never-mind the bats. Nights were magical — we would see fireflies, and go for walks on the beach with a lantern.
The house was often full of children, as we hosted family and friends despite the modest structure. For my parents, it was a lot of work in providing us all comfort — we will be forever grateful. But for us kids and for grandma, oh! it was a great adventure. It was the time of the Goonies and of Indiana Jones, so we welcomed the challenges and turned them into story play. The beach was ours to explore and at that time the access to the ruins of the Portuguese fortress (unrestored and with cannons!) was free.
One night, I woke up and saw a very strange light. The next night or so, the same thing happened. Soon one of my cousins reported seeing it too. I bravely decided to investigate, and discovered that it came from Grandma, who shared the kids' room. In the morning, I inquired her about it. With a wonderful smile, she showed me the mysterious shining artefact: "It's a glow-in-the-dark rosary." Amused by my interest (and by my huge eyes), she added: "Take it, you can keep it."
I was too young to be able to pray the rosary, but I've kept it with me ever since. Somehow, both those summers of adventure and the caring of my grandmother are contained in it. Looking back as an adult, I now understand its deeper symbolism. Prayers do have the ability to shine in the dark.
---
Semioticians' stories: Josh Glenn on MONKEY WHIMSEY | Malcolm Evans on QUEEN MARY FOB |Lucia Laurent-Neva (England) on TEAL BLUE VOYAGER | Rachel Lawes (England) on DEVIL GREEN | Charles Leech (Canada) on STORMTROOPER WHITE | Ramona Lyons on RABBIT BOX | Matthew De Abaitua on HATCHET | Chris Arning on INKSTONE BROOM | Hamsini Shivakumar on SOUL MOTHER SAREES | Lucia Laurent-Neva on SPONGEBOB BUS | Samuel Grange on SALT & PEPPER HOLDER | Ximena Tobi on VASALISA | Luca Marchetti on TEAPOT | Charles Leech on ORNAMENT | Brian McIntyre on BONE & FLINT NECKLACE | Gabriela Pedranti on MAFALDA DOLL | Sarah Johnson on JOAN OF ARC FIGURINE | Vijay Parthasarathy on BINGO | Aiyana Gunjan on WEDDING DUCKS | Serdar Paktin on NEY | Paulina Goch-Kenawy on VASE | Daria Arkhipova on POKER CHIP | Iván Islas on THERMOS | Sónia Marques on CABBAGE TUREEN | Thierry Mortier on BICYCLE BELL | Louise Jolly on CHALICES | Wei Fen Lee on CURRY PUFF POT | Mariane Cara on MINI WINDSOCK | Malex Salamanques Amiel on MARIA LIONZA | Seema Khanwalkar on THANJAVUR DOLL | Maria Papanthymou on KITCHEN WHISK | Martha Arango on ST. ANTHONY OF PADUA | Max Matus on WOODEN ROBOT | Rasika Batra on PRAYER BEADS | Anastasia Kārkliņa on CHESTNUTS | Maciej Biedziński on HAUNTED SPOON | Shirsha Ganguly on TINTIN FIGURINE | Clio Meurer on GLOW-IN-THE-DARK ROSARY | Enya Autumn Trenholm-Jensen on PINKY RING.
Also see these series: COVID CODES | SEMIO OBJECTS | MAKING SENSE WITH… | COLOR CODEX