Maria Lionza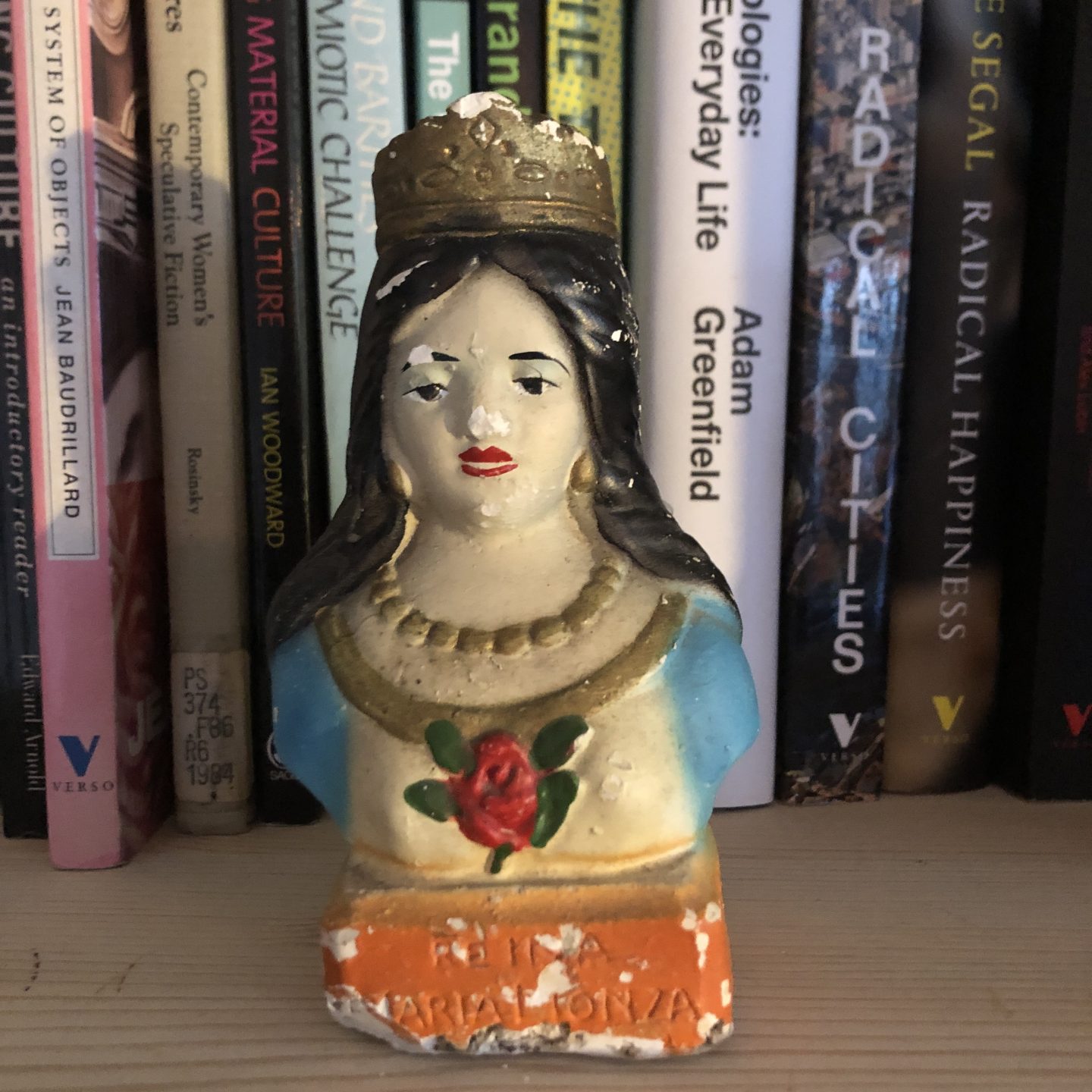 This is my small Maria Lionza bust. I bought it about 20 years ago, while looking for inspiration for a design project. It is made out of cheap plaster: the tip of the nose has been chipped off, and the base shows clear signs of bagworm intrusion. I should have gotten rid of it a long time ago, but how does one reconcile disposing of a diasporic object with preserving cultural memory and identity? As for its symbolism, even the most secular of Latin Americans would hesitate before inviting the wrath of the gods with such brazen abandon.
I got it from a specialised Santería shop in Caracas where initiated practitioners and believers find all sorts of ingredients, imagery and objects for rites and ceremonies. Santería is the syncretic religion of Venezuela- made up of fragments from the Animism of its native population, the Catholicism from the Spaniards and the Yoruba religion from the African slaves that they brought with them. Maria Lionza tops the pyramid of this belief system as its Goddess Queen. She is our tropical Aphrodite, the Protector of Nature, Goddess of the Seas, Love and Fertility. She can be as fierce as she is kind.
The legend tells us that she is a mestiza, the daughter of a Criolla woman (second-generation Spaniards born in Venezuela) and an indigenous king. Having grown up in Caracas, I was always mesmerised by her myth and its personification in the form of an imposing statue splitting the central highway in the east side of the city. The statue shows her naked and looking incredibly strong, riding a Tapir while carrying a human female pelvis with raised arms. She is the embodiment of the matriarchal spirit. In the 1990s this specific statue became an inspiration for spirited women and more recently she was "embodied" by the Venezuelan avant-garde musician Arca, adding a whole set of new connotations to its already heavy symbolic load.
In stark contrast, my statuette is only about 10 cm tall. Maria Lionza might look battered and dated, sitting on my bookshelf with the dignity of a former beauty queen. But for me she is an eccentric, living landmark of a place that exists only in my memory. She reminds me where I come from and of who I am. Every time I am asked to fill in my ethnicity on an official document, I hover over the options and finally settle on "White" AND "Other." And that is OK. There is no contradiction. As a blue-eyed Latina I cannot forget that I come from the same land as Maria Lionza, the mestiza goddess who forever raises a pelvis against the infinite blue sky of Caracas.
---
Semioticians' stories: Josh Glenn on MONKEY WHIMSEY | Malcolm Evans on QUEEN MARY FOB |Lucia Laurent-Neva (England) on TEAL BLUE VOYAGER | Rachel Lawes (England) on DEVIL GREEN | Charles Leech (Canada) on STORMTROOPER WHITE | Ramona Lyons on RABBIT BOX | Matthew De Abaitua on HATCHET | Chris Arning on INKSTONE BROOM | Hamsini Shivakumar on SOUL MOTHER SAREES | Lucia Laurent-Neva on SPONGEBOB BUS | Samuel Grange on SALT & PEPPER HOLDER | Ximena Tobi on VASALISA | Luca Marchetti on TEAPOT | Charles Leech on ORNAMENT | Brian McIntyre on BONE & FLINT NECKLACE | Gabriela Pedranti on MAFALDA DOLL | Sarah Johnson on JOAN OF ARC FIGURINE | Vijay Parthasarathy on BINGO | Aiyana Gunjan on WEDDING DUCKS | Serdar Paktin on NEY | Paulina Goch-Kenawy on VASE | Daria Arkhipova on POKER CHIP | Iván Islas on THERMOS | Sónia Marques on CABBAGE TUREEN | Thierry Mortier on BICYCLE BELL | Louise Jolly on CHALICES | Wei Fen Lee on CURRY PUFF POT | Mariane Cara on MINI WINDSOCK | Malex Salamanques Amiel on MARIA LIONZA | Seema Khanwalkar on THANJAVUR DOLL | Maria Papanthymou on KITCHEN WHISK | Martha Arango on ST. ANTHONY OF PADUA | Max Matus on WOODEN ROBOT | Rasika Batra on PRAYER BEADS | Anastasia Kārkliņa on CHESTNUTS | Maciej Biedziński on HAUNTED SPOON | Shirsha Ganguly on TINTIN FIGURINE | Clio Meurer on GLOW-IN-THE-DARK ROSARY | Enya Autumn Trenholm-Jensen on PINKY RING.
Also see these series: COVID CODES | SEMIO OBJECTS | MAKING SENSE WITH… | COLOR CODEX