Wedding Ducks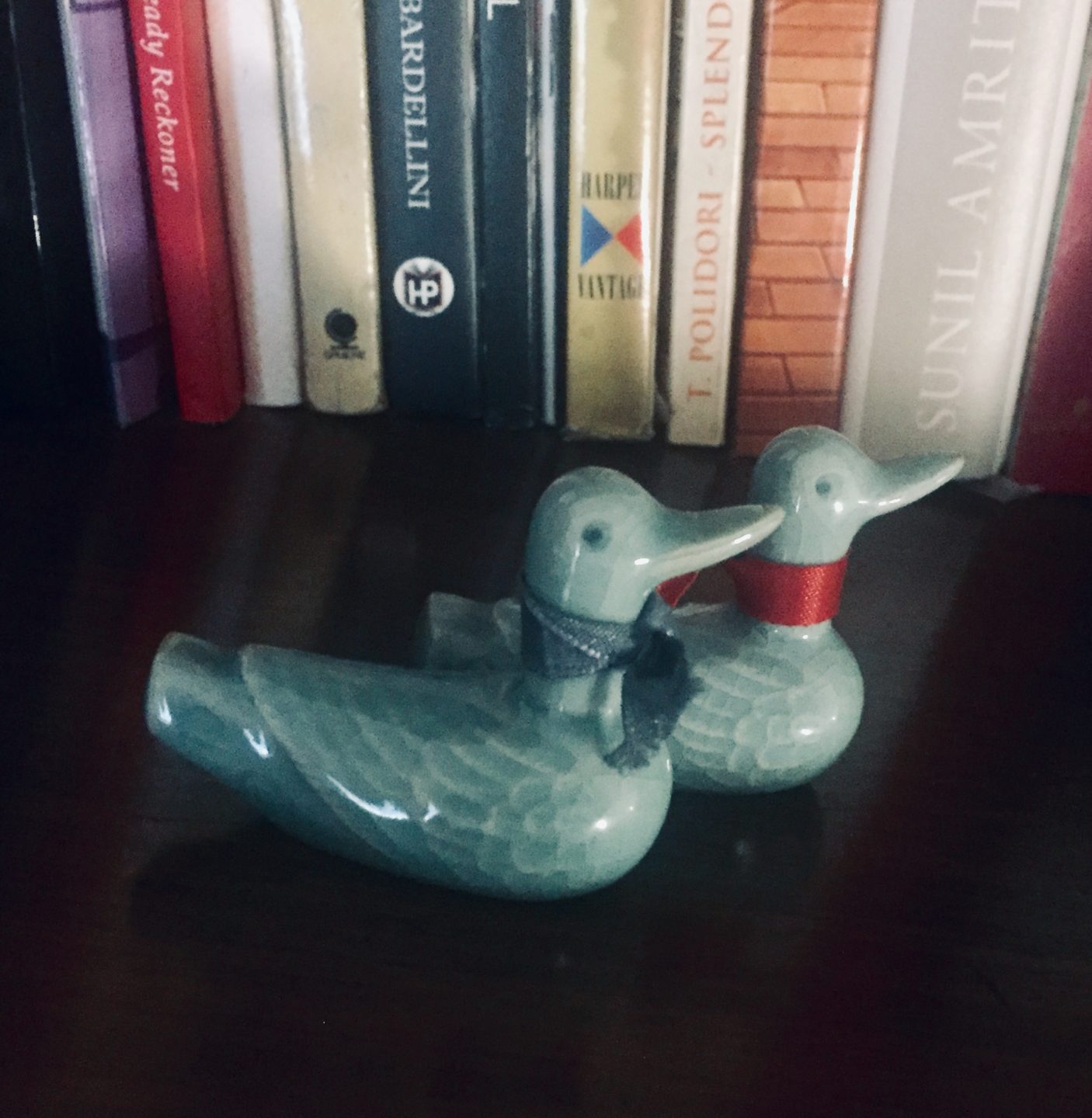 When traveling to South Korea, I was smitten by the elegance of celadon ceramics. A surviving example of traditional Korean craftsmanship from the Goryeo period (10th-11th century), its transparent blue-green colour and subtle cracks make this "greenware" uniquely fine and exquisite. Throughout my trip I searched for a celadon piece to bring home — one that was neither too fragile nor too expensive. But sadly, no luck.

At the airport, however, my eyes fell on the two little ducks humbly sitting on a shelf. It was love at first sight: the miniature form, the understated beauty of celadon green, this was Korean greenware in all its subtlety, without frills or fancy. Beautiful things surely come in small packages. Thrilled with my find, I instantly, said yes to my two green ducks.
Having paid for the ducks, I started to remove the ribbons around their necks: blue for one, red for the other. These sublime pieces didn't need any further decoration, I thought. However, the shopkeeper stopped me urgently — which took me by surprise. We both spoke English, so we were able to strike up a conversation in which I was enlightened about the ducks.
Mandarin ducks, a species once widespread in East Asia, are believed to be the only duck species to mate for life. For this reason, mandarins are a symbol of fidelity and deep love in Korean culture, and paired duck figurines like the ones I'd just purchased are used in wedding ceremonies and given as marriage gifts. The blue ribbon signifies a male duck, the shopkeeper explained, and the red ribbon a female; the ribbons weren't merely decorative. I was fascinated by the shopkeeper's stories about Korean life and symbolism; if it hadn't been for my boarding call, I would have spoken with him for much longer. This simple object had enriched my perspective.
The two ducks now sit on my bookshelf in tranquil beauty, no longer merely a celadon curio but a symbol of love and commitment. My favourite part of this tradition is that the position of the ducks signifies their relationship status: when they're facing beak-to-beak, it signifies harmony, but when they're facing away from each other, it's a tiff! As I watch my ducks shift positions on the shelf, their story continues in my head.
---
Semioticians' stories: Josh Glenn on MONKEY WHIMSEY | Malcolm Evans on QUEEN MARY FOB |Lucia Laurent-Neva (England) on TEAL BLUE VOYAGER | Rachel Lawes (England) on DEVIL GREEN | Charles Leech (Canada) on STORMTROOPER WHITE | Ramona Lyons on RABBIT BOX | Matthew De Abaitua on HATCHET | Chris Arning on INKSTONE BROOM | Hamsini Shivakumar on SOUL MOTHER SAREES | Lucia Laurent-Neva on SPONGEBOB BUS | Samuel Grange on SALT & PEPPER HOLDER | Ximena Tobi on VASALISA | Luca Marchetti on TEAPOT | Charles Leech on ORNAMENT | Brian McIntyre on BONE & FLINT NECKLACE | Gabriela Pedranti on MAFALDA DOLL | Sarah Johnson on JOAN OF ARC FIGURINE | Vijay Parthasarathy on BINGO | Aiyana Gunjan on WEDDING DUCKS | Serdar Paktin on NEY | Paulina Goch-Kenawy on VASE | Daria Arkhipova on POKER CHIP | Iván Islas on THERMOS | Sónia Marques on CABBAGE TUREEN | Thierry Mortier on BICYCLE BELL | Louise Jolly on CHALICES | Wei Fen Lee on CURRY PUFF POT | Mariane Cara on MINI WINDSOCK | Malex Salamanques Amiel on MARIA LIONZA | Seema Khanwalkar on THANJAVUR DOLL | Maria Papanthymou on KITCHEN WHISK | Martha Arango on ST. ANTHONY OF PADUA | Max Matus on WOODEN ROBOT | Rasika Batra on PRAYER BEADS | Anastasia Kārkliņa on CHESTNUTS | Maciej Biedziński on HAUNTED SPOON | Shirsha Ganguly on TINTIN FIGURINE | Clio Meurer on GLOW-IN-THE-DARK ROSARY | Enya Autumn Trenholm-Jensen on PINKY RING.
Also see these series: COVID CODES | SEMIO OBJECTS | MAKING SENSE WITH… | COLOR CODEX