Soul Mother Sarees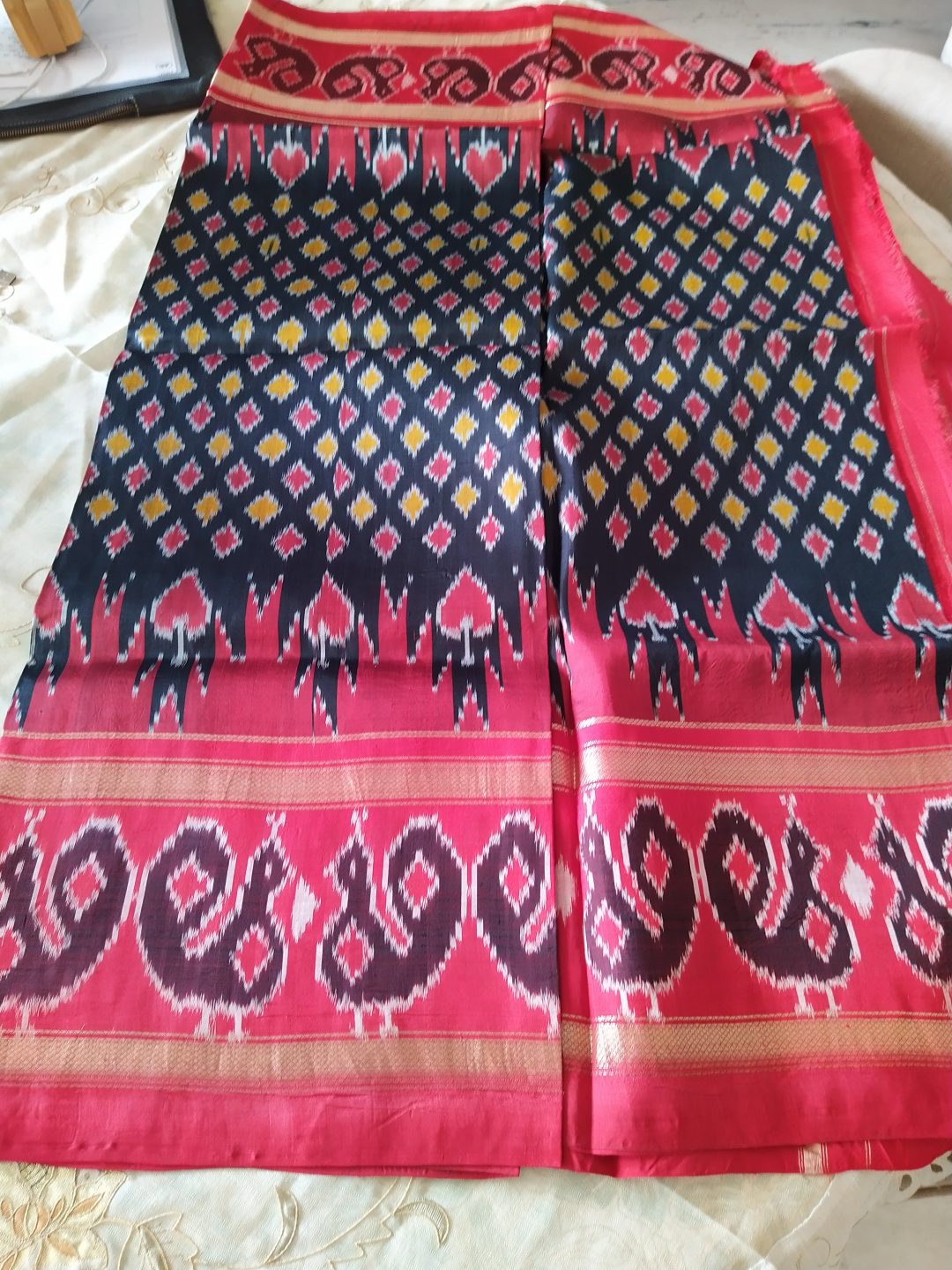 One in a (sub-)series of posts contributed to SEMIOVOX's Object Oriented series by applied-semiotics colleagues and friends from around the world.
---
There are sarees that we inherit from our mothers and sarees that we buy for ourselves. Silk sarees, especially, from Kanjeevaram have a life that spans several decades. Like many women of my generation, I have a full wardrobe of silk sarees, bought or received as gifts for various weddings, Diwalis, birthdays and anniversaries.
And then there are the sarees with special significance. Some years ago, one of my childhood friends gifted me her mother-in-law's Pochampalli silk saree in her memory, after she had passed away. I had known her since I was thirteen, looked up to her and admired her immensely. She was very capable, deeply engaged with making the world better, widely travelled, very cosmopolitan yet rooted in Chennai and our Tamil Brahmin culture. She played all her roles of wife, mother, daughter-in-law, Zonta president, and mother-in-law with great ease and élan.
And then another friend did the same, when her mother passed away. While going through her mother's things, she picked out one saree that belonged to her mother, that she wanted me to have in her memory. I had also admired my friend's mother for the same reasons.
I have never worn these sarees. Somehow, it doesn't feel right to wear them. Yet I have kept them safely and carefully and will cherish them for all the years to come. These sarees speak to me at many levels. They remind me of the strength of women of previous generations, who faced much tougher resistance to their assertion from conservative society at large and overcame them. They give me inspiration to continue the push for women's equality in a society based on male privilege.
They remind me of the power of inter-generational relationships among women. There are the emotions attached to blood ties and personal ancestry. These are common and found among all. And then there are the soul connections among women of different generations, which give women roots and wings at the same time.
Finally, these are sarees of a design, colour, pattern and weave of previous time periods. Kanjeevaram sarees, like the diamond nose ring, are an identity marker of my community, the Tamil Brahmins, Iyers and Iyengars. Pochampalli sarees from Andhra Pradesh are part of South Indian heritage. While I am cosmopolitan by choice, I believe that without connection to our roots, who are we? These sarees remind me of the place that generations of Tamil Brahmin women have given to Kanjeevaram and Pochampalli silk sarees, to express their sense of dignity, personality and identity.
---
Semioticians' stories: Josh Glenn on MONKEY WHIMSEY | Malcolm Evans on QUEEN MARY FOB |Lucia Laurent-Neva (England) on TEAL BLUE VOYAGER | Rachel Lawes (England) on DEVIL GREEN | Charles Leech (Canada) on STORMTROOPER WHITE | Ramona Lyons on RABBIT BOX | Matthew De Abaitua on HATCHET | Chris Arning on INKSTONE BROOM | Hamsini Shivakumar on SOUL MOTHER SAREES | Lucia Laurent-Neva on SPONGEBOB BUS | Samuel Grange on SALT & PEPPER HOLDER | Ximena Tobi on VASALISA | Luca Marchetti on TEAPOT | Charles Leech on ORNAMENT | Brian McIntyre on BONE & FLINT NECKLACE | Gabriela Pedranti on MAFALDA DOLL | Sarah Johnson on JOAN OF ARC FIGURINE | Vijay Parthasarathy on BINGO | Aiyana Gunjan on WEDDING DUCKS | Serdar Paktin on NEY | Paulina Goch-Kenawy on VASE | Daria Arkhipova on POKER CHIP | Iván Islas on THERMOS | Sónia Marques on CABBAGE TUREEN | Thierry Mortier on BICYCLE BELL | Louise Jolly on CHALICES | Wei Fen Lee on CURRY PUFF POT | Mariane Cara on MINI WINDSOCK | Malex Salamanques Amiel on MARIA LIONZA | Seema Khanwalkar on THANJAVUR DOLL | Maria Papanthymou on KITCHEN WHISK | Martha Arango on ST. ANTHONY OF PADUA | Max Matus on WOODEN ROBOT | Rasika Batra on PRAYER BEADS | Anastasia Kārkliņa on CHESTNUTS | Maciej Biedziński on HAUNTED SPOON | Shirsha Ganguly on TINTIN FIGURINE | Clio Meurer on GLOW-IN-THE-DARK ROSARY | Enya Autumn Trenholm-Jensen on PINKY RING.
Also see these series: COVID CODES | SEMIO OBJECTS | MAKING SENSE WITH… | COLOR CODEX