SpongeBob Bus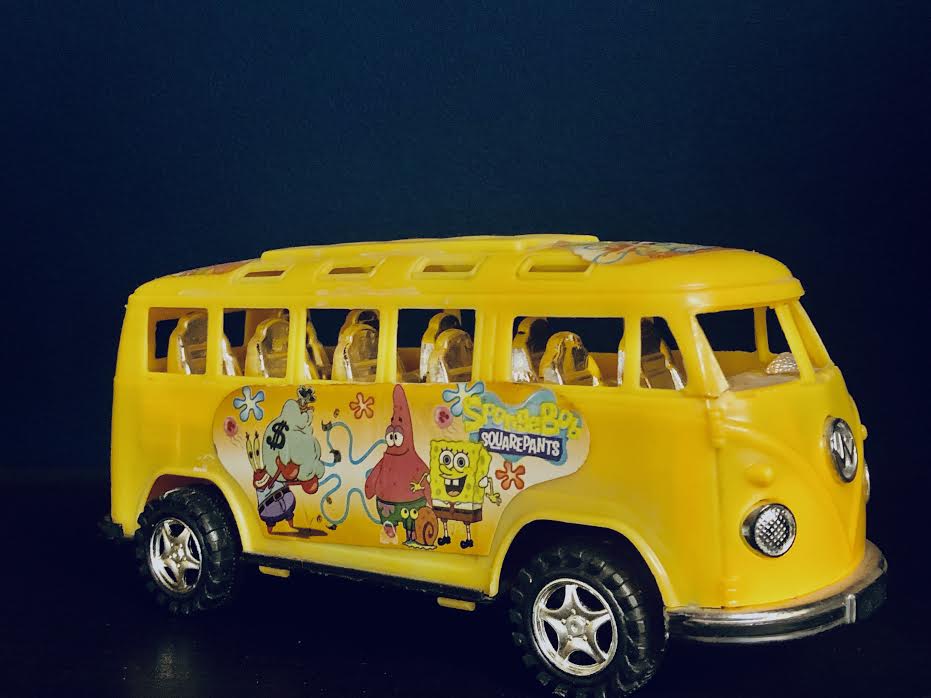 One in a (sub-)series of posts contributed to SEMIOVOX's Object Oriented series by applied-semiotics colleagues and friends from around the world.
---
A few years ago, I found myself in Pune, India doing ethno-semiotics fieldwork for an auto brand. My mission in the city was to spend 15 hours with someone who had never owned a vehicle. This is how I met Ramesh and got my yellow SpongeBob bus.
In the search for better opportunities, Ramesh moved from Rajasthan four years before leaving his wife, and his three children behind. With no family nor friends around, he spent his days working at his home. He was a solitary man who kept lots of his thoughts to himself. At the beginning of our day together, Ramesh was quiet, but as time progressed, he started to open his heart and the hours were filled quickly with his life views and his love for Discovery Channel and engineering.
Ramesh's dwelling consisted of one 4sqm room, a bathroom and a kitchen. His home was austere rather than minimalistic. His main room was crowded with piles of boxes containing traditional lighting he sold locally — I still feel that these lights worked as a metaphor for his hopes in life. His home was puzzling because it contained everything his life was about — work, and at the same time, it was empty of his personality and his being. Sleeping on the floor every night, he was sharing dreams with his boxes. His only companions were an old television placed in a corner of the room and a poster of Brahma, Vishnu and Shiva who constantly guard him. When talking to him, you could see in his eyes that his loneliness was soulfully painful.
Later on that day, we eat at a local restaurant, a place I still remember as serving the spiciest food on earth. He was laughing at me and my comical gestures while eating my spicy biryani. Gently, he stopped laughing, and I could see some tears in his eyes. I tried to contain mine. A silent, but deep moment filled with gratitude which was only interrupted by the translator asking for the bill. On our way back, he stopped in front of a small shop and asked for me to wait outside. After a while, he came out with a yellow SpongeBob bus and said, 'I want your son to have it. He will know that one day you met Ramesh and made him laugh. You have been the only person interested in my life since I left home." I felt embarrassed as this was my job. He didn't accept anything in exchange.
Perhaps I brought a bit of hope to Ramesh's life on that day, but he gave me more than a yellow bus. The vibrancy of the colours and lively motifs are for me a constant reminder that kindness is the most powerful life vehicle. Listening carefully and treating people with respect is all we need to move forward. For now, his gift sits in a special place in my office before I pass it onto my son.
Ramesh may not have had a car, but his bus took me further than anyone has done.
---
Semioticians' stories: Josh Glenn on MONKEY WHIMSEY | Malcolm Evans on QUEEN MARY FOB |Lucia Laurent-Neva (England) on TEAL BLUE VOYAGER | Rachel Lawes (England) on DEVIL GREEN | Charles Leech (Canada) on STORMTROOPER WHITE | Ramona Lyons on RABBIT BOX | Matthew De Abaitua on HATCHET | Chris Arning on INKSTONE BROOM | Hamsini Shivakumar on SOUL MOTHER SAREES | Lucia Laurent-Neva on SPONGEBOB BUS | Samuel Grange on SALT & PEPPER HOLDER | Ximena Tobi on VASALISA | Luca Marchetti on TEAPOT | Charles Leech on ORNAMENT | Brian McIntyre on BONE & FLINT NECKLACE | Gabriela Pedranti on MAFALDA DOLL | Sarah Johnson on JOAN OF ARC FIGURINE | Vijay Parthasarathy on BINGO | Aiyana Gunjan on WEDDING DUCKS | Serdar Paktin on NEY | Paulina Goch-Kenawy on VASE | Daria Arkhipova on POKER CHIP | Iván Islas on THERMOS | Sónia Marques on CABBAGE TUREEN | Thierry Mortier on BICYCLE BELL | Louise Jolly on CHALICES | Wei Fen Lee on CURRY PUFF POT | Mariane Cara on MINI WINDSOCK | Malex Salamanques Amiel on MARIA LIONZA | Seema Khanwalkar on THANJAVUR DOLL | Maria Papanthymou on KITCHEN WHISK | Martha Arango on ST. ANTHONY OF PADUA | Max Matus on WOODEN ROBOT | Rasika Batra on PRAYER BEADS | Anastasia Kārkliņa on CHESTNUTS | Maciej Biedziński on HAUNTED SPOON | Shirsha Ganguly on TINTIN FIGURINE | Clio Meurer on GLOW-IN-THE-DARK ROSARY | Enya Autumn Trenholm-Jensen on PINKY RING.
Also see these series: COVID CODES | SEMIO OBJECTS | MAKING SENSE WITH… | COLOR CODEX