Prayer Beads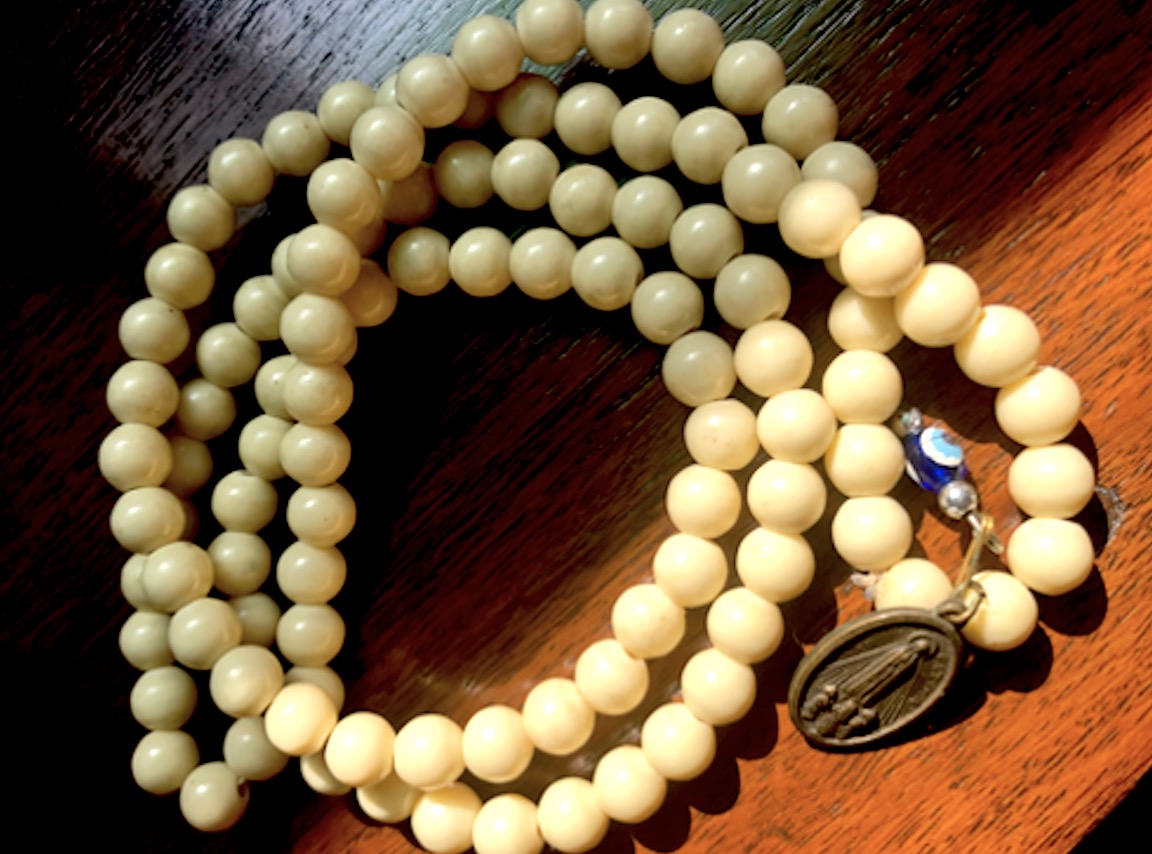 The prayer beads feel cool to my hands — all 108 of them. I count the beads on my Japmala (also known as a Mala) slowly, spelling out each syllable, wish, prayer, gratitude.
In the Yogic and Hindu tradition, the number 9 signals completion. 108 beads add up to this number. One whole cycle. In Buddhism it is the number reached by multiplying the senses with the sensation, whether these occur internally and externally, whether they are in the past, present or future. Finally, we arrive at 108!
On reaching the end, I flip back and begin again with the 108th bead, which now becomes the 1st. My Mala does not have a distinctive 109th bead (sometimes called the "guru bead") indicating that I need to start over. I do not see this as incomplete or as a bad omen.
The number 108 finds itself mentioned in astrology, astronomy, religion, practices of breath and breathing. To me it's the number of beads on my Mala — to be retained and never to be lost.
My mother gave me these beads after a moment in my life when living was in question; the Mala is supposed to heal and protect life itself. Over the years the string faded, thinned, then snapped. I got it restrung by a man sitting outside a jewellery store. He asked if a guru bead could be added so that it would be "complete." But to me it is already just that — complete.
The Mala used by Sikhs like me — although I didn't know this until recently — typically features 108 knots tied on a woollen string. The Sikh prayer begins with 'Ek Onkar' — there is one God. To me, being Sikh is accepting that all gods are one. These off-white beads on an ordinary string represent just that.
For example, the medallion shown here belonged to an Irish nun who was the principal of my high school. Corridor legends informed me that she came to India after having lost her fiancé in the war; unable to bear this loss, she devoted herself to service and chastity to heal. She prayed by my bedside with four medallions. They too found space on the string. Proof of a vast kind of love and selflessness. Over the years three of these medallions have broken and fallen off; it's all part of the cycle of life and change. The one blackened medallion that remains signifies how far I have travelled.
Once, while at an exotic location, a stranger on the road came up to me and gave me an evil eye on a safety pin. The randomness of this gesture at a time of uncertainty seemed like a sign; so the tiny gold-coloured safety pin also found its way to a spot between the beads.
The Mala goes with me everywhere I travel, and stays under my pillow at night. It is the halo that protects and the circle that enables.
---
Semioticians' stories: Josh Glenn on MONKEY WHIMSEY | Malcolm Evans on QUEEN MARY FOB |Lucia Laurent-Neva (England) on TEAL BLUE VOYAGER | Rachel Lawes (England) on DEVIL GREEN | Charles Leech (Canada) on STORMTROOPER WHITE | Ramona Lyons on RABBIT BOX | Matthew De Abaitua on HATCHET | Chris Arning on INKSTONE BROOM | Hamsini Shivakumar on SOUL MOTHER SAREES | Lucia Laurent-Neva on SPONGEBOB BUS | Samuel Grange on SALT & PEPPER HOLDER | Ximena Tobi on VASALISA | Luca Marchetti on TEAPOT | Charles Leech on ORNAMENT | Brian McIntyre on BONE & FLINT NECKLACE | Gabriela Pedranti on MAFALDA DOLL | Sarah Johnson on JOAN OF ARC FIGURINE | Vijay Parthasarathy on BINGO | Aiyana Gunjan on WEDDING DUCKS | Serdar Paktin on NEY | Paulina Goch-Kenawy on VASE | Daria Arkhipova on POKER CHIP | Iván Islas on THERMOS | Sónia Marques on CABBAGE TUREEN | Thierry Mortier on BICYCLE BELL | Louise Jolly on CHALICES | Wei Fen Lee on CURRY PUFF POT | Mariane Cara on MINI WINDSOCK | Malex Salamanques Amiel on MARIA LIONZA | Seema Khanwalkar on THANJAVUR DOLL | Maria Papanthymou on KITCHEN WHISK | Martha Arango on ST. ANTHONY OF PADUA | Max Matus on WOODEN ROBOT | Rasika Batra on PRAYER BEADS | Anastasia Kārkliņa on CHESTNUTS | Maciej Biedziński on HAUNTED SPOON | Shirsha Ganguly on TINTIN FIGURINE | Clio Meurer on GLOW-IN-THE-DARK ROSARY | Enya Autumn Trenholm-Jensen on PINKY RING.
Also see these series: COVID CODES | SEMIO OBJECTS | MAKING SENSE WITH… | COLOR CODEX