Hatchet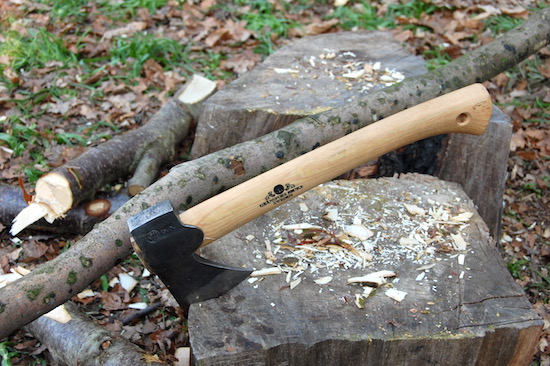 I take the hatchet with me when I camp. Feet planted far apart, I bring my hatchet down in one deliberate stroke to feather a log into kindling. I am not going to chop down a tree with my hatchet. Freshly hewn wood is too wet with life to burn. I unclip the leather sheath and reveal the dark raw blade, thinking, "This used to mean so much to me."
My wife bought me this hatchet for Father's Day, on behalf of my infant children. I was writing a history of camping at the time, researching interwar bohemians, suffragettes concerned with outdoor education, moonshine addicts, and gentlemen climbers.
From the vaults of the British Library, I called up books on the camping craft of the American wild and the more timid British equivalent: the woodcraft manuals of Nessmuk — an asthmatic who wrote about his travels in the 1880s across the Adirondacks by ultralight canoe — and Horace Kephart, who lived among the people of the Smoky Mountains. I wrote an account of the philosophers' camp at which Ralph Waldo Emerson watched naturalist and scientist Louis Agassiz dissect a fish, and the luxurious car camps of the four vagabonds — Henry Ford, Thomas Edison, poet John Burroughs and tyre magnate Harvey Firestone.
From these old books, their pages biscuity with age, I learned recipes for whole baked deer's head, the wisdom of packing stout pantaloons, and how to stack green logs so that a campfire smoulders all through the night. The manuals are much concerned with the craft of the campfire. The forest seemed limitless, the fires built by these early American campers were colossal. Crazily so. Fuelled by fear, and set upon expanding a circle of illumination into the dark beyond.
De Tocqueville wrote that while Europeans talked a great deal of the wilds of America, Americans themselves did not notice the mighty forests until they fell under their hatchet. But in the latter half of the nineteenth century, this observation no longer held. The American camping manuals counsel against wasteful campfires, and perpetuate a mythology of the Native American. In their hymns to sleeping under hemlock fronds, the utilitarianism of the pioneer is poeticised with a nascent environmentalism.
I interspersed weeks of research with weekends camping. In one year, we camped together thirteen times. What was I looking for, in those camping years? Or what was I trying to leave behind? I'll tell you this much: we were poor, and I had lost my job, and couldn't get another, and we were living in a town on rented time. In this state of unbelonging, I had to be a father.
The hatchet is of Swedish manufacture, and thrums with northern virtues. If I could not buy my children a looking glass, a mockingbird, a diamond ring, then I could at least gather them around a campfire of my own making. I know that I'm not really an outdoorsman like Kephart or Nessmuk. I do not hunt and fish. But the hatchet represents a modest pragmatism, and this is the virtue from which we hew our own luck.
---
Semioticians' stories: Josh Glenn on MONKEY WHIMSEY | Malcolm Evans on QUEEN MARY FOB |Lucia Laurent-Neva (England) on TEAL BLUE VOYAGER | Rachel Lawes (England) on DEVIL GREEN | Charles Leech (Canada) on STORMTROOPER WHITE | Ramona Lyons on RABBIT BOX | Matthew De Abaitua on HATCHET | Chris Arning on INKSTONE BROOM | Hamsini Shivakumar on SOUL MOTHER SAREES | Lucia Laurent-Neva on SPONGEBOB BUS | Samuel Grange on SALT & PEPPER HOLDER | Ximena Tobi on VASALISA | Luca Marchetti on TEAPOT | Charles Leech on ORNAMENT | Brian McIntyre on BONE & FLINT NECKLACE | Gabriela Pedranti on MAFALDA DOLL | Sarah Johnson on JOAN OF ARC FIGURINE | Vijay Parthasarathy on BINGO | Aiyana Gunjan on WEDDING DUCKS | Serdar Paktin on NEY | Paulina Goch-Kenawy on VASE | Daria Arkhipova on POKER CHIP | Iván Islas on THERMOS | Sónia Marques on CABBAGE TUREEN | Thierry Mortier on BICYCLE BELL | Louise Jolly on CHALICES | Wei Fen Lee on CURRY PUFF POT | Mariane Cara on MINI WINDSOCK | Malex Salamanques Amiel on MARIA LIONZA | Seema Khanwalkar on THANJAVUR DOLL | Maria Papanthymou on KITCHEN WHISK | Martha Arango on ST. ANTHONY OF PADUA | Max Matus on WOODEN ROBOT | Rasika Batra on PRAYER BEADS | Anastasia Kārkliņa on CHESTNUTS | Maciej Biedziński on HAUNTED SPOON | Shirsha Ganguly on TINTIN FIGURINE | Clio Meurer on GLOW-IN-THE-DARK ROSARY | Enya Autumn Trenholm-Jensen on PINKY RING.
Also see these series: COVID CODES | SEMIO OBJECTS | MAKING SENSE WITH… | COLOR CODEX