Curry Puff Pot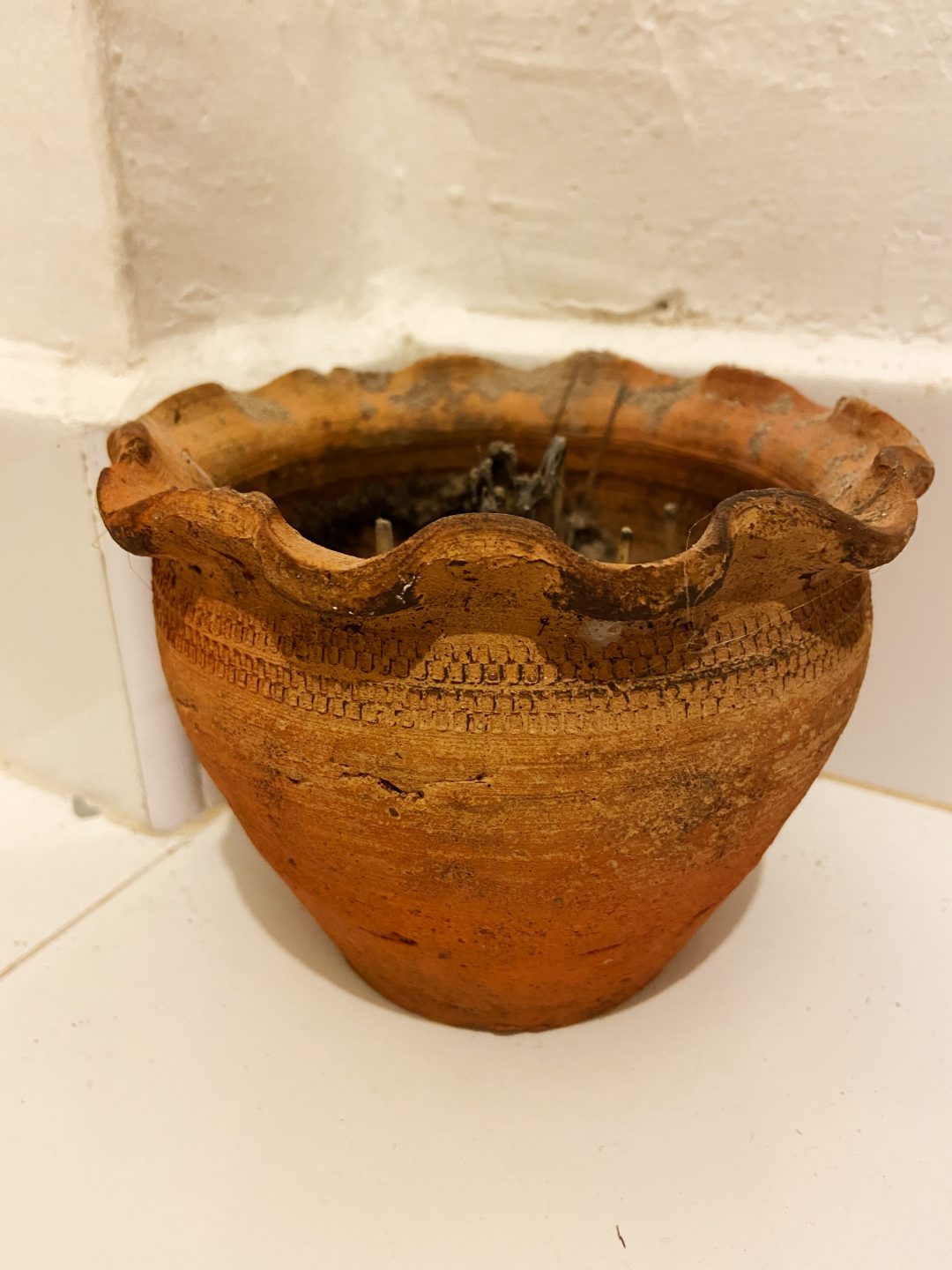 Sunset over wats and coconut trees. Biking far and fast past the Mekong and padi fields and empty roads. Exploding bougainvillaeas under a clear blue sky.

It was here in Luang Prabang that I discovered the curry puff pot. In Laos, "land of a million elephants", the prevailing wisdom is that most tourists take home textiles as a souvenir. Some pack in saa paper for a postcard or two. Everyone aims for local, handmade, and fair trade. For some suspiciously twisted reason, I was drawn to the one pretty thing on the roadside that reminded me of oily, deep-fried food from home.

On our last day of put-put-putting around the outskirts of town on our rental scooters, bare frangipani trees and tin roofs flying by, we rode past a dusty little shop. Pots, earthern pots, basic ordinary everyday everyman pots for ordinary homes, big and and small, but all with their curry puff edges. Screeched to a halt. Confirmed that these unglazed clay pots were something special, each wearing a flirty ruffle on their tops. Made the inconvenient decision to fly home with three of these pots of varying sizes, the largest of which was larger than my head. I don't remember now how I got them home in a small hand carry luggage with no check-in. What I do remember: the air smelled of smoky contentment.

Later, I found out that from the Middle East, the Persian sambosag travelled west to become the empanada of Iberia, and east to become India's samosa, and maybe, the British Cornish pasty. Somewhere between then and now, here and there — thanks to the Dutch, the Portuguese, the English, or perhaps an original invention — the curry puff popped up here in Southeast Asia.

Crispy and golden, filled with curried potatoes and some variation of chicken, sardines, peas, or eggs, a good curry puff is flaky and fresh. At its best, it is the highest expression of flour, oil, and water. A love letter from a machik. A significant contributor to this pleasure lies in its edge, its sealed sides that delivers that precise extra bite of fried flavour. I am obsessed with this little flourish, the same little flourish I found at the ends of these pots – hence the name "curry puff pots".

The nonya curry puff, the Chinese karipap, the Malay epok epok, Indonesia's pastel, and my little Laos clay curry puff pot — what spiritual guiding force led ancient hands to decide how to finish them; whether to crimp, to fold, to braid, or to pinch?

Is this a reunion in the ex-colonies, of curry puff cousins, from pastry to pot? Or is it the gentle gestural thread of human instinct — to place our fat thumbs in places malleable? To end a project with a flourish, to embellish the edges?

Or perhaps, just a celebration of the ordinary. Of potatoes and peas, flour and oil, clay and dust. Of potters and roadside pastry chefs. Of marigold sunsets from somewhere else, and bright solid joy in a tiny little town.
---
Semioticians' stories: Josh Glenn on MONKEY WHIMSEY | Malcolm Evans on QUEEN MARY FOB |Lucia Laurent-Neva (England) on TEAL BLUE VOYAGER | Rachel Lawes (England) on DEVIL GREEN | Charles Leech (Canada) on STORMTROOPER WHITE | Ramona Lyons on RABBIT BOX | Matthew De Abaitua on HATCHET | Chris Arning on INKSTONE BROOM | Hamsini Shivakumar on SOUL MOTHER SAREES | Lucia Laurent-Neva on SPONGEBOB BUS | Samuel Grange on SALT & PEPPER HOLDER | Ximena Tobi on VASALISA | Luca Marchetti on TEAPOT | Charles Leech on ORNAMENT | Brian McIntyre on BONE & FLINT NECKLACE | Gabriela Pedranti on MAFALDA DOLL | Sarah Johnson on JOAN OF ARC FIGURINE | Vijay Parthasarathy on BINGO | Aiyana Gunjan on WEDDING DUCKS | Serdar Paktin on NEY | Paulina Goch-Kenawy on VASE | Daria Arkhipova on POKER CHIP | Iván Islas on THERMOS | Sónia Marques on CABBAGE TUREEN | Thierry Mortier on BICYCLE BELL | Louise Jolly on CHALICES | Wei Fen Lee on CURRY PUFF POT | Mariane Cara on MINI WINDSOCK | Malex Salamanques Amiel on MARIA LIONZA | Seema Khanwalkar on THANJAVUR DOLL | Maria Papanthymou on KITCHEN WHISK | Martha Arango on ST. ANTHONY OF PADUA | Max Matus on WOODEN ROBOT | Rasika Batra on PRAYER BEADS | Anastasia Kārkliņa on CHESTNUTS | Maciej Biedziński on HAUNTED SPOON | Shirsha Ganguly on TINTIN FIGURINE | Clio Meurer on GLOW-IN-THE-DARK ROSARY | Enya Autumn Trenholm-Jensen on PINKY RING.
Also see these series: COVID CODES | SEMIO OBJECTS | MAKING SENSE WITH… | COLOR CODEX