Chalices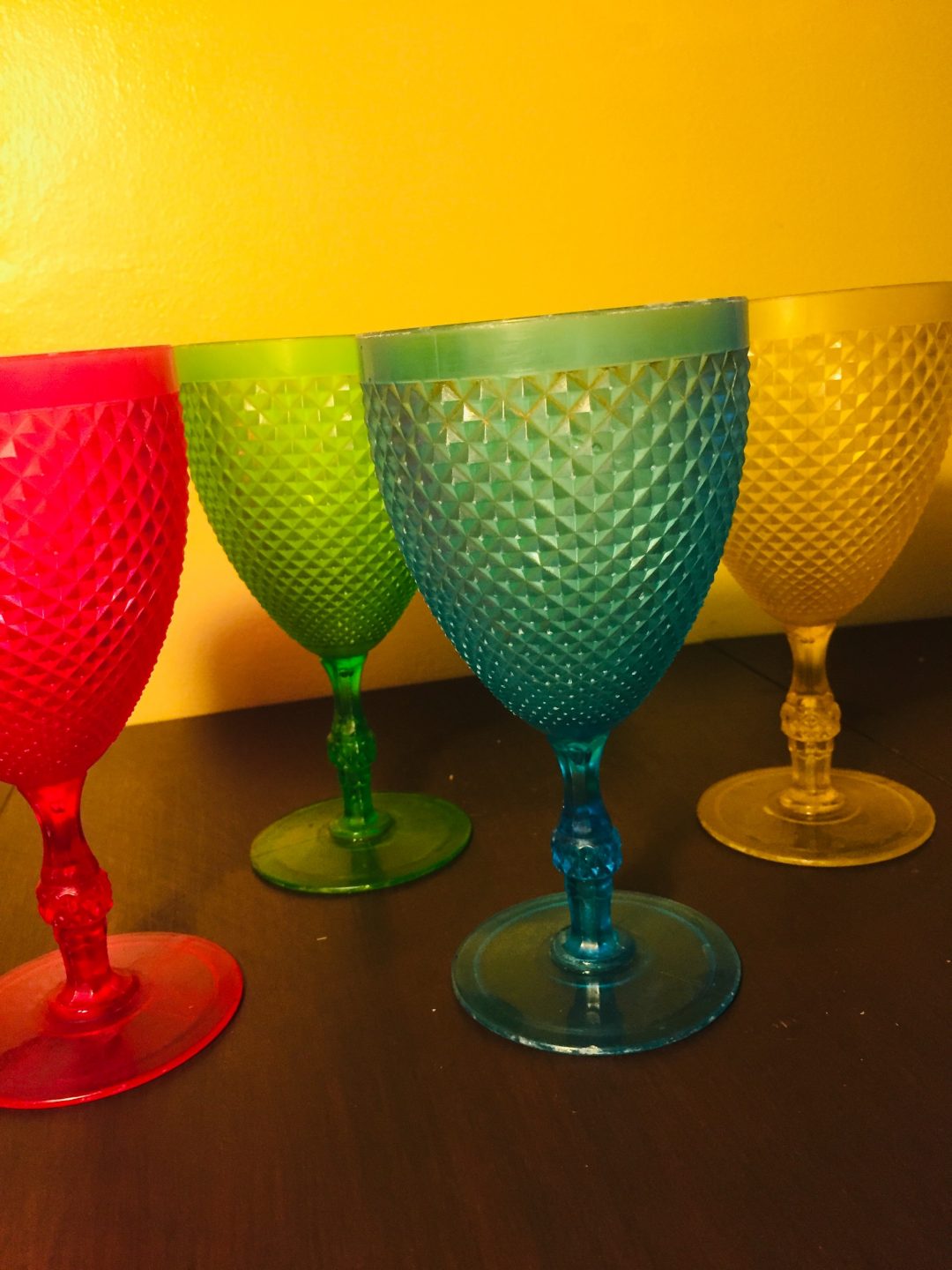 The Chalices are four plastic picnic glasses, designed to look like medieval goblets, with ornate stems and faceted bowls.
As objects whose plastic-ness makes fun of their ornate, aspirational form, they're classic examples of kitsch. Their form is heavy, precious and portentous — but they're light as air and indestructible.
Real kitsch displays these kinds of tensions innocently. The Chalices, on the other hand, are trying really hard to be kitsch, which probably excludes them from this club. I bought them in a homeware shop which is all about making domesticity into an ironic performance: elaborate pink feather dusters, tiered cake stands and napkins featuring great art.
But for me the Chalices have a kind of magic that's not really about kitsch. There's something more fantastical than ironic about their rainbow hues and unexpected lightness. When they're set at table, they evoke for me a fairy banquet, bright and merry with lanterns and elven laughter.
Maybe the story behind the Chalices goes like this. The fairy folk liked to spy on the great halls of Kings and Queens where goblets were heavy as lead, jewel-encrusted, swilled from and thumped back down on the table with both hands. Laughing at this thuggery, they held their own mock banquets where iridescent copies of human utensils were spun out of thin air for sport.
This sense of unreality lends them to all kinds of imaginary games where kids are involved. My daughter and her friend like to make 'water cocktails' in them — basically water, ice cubes, cocktail parasols and lemon slices. The Chalices are alchemical, able to transmute water into any substance you like. (I also like to drink cold water from them. They are too light, both in matter and essence, for the heaviness of alcohol. They're to be dipped into the icy water of a crystal brook — fairy champagne.)
Kids love the Chalices and fight over the colours. As they don't read them as kitsch, they take their magic at face value: Disney come to life. My nephew even asked for a set of his own for his birthday. I couldn't find him the exact set we have — but something even better: a light-up, colour-changing medieval goblet. Let the feasting begin!
---
Semioticians' stories: Josh Glenn on MONKEY WHIMSEY | Malcolm Evans on QUEEN MARY FOB |Lucia Laurent-Neva (England) on TEAL BLUE VOYAGER | Rachel Lawes (England) on DEVIL GREEN | Charles Leech (Canada) on STORMTROOPER WHITE | Ramona Lyons on RABBIT BOX | Matthew De Abaitua on HATCHET | Chris Arning on INKSTONE BROOM | Hamsini Shivakumar on SOUL MOTHER SAREES | Lucia Laurent-Neva on SPONGEBOB BUS | Samuel Grange on SALT & PEPPER HOLDER | Ximena Tobi on VASALISA | Luca Marchetti on TEAPOT | Charles Leech on ORNAMENT | Brian McIntyre on BONE & FLINT NECKLACE | Gabriela Pedranti on MAFALDA DOLL | Sarah Johnson on JOAN OF ARC FIGURINE | Vijay Parthasarathy on BINGO | Aiyana Gunjan on WEDDING DUCKS | Serdar Paktin on NEY | Paulina Goch-Kenawy on VASE | Daria Arkhipova on POKER CHIP | Iván Islas on THERMOS | Sónia Marques on CABBAGE TUREEN | Thierry Mortier on BICYCLE BELL | Louise Jolly on CHALICES | Wei Fen Lee on CURRY PUFF POT | Mariane Cara on MINI WINDSOCK | Malex Salamanques Amiel on MARIA LIONZA | Seema Khanwalkar on THANJAVUR DOLL | Maria Papanthymou on KITCHEN WHISK | Martha Arango on ST. ANTHONY OF PADUA | Max Matus on WOODEN ROBOT | Rasika Batra on PRAYER BEADS | Anastasia Kārkliņa on CHESTNUTS | Maciej Biedziński on HAUNTED SPOON | Shirsha Ganguly on TINTIN FIGURINE | Clio Meurer on GLOW-IN-THE-DARK ROSARY | Enya Autumn Trenholm-Jensen on PINKY RING.
Also see these series: COVID CODES | SEMIO OBJECTS | MAKING SENSE WITH… | COLOR CODEX