Cabbage Tureen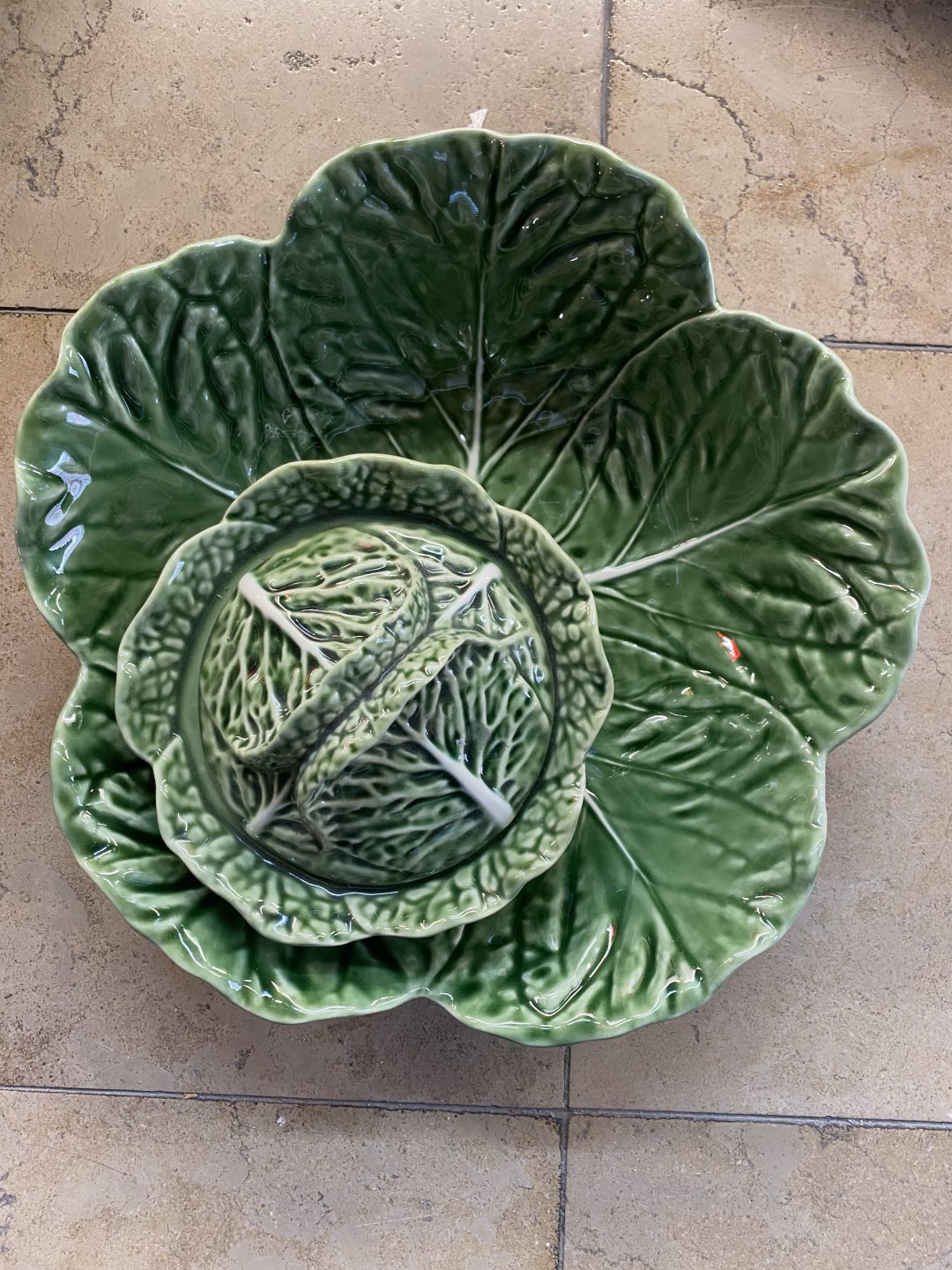 When I was a small child, the only men I considered attractive were those with perfectly combed, straight hair. Being attractive, as far as I was concerned, was exactly the same thing as having a neatly organized hairstyle. So it should come as no surprise to learn that what I considered the epitome of bad taste was the bizarre "cabbage tureen" manufactured since 1860 by Portugal's Bordallo Pinheiro ceramics company.
People who owned a Bordallo cabbage tureen didn't actually serve soup from it. The habit of serving soup from a specific container at the table was already outdated by then. People would only observe this ritual for special holiday meals. Instead, the tureen served as a centerpiece, a decorative touch, a non-functional representation of cabbage-ness. Empty, solitary, cold and useless in the middle of a table, it was the first thing you'd see when entering the room. Wrinkled, knobby, green on green, it's an excessive object — everything that I found distasteful, at the time. It was a mystery, to me, why anyone would want to own and display this object.
Later, I'd come to understand that here in Portugal a cabbage is never simply a cabbage. It's a potent symbol of rural life, peasant life. Caldo Verde, a peasant's potato and cabbage soup, is a dish emblematic of Portugal-ness. Many of our gardens are cabbage gardens; neighbours, friends, and relatives often give and receive cabbages as heartfelt Christmas gifts.
Today, I am one of these mysterious persons who owns a cabbage tureen. It's visually loud, hard to wash, and not so easy to use either. I live in constant fear of breaking it. I treasure my tureen, the very existence of which demonstrates not only my ability to protect something fragile but also my participation in the cultural continuum of my native land.
---
Semioticians' stories: Josh Glenn on MONKEY WHIMSEY | Malcolm Evans on QUEEN MARY FOB | Ramona Lyons on RABBIT BOX | Matthew De Abaitua on HATCHET | Chris Arning on INKSTONE BROOM | Hamsini Shivakumar on SOUL MOTHER SAREES | Lucia Laurent-Neva on SPONGEBOB BUS | Samuel Grange on SALT & PEPPER HOLDER | Ximena Tobi on VASALISA | Luca Marchetti on TEAPOT | Charles Leech on ORNAMENT | Brian McIntyre on BONE & FLINT NECKLACE | Gabriela Pedranti on MAFALDA DOLL | Sarah Johnson on JOAN OF ARC FIGURINE | Vijay Parthasarathy on BINGO | Aiyana Gunjan on WEDDING DUCKS | Serdar Paktin on NEY | Paulina Goch-Kenawy on VASE | Daria Arkhipova on POKER CHIP | Iván Islas on THERMOS | Sónia Marques on CABBAGE TUREEN | Thierry Mortier on BICYCLE BELL | Louise Jolly on CHALICES | Wei Fen Lee on CURRY PUFF POT | Mariane Cara on MINI WINDSOCK | Malex Salamanques Amiel on MARIA LIONZA | Seema Khanwalkar on THANJAVUR DOLL | Maria Papanthymou on KITCHEN WHISK | Martha Arango on ST. ANTHONY OF PADUA | Max Matus on WOODEN ROBOT | Rasika Batra on PRAYER BEADS | Anastasia Kārkliņa on CHESTNUTS | Maciej Biedziński on HAUNTED SPOON | Shirsha Ganguly on TINTIN FIGURINE | Clio Meurer on GLOW-IN-THE-DARK ROSARY | Enya Autumn Trenholm-Jensen on PINKY RING.