Teapot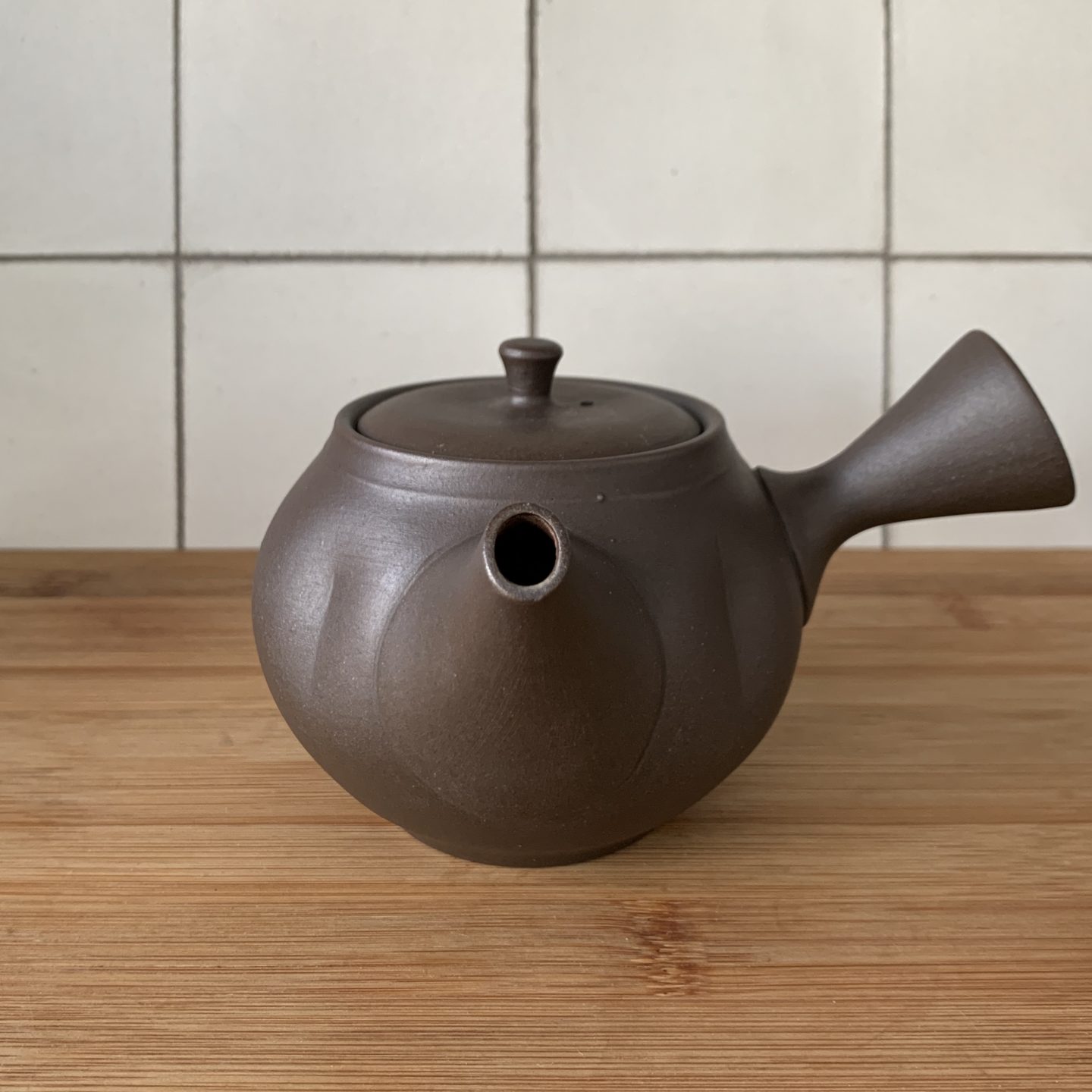 One in a (sub-)series of posts contributed to SEMIOVOX's Object Oriented series by applied-semiotics colleagues and friends from around the world.
---
I love tea, Japanese tea in particular. However, I'm a serial object-breaker, so in my various stays in Japan I'd never bought a teapot until a few years ago. When I found this yokode kyusu — the most common type of Japanese kyusu (teapot), one which features a conical handle protruding from the side — in black terracotta, I had to bring it home. Black is my favorite color.
For fear of breaking my teapot, I didn't use it… until, during the initial COVID lockdown period, I watched a biopic on a famous Japanese ceramicist. It made fall in love with my unused teapot.
My pleasure in drinking tea may end with the liquid, but it begins with the gesture. Its cone-shaped handle not only gives the yokode kyusu user a highly stable and agile grip, but it allows you to pour differently. Most kyusu handles are ordered at 90° with respect to the spout, but the handle on mine is closer to 85° — in order to allow pouring tea with a simple movement of the wrist. Engaging the elbow when pouring, according to traditional Nipponese aesthetics, is considered unpleasant.
When serving Japanese tea, it's important to pour out all the liquid contained in the kyusu, as otherwise the tea leaves will continue to brew, making them unsuitable for a second or third infusion. My teapot's perfectly balanced design makes it possible to drain every drop while balancing the pot in the teacup.
The leaves left behind in the pot collect around the spout's internal opening, ready to be drenched in the next infusion. If there is any water left in the pot, you can keep the leaves out of it by balancing the pot on its conical handle.
I now use my neglected kyusu every day. I regard it as an anonymous masterpiece of material culture.
---
Semioticians' stories: Josh Glenn on MONKEY WHIMSEY | Malcolm Evans on QUEEN MARY FOB | Ramona Lyons on RABBIT BOX | Matthew De Abaitua on HATCHET | Chris Arning on INKSTONE BROOM | Hamsini Shivakumar on SOUL MOTHER SAREES | Lucia Laurent-Neva on SPONGEBOB BUS | Samuel Grange on SALT & PEPPER HOLDER | Ximena Tobi on VASALISA | Luca Marchetti on TEAPOT | Charles Leech on ORNAMENT | Brian McIntyre on BONE & FLINT NECKLACE | Gabriela Pedranti on MAFALDA DOLL | Sarah Johnson on JOAN OF ARC FIGURINE | Vijay Parthasarathy on BINGO | Aiyana Gunjan on WEDDING DUCKS | Serdar Paktin on NEY | Paulina Goch-Kenawy on VASE | Daria Arkhipova on POKER CHIP | Iván Islas on THERMOS | Sónia Marques on CABBAGE TUREEN | Thierry Mortier on BICYCLE BELL | Louise Jolly on CHALICES | Wei Fen Lee on CURRY PUFF POT | Mariane Cara on MINI WINDSOCK | Malex Salamanques Amiel on MARIA LIONZA | Seema Khanwalkar on THANJAVUR DOLL | Maria Papanthymou on KITCHEN WHISK | Martha Arango on ST. ANTHONY OF PADUA | Max Matus on WOODEN ROBOT | Rasika Batra on PRAYER BEADS | Anastasia Kārkliņa on CHESTNUTS | Maciej Biedziński on HAUNTED SPOON | Shirsha Ganguly on TINTIN FIGURINE | Clio Meurer on GLOW-IN-THE-DARK ROSARY | Enya Autumn Trenholm-Jensen on PINKY RING.