Vase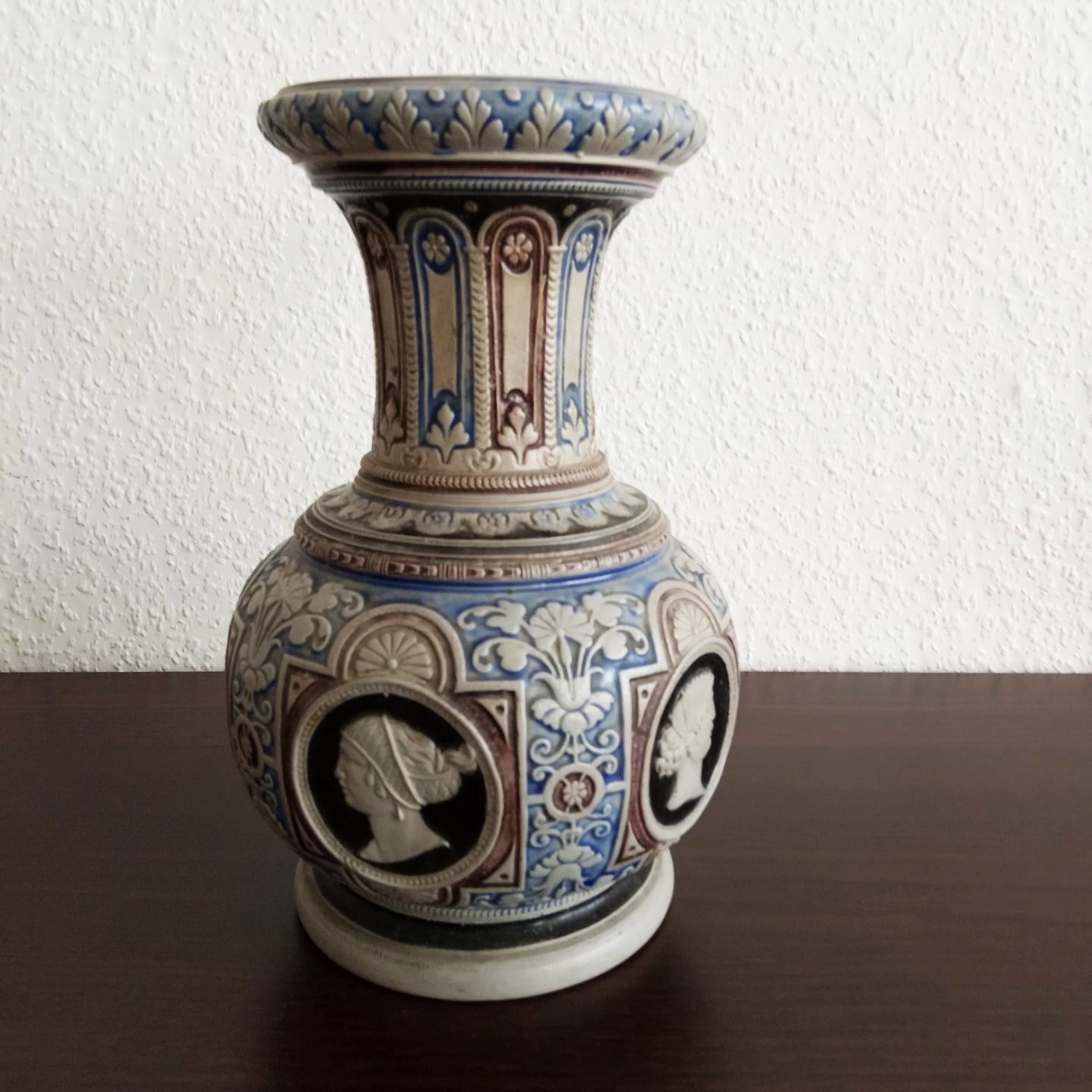 It was always there, on the shelf just above the TV niche. On our family apartment's wall unit, a piece of furniture that had become popular during the Polish People's Republic of 1947–1989. (The wall unit was huge, as if its sheer size could mask its inherent instability.) Small, inconspicuous, older than anything else we owned — there it was, the vase.
If the TV represented our family's present, this represented its past. It was always in plain sight, therefore we never looked at it. It didn't become visible, for me, until I happened to hear a family story — not during some special moment of family lore being transmitted from one generation to the next, just an anecdote told in passing. But at that moment, I saw the vase for the first time. It began to speak to me, about the dimly recollected history of my family.
The vase and its twin were originally to be found in the Grymaszewski home — a wealthy family's estate near Vilnius, the capital of Lithuania (which at that time had been annexed by Poland). Three sisters lived in that home, until one of them committed suicide. She fell madly in love and then — whether because her hopes were shattered or because she'd shamed herself through improper behavior, we don't know — she killed herself by swallowing the sulphur from the heads of matches. The two remaining sisters continued to live in that great house, with its glassed-in porch and a winter garden in which an Alsatian roamed.
It wasn't World War Two that drove the Grymaszewskis from their estate in Vilnius. They cleared out before then — it's not clear why. What happened to the family treasures? I don't know. One of the sisters, who was my great-grandmother, married twice (a German, then a Pole), survived the war, raised a daughter, and ended up in Wrocław — a city which, when under German control, was known as Breslau. There, during my grandmother Lucy's wedding, the vase and its twin were entrusted into her keeping. On that very day, however, one of them fell to the floor and was shattered.
Eventually, the surviving vase — which had witnessed so much of my family's now forgotten history — ended up in my mother's hands. It was she who placed it on our apartment's wall unit. Where it witnessed me and my sisters grow up and have children of our own.
Myth moves the imagination — and for me, this vase has become mythical.
---
Semioticians' stories: Josh Glenn on MONKEY WHIMSEY | Malcolm Evans on QUEEN MARY FOB |Lucia Laurent-Neva (England) on TEAL BLUE VOYAGER | Rachel Lawes (England) on DEVIL GREEN | Charles Leech (Canada) on STORMTROOPER WHITE | Ramona Lyons on RABBIT BOX | Matthew De Abaitua on HATCHET | Chris Arning on INKSTONE BROOM | Hamsini Shivakumar on SOUL MOTHER SAREES | Lucia Laurent-Neva on SPONGEBOB BUS | Samuel Grange on SALT & PEPPER HOLDER | Ximena Tobi on VASALISA | Luca Marchetti on TEAPOT | Charles Leech on ORNAMENT | Brian McIntyre on BONE & FLINT NECKLACE | Gabriela Pedranti on MAFALDA DOLL | Sarah Johnson on JOAN OF ARC FIGURINE | Vijay Parthasarathy on BINGO | Aiyana Gunjan on WEDDING DUCKS | Serdar Paktin on NEY | Paulina Goch-Kenawy on VASE | Daria Arkhipova on POKER CHIP | Iván Islas on THERMOS | Sónia Marques on CABBAGE TUREEN | Thierry Mortier on BICYCLE BELL | Louise Jolly on CHALICES | Wei Fen Lee on CURRY PUFF POT | Mariane Cara on MINI WINDSOCK | Malex Salamanques Amiel on MARIA LIONZA | Seema Khanwalkar on THANJAVUR DOLL | Maria Papanthymou on KITCHEN WHISK | Martha Arango on ST. ANTHONY OF PADUA | Max Matus on WOODEN ROBOT | Rasika Batra on PRAYER BEADS | Anastasia Kārkliņa on CHESTNUTS | Maciej Biedziński on HAUNTED SPOON | Shirsha Ganguly on TINTIN FIGURINE | Clio Meurer on GLOW-IN-THE-DARK ROSARY | Enya Autumn Trenholm-Jensen on PINKY RING.
Also see these series: COVID CODES | SEMIO OBJECTS | MAKING SENSE WITH… | COLOR CODEX