Bone & Flint Necklace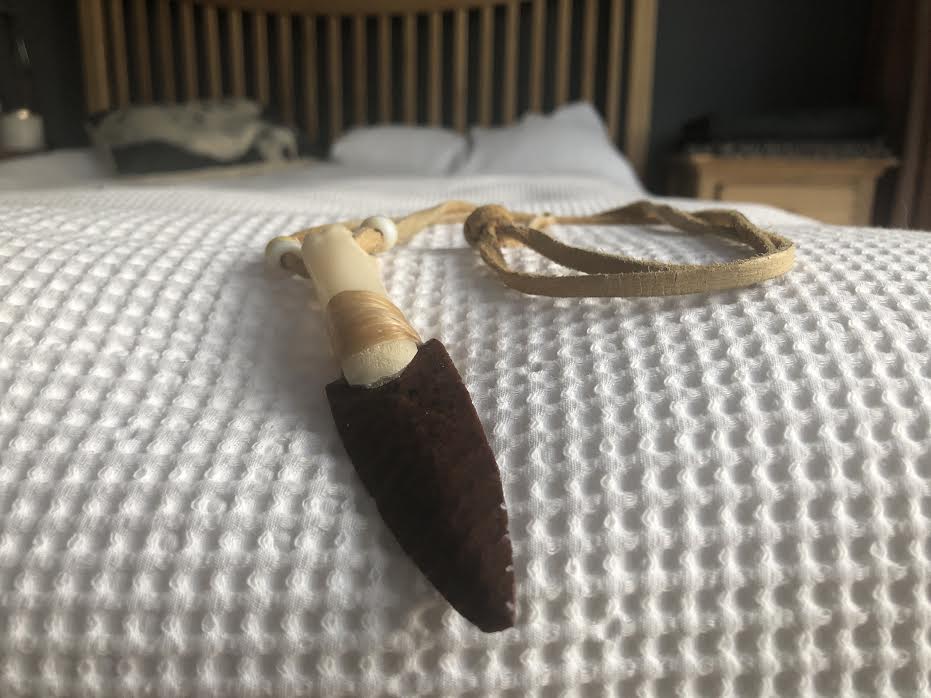 One in a (sub-)series of posts contributed to SEMIOVOX's Object Oriented series by applied-semiotics colleagues and friends from around the world.
---
When she handed it to me, on the main street of a half-horse Oregon town, it did not seem so important. And although I carried her gift with me — across gruelling Rockies, sweltering plains and Ozark hills — that object never once stole my attention. Reaching the Mississippi signalled that the Atlantic coast lay close, ten days perhaps. It lay there still — tossed between Allen keys and sunscreen. Cycling flotsam.
My ambition to traverse the continental USA came to a halt soon after that meandering river, in southern Illinois. On a roadside outside of Carbondale I learnt that my father was suddenly, seriously ill. But I had a little gig that evening — singing my heart out to strangers. So I did it, and that night decided to pack up and quit. I needed to be home, in Ireland.
Dad lay in a silent coma. My bicycle, deconstructed in a box; the contents of its front pouch fully irrelevant. My sister and I were on vigil when he opened his eyes and mouth in amazement, passing from life in that moment.
His loss seemed to erase the preceding seventy days and 5000kms of cycling. I had called the project 'SingSongCycle', because as I biked the TransAmerica trail through tiny towns, I would put on mini-concerts, to connect and tell the story of Ireland to whoever would listen. And, because Americans are open in an uncynical manner Europeans can't quite understand, many did.
It became the adventure I did not wish to revisit, extinguished by the trauma of its abrupt end. Until, by some happenstance of trinkets, the unworn gift she gave me rocked up, hanging on my bedpost. I must have placed it there, but do not recall it.
She was a woman on the main street of John Day, Oregon, and I had sung her a song. It was a spontaneous thing — in the hard-lit croak of morning, outside a diner. I explained my enterprise, and she became enthralled. She wanted to be part of it. Now.
The song she requested was "Danny Boy," and so I immediately delivered, feeling no embarrassment. Street singing, perched on my crossbar, was the life I had chosen.
She had long, thick hair, this lovely woman.
'Take this', she said, placing a necklace in my hands, and clasping me tightly. 'I made it myself from bone, leather and flint. It's to thank you for your song'.
Almost ten years later, in that suspended time before sleep, my hand often drifts upwards to the bedpost. In the darkness, I swing her necklace above my head. Eyes closed, I allow its spear descend, hoping its sharpness might find the middle of my forehead. This is where memory lies. The joy of John Day, the change at Carbondale, the return to my blood.
Here is my trove of American adventure, held for remembering by leather, flint and bone.
---
Semioticians' stories: Josh Glenn on MONKEY WHIMSEY | Malcolm Evans on QUEEN MARY FOB |Lucia Laurent-Neva (England) on TEAL BLUE VOYAGER | Rachel Lawes (England) on DEVIL GREEN | Charles Leech (Canada) on STORMTROOPER WHITE | Ramona Lyons on RABBIT BOX | Matthew De Abaitua on HATCHET | Chris Arning on INKSTONE BROOM | Hamsini Shivakumar on SOUL MOTHER SAREES | Lucia Laurent-Neva on SPONGEBOB BUS | Samuel Grange on SALT & PEPPER HOLDER | Ximena Tobi on VASALISA | Luca Marchetti on TEAPOT | Charles Leech on ORNAMENT | Brian McIntyre on BONE & FLINT NECKLACE | Gabriela Pedranti on MAFALDA DOLL | Sarah Johnson on JOAN OF ARC FIGURINE | Vijay Parthasarathy on BINGO | Aiyana Gunjan on WEDDING DUCKS | Serdar Paktin on NEY | Paulina Goch-Kenawy on VASE | Daria Arkhipova on POKER CHIP | Iván Islas on THERMOS | Sónia Marques on CABBAGE TUREEN | Thierry Mortier on BICYCLE BELL | Louise Jolly on CHALICES | Wei Fen Lee on CURRY PUFF POT | Mariane Cara on MINI WINDSOCK | Malex Salamanques Amiel on MARIA LIONZA | Seema Khanwalkar on THANJAVUR DOLL | Maria Papanthymou on KITCHEN WHISK | Martha Arango on ST. ANTHONY OF PADUA | Max Matus on WOODEN ROBOT | Rasika Batra on PRAYER BEADS | Anastasia Kārkliņa on CHESTNUTS | Maciej Biedziński on HAUNTED SPOON | Shirsha Ganguly on TINTIN FIGURINE | Clio Meurer on GLOW-IN-THE-DARK ROSARY | Enya Autumn Trenholm-Jensen on PINKY RING.
Also see these series: COVID CODES | SEMIO OBJECTS | MAKING SENSE WITH… | COLOR CODEX