Bicycle Bell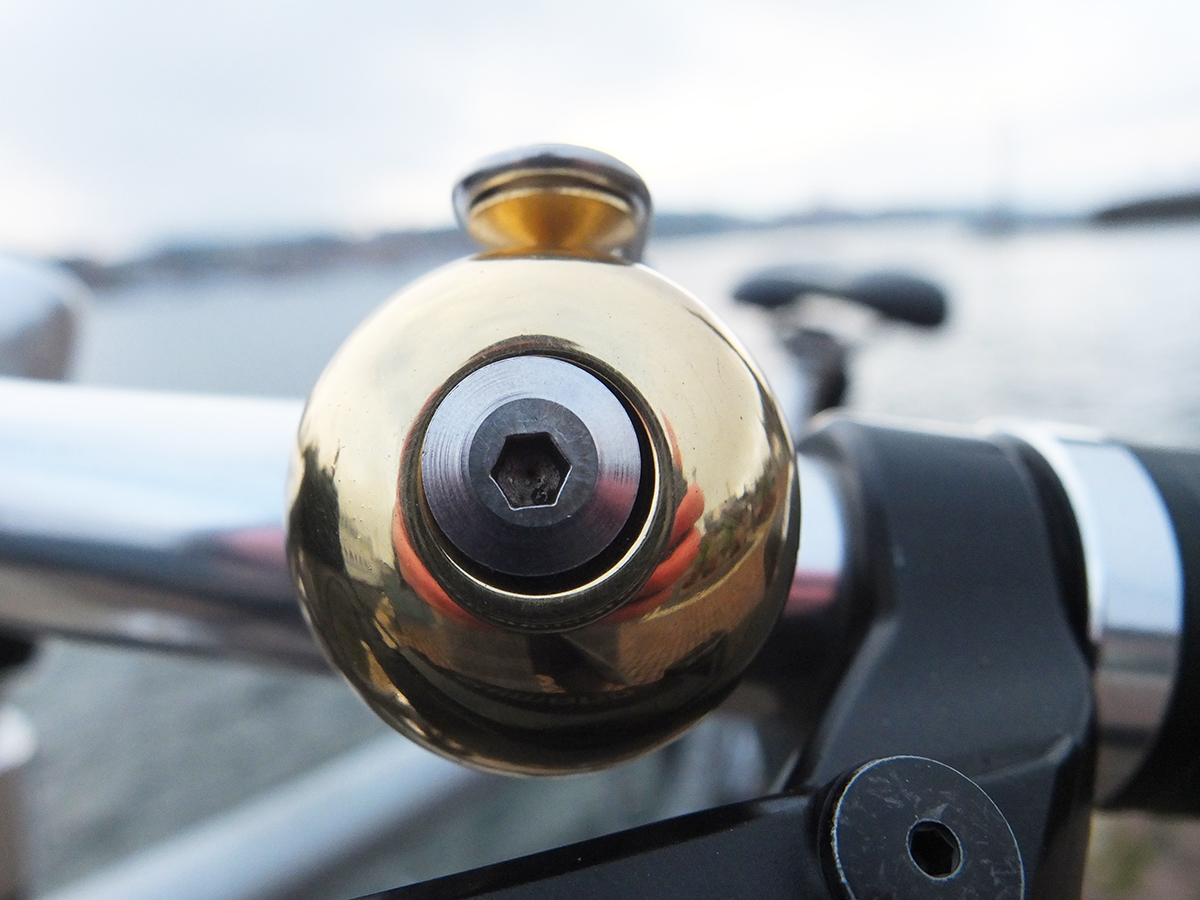 I was 44 when I bought my first brand-new bicycle. Born in Belgium, the land of the Flandriens, those track cycling legends from the 1910-20s, you can bank on being on two wheels as soon as you hit 3-4 years. Bicycling is just part of my cultural DNA and it came as a surprise that although I had owned a great many bicycles before, I never had a new one. My older brother started the recurring cynical response, "Aw, poor you, never owned a new bicycle". He didn't pick up on the fact that after four decades of riding secondhand bicycles I felt proud of this under-consumption.
When I looked for wheels in Sweden, hitting the secondhand market came naturally. Stockholm is bicycle-theft central after all, why buy new? Don't get me wrong — I put in the effort, but I could not, for the life of me, find a frame size that would give my back a smooth ride. Ironically, I found my new bike on sale — for the same reason I couldn't find it secondhand: The average Swede is just that little bit taller than me.
It's a decent bike, nothing fancy, Swedish make — if you buy new, buy local, right? — and I love riding it through town. But, it came with a really crappy bell that broke off in no time. For a few measly bucks each time, I replaced it with even crappier bells that I found at the local hardware store.
One day, after nearly missing an appointment — Google Maps does not take the crappiness of one's bell into account when predicting estimated time of arrival — I went straight from the meeting into a hipster bicycle store just across the street. The guy behind the counter clearly felt that neither my bicycle nor I belonged there, but he was helpful nonetheless.
"I need a decent bell," I said.
"You do," he replied, and continued, "The only one we've got that will fit is this one."
"But is it decent?" I asked.
It is. Since that day, I'm not worried that someone ran off with my unexciting bicycle when I walk to where I've chained up last in bicycle-theft central. I worry about losing this precious, little bell — and its tantalizing chant.
It's so unbelievably clear. It rings; it chimes. It projects its sound waves with a decisive lucidity that is startlingly delicate. It produces a sound fit for an orchestra at a pristine church wedding. People jump at its voice and delight in its intrusion. Whenever I take my bike I need to muster my utmost self-control not to ring the bell instantly.
Riding home late at night or when there are no people around, I ring my bell, just so I get to travel through its brightness for a fleeting moment.
---
Semioticians' stories: Josh Glenn on MONKEY WHIMSEY | Malcolm Evans on QUEEN MARY FOB |Lucia Laurent-Neva (England) on TEAL BLUE VOYAGER | Rachel Lawes (England) on DEVIL GREEN | Charles Leech (Canada) on STORMTROOPER WHITE | Ramona Lyons on RABBIT BOX | Matthew De Abaitua on HATCHET | Chris Arning on INKSTONE BROOM | Hamsini Shivakumar on SOUL MOTHER SAREES | Lucia Laurent-Neva on SPONGEBOB BUS | Samuel Grange on SALT & PEPPER HOLDER | Ximena Tobi on VASALISA | Luca Marchetti on TEAPOT | Charles Leech on ORNAMENT | Brian McIntyre on BONE & FLINT NECKLACE | Gabriela Pedranti on MAFALDA DOLL | Sarah Johnson on JOAN OF ARC FIGURINE | Vijay Parthasarathy on BINGO | Aiyana Gunjan on WEDDING DUCKS | Serdar Paktin on NEY | Paulina Goch-Kenawy on VASE | Daria Arkhipova on POKER CHIP | Iván Islas on THERMOS | Sónia Marques on CABBAGE TUREEN | Thierry Mortier on BICYCLE BELL | Louise Jolly on CHALICES | Wei Fen Lee on CURRY PUFF POT | Mariane Cara on MINI WINDSOCK | Malex Salamanques Amiel on MARIA LIONZA | Seema Khanwalkar on THANJAVUR DOLL | Maria Papanthymou on KITCHEN WHISK | Martha Arango on ST. ANTHONY OF PADUA | Max Matus on WOODEN ROBOT | Rasika Batra on PRAYER BEADS | Anastasia Kārkliņa on CHESTNUTS | Maciej Biedziński on HAUNTED SPOON | Shirsha Ganguly on TINTIN FIGURINE | Clio Meurer on GLOW-IN-THE-DARK ROSARY | Enya Autumn Trenholm-Jensen on PINKY RING.
Also see these series: COVID CODES | SEMIO OBJECTS | MAKING SENSE WITH… | COLOR CODEX