Bingo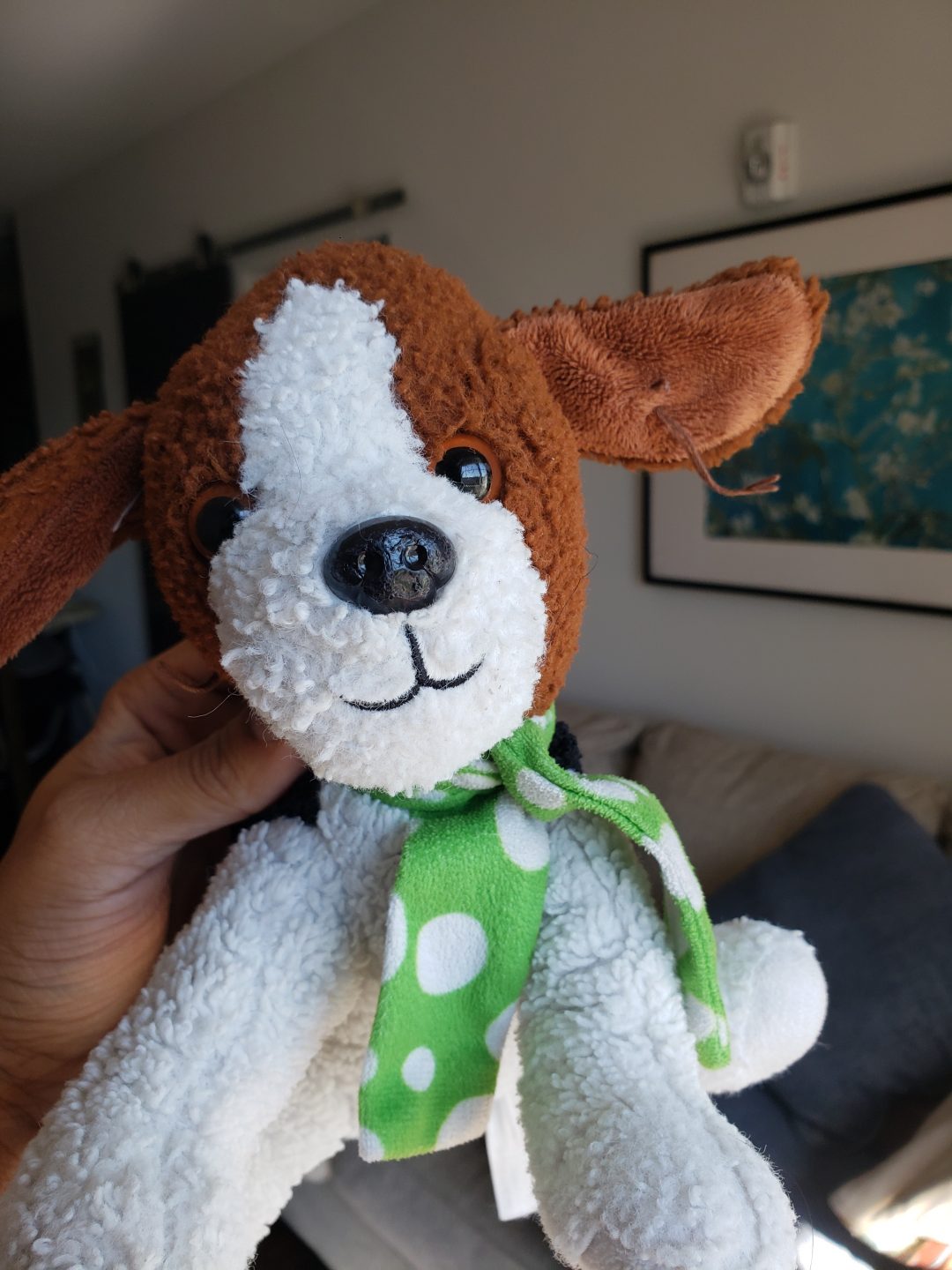 One in a (sub-)series of posts contributed to SEMIOVOX's Object Oriented series by applied-semiotics colleagues and friends from around the world.
---
My parents picked up Bingo at a Mumbai department store, and my toddler – then on her first trip to India – having pronounced him "a boy," took to the stuffed toy right away. Back home in NJ she carried him everywhere, barked in his imagined voice, and manhandled him cheerfully. We would toss him back and forth – 'the catch game.' I could see why she adored him: his thready smile was warm; it was like he could return her love. The polka-dotted scarf around his neck struck me as rakish, Eastern European. He had spirit. I thought he resembled Snowy from the Tintin comics.
Bingo was the only plaything my daughter wanted to take on vacation the next year. There's a photo of her hugging him as she clings to her mother at a wedding party in Oxford. A video of her holding him by the scruff of the neck and toddling after pigeons in Copenhagen's City Hall Square. In Gothenburg, our friends' daughter had her own toy puppy, Max. From the squeals in the backyard, you could tell Bingo got along with Max.
A couple of days later, in the taxi to the airport, we suddenly realized Bingo was missing. We ransacked the moving cab like cops searching for drugs. Rummaging through the suitcase before check-in yielded nothing.
The poor girl didn't even whine. It's hard to gauge who feels worse – parents or child – when the kid says in a small voice, 'Bingo?'
We swiped through photos desperately trying to place where we had last seen him. Without Wi-Fi, we couldn't contact our Swedish hosts until we reached our hotel in Berlin, which is when we finally found out: Bingo was still sunning himself in their backyard.
Bingo, the passport-less pup, made his way back to us a few months later by ship. He was that year's Christmas stocking surprise. For weeks, I invented stories as I put my daughter to sleep: Bingo takes the U-Bahn, Bingo chases bandits in Algiers, Bingo spells 'Ljubljana.'
*
You'd think that kind of caper would be enough to send a stuffed toy into retirement. But a few months ago, on a walk around the lake behind our home, we lost Bingo again.
Halfway through the search, things appeared bleak. What an anticlimax, I thought, scanning the road. We get him back after mislaying him a continent away, and then lose him forever twenty minutes from home.
I was growing rather miserable when I heard the outsized yelp and a scream: "BINGO!"
Some kind soul had propped him up on a large stone by the side of the road; while I'd missed him completely, my pint-sized Pinkerton had – against the odds – located the pup.
I don't know how long we've got before she starts to forget. Already she confuses memories of video bits and photographs with remembrances. But every other night, my daughter cuddles up to me and says: "Do you remember when Bingo got lost and we found him together?"
"Yes I do, my love," I say, "but you found him all by yourself, and I am so proud of you, my little detective."
Then we bark.
---
Semioticians' stories: Josh Glenn on MONKEY WHIMSEY | Malcolm Evans on QUEEN MARY FOB |Lucia Laurent-Neva (England) on TEAL BLUE VOYAGER | Rachel Lawes (England) on DEVIL GREEN | Charles Leech (Canada) on STORMTROOPER WHITE | Ramona Lyons on RABBIT BOX | Matthew De Abaitua on HATCHET | Chris Arning on INKSTONE BROOM | Hamsini Shivakumar on SOUL MOTHER SAREES | Lucia Laurent-Neva on SPONGEBOB BUS | Samuel Grange on SALT & PEPPER HOLDER | Ximena Tobi on VASALISA | Luca Marchetti on TEAPOT | Charles Leech on ORNAMENT | Brian McIntyre on BONE & FLINT NECKLACE | Gabriela Pedranti on MAFALDA DOLL | Sarah Johnson on JOAN OF ARC FIGURINE | Vijay Parthasarathy on BINGO | Aiyana Gunjan on WEDDING DUCKS | Serdar Paktin on NEY | Paulina Goch-Kenawy on VASE | Daria Arkhipova on POKER CHIP | Iván Islas on THERMOS | Sónia Marques on CABBAGE TUREEN | Thierry Mortier on BICYCLE BELL | Louise Jolly on CHALICES | Wei Fen Lee on CURRY PUFF POT | Mariane Cara on MINI WINDSOCK | Malex Salamanques Amiel on MARIA LIONZA | Seema Khanwalkar on THANJAVUR DOLL | Maria Papanthymou on KITCHEN WHISK | Martha Arango on ST. ANTHONY OF PADUA | Max Matus on WOODEN ROBOT | Rasika Batra on PRAYER BEADS | Anastasia Kārkliņa on CHESTNUTS | Maciej Biedziński on HAUNTED SPOON | Shirsha Ganguly on TINTIN FIGURINE | Clio Meurer on GLOW-IN-THE-DARK ROSARY | Enya Autumn Trenholm-Jensen on PINKY RING.
Also see these series: COVID CODES | SEMIO OBJECTS | MAKING SENSE WITH… | COLOR CODEX