SEMIOVOX 1Q2023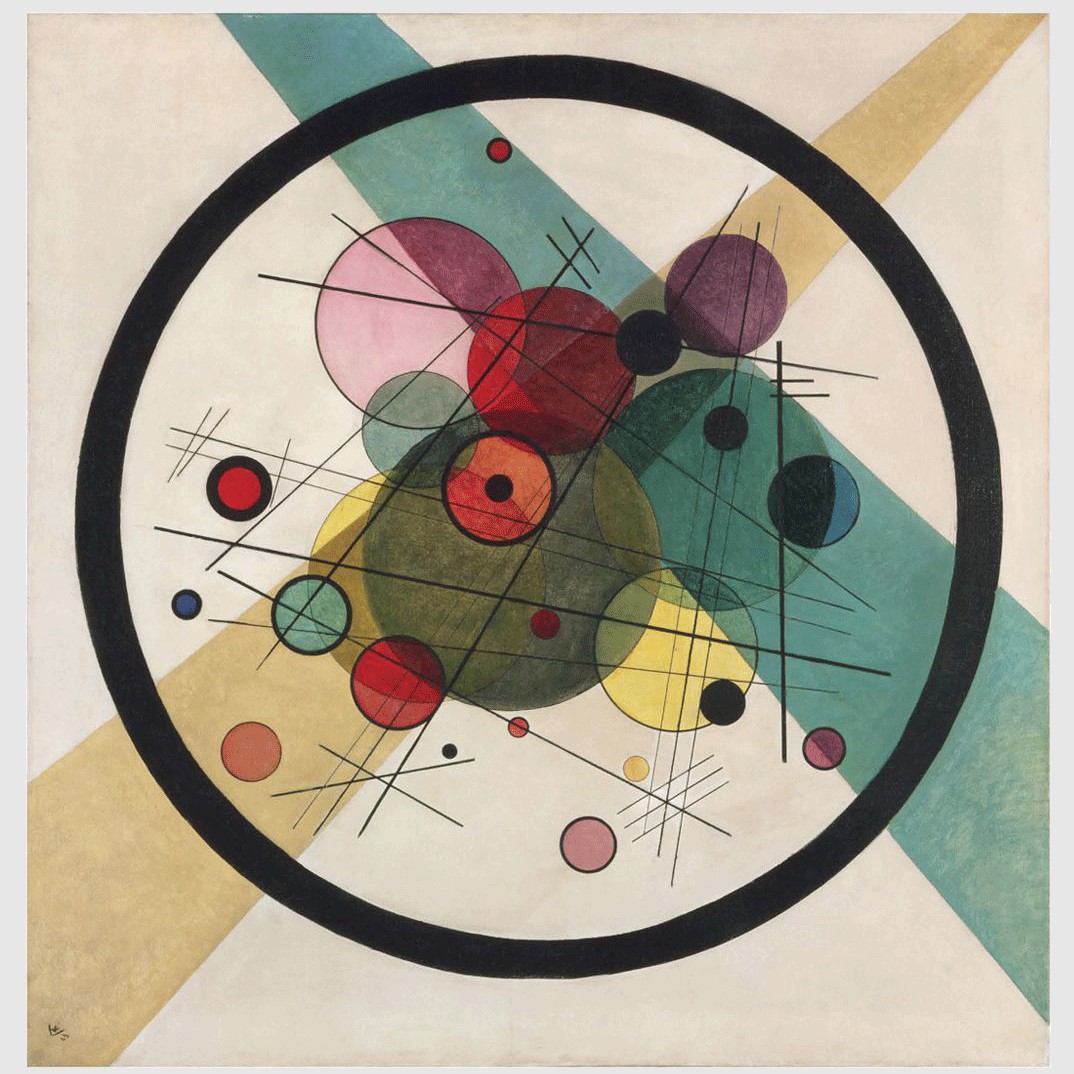 I'm cofounder of the semiotics-fueled consultancy SEMIOVOX. Our methodology provides insight and inspiration — to brand and organization strategy, marketing, design, innovation, and consumer insights teams, as well as to their agency partners — regarding the unspoken local/global "codes" that help shape perceptions of and guide behavior within product categories and/or sociocultural territories.
RECENT PROJECTS
During 1Q2023, our projects included the following.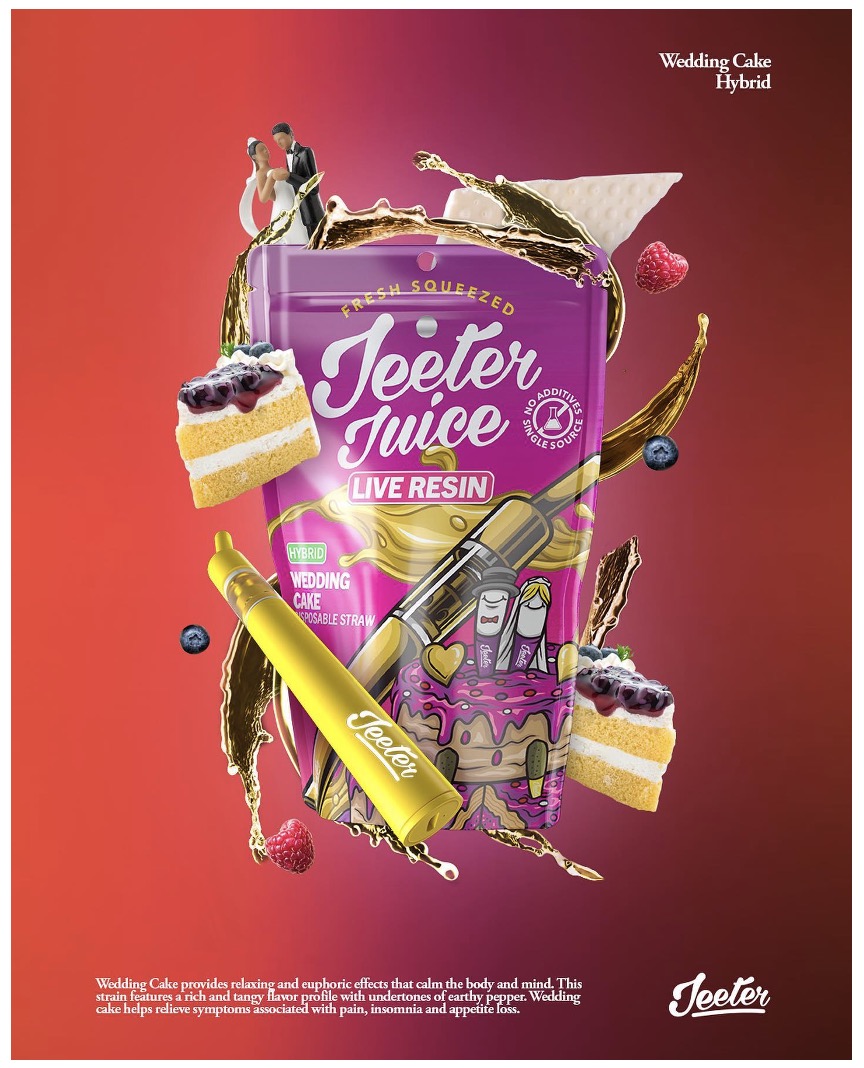 Working with one of the top cannabis edibles company in the US, we analyzed packaging and other brand communications within the Cannabis space — with a specific demographic target in mind. Analyzing a category that has only recently come into existence is always fascinating…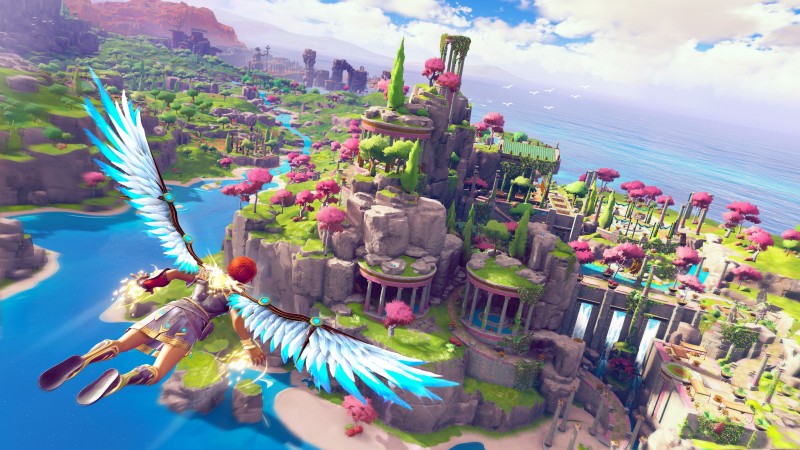 Gearing up for a project — with a blockbuster videogame developer — via our friends at Labbrand Paris. I've also been approached about joining a task force dedicated to re-conceiving their most popular franchise's "lore."
Also gearing up for a project — via our friends at the French agency The Semiotic Factory — analyzing the unspoken codes of tropical vacations.
See our 2022 projects here.
SEMIOFEST SESSIONS
This winter, I resumed my role as coordinator for SEMIOFEST SESSIONS, a series of online get-togethers that I helped Semiofest launch last year. These sessions are intended not only to share best practices among, but to nurture collegiality and friendship within the global semio community.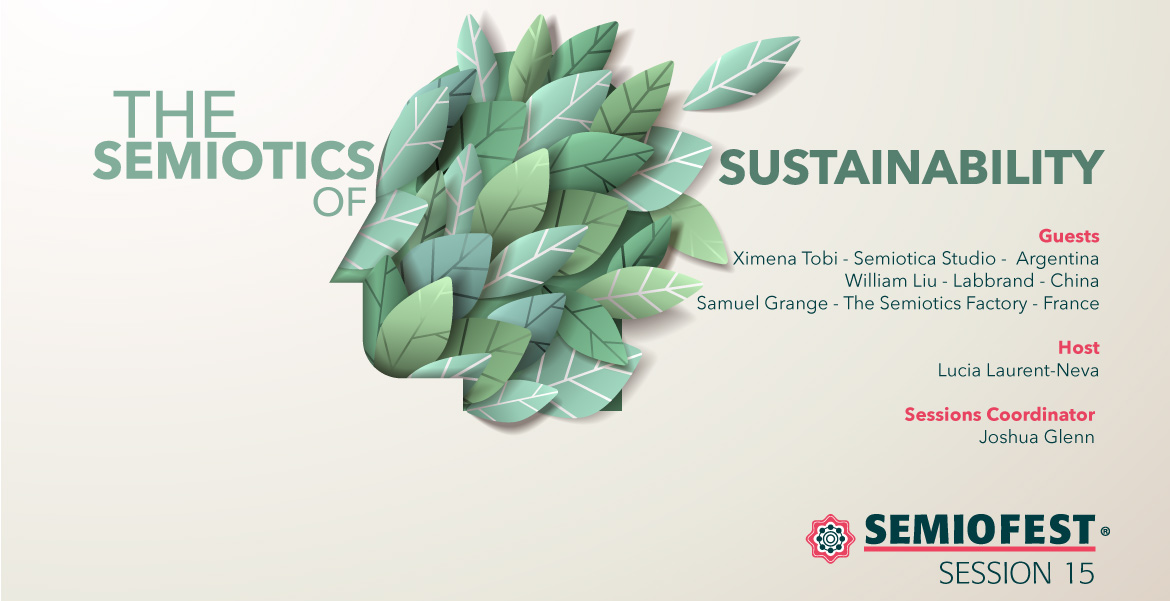 The first Semiofest session of 2023 was convened in March. Sam Grange (France), Ximena Tobi (Argentina), and William Liu (China) discussed the semiotics of SUSTAINABILITY in their markets. Semiofest's Lucia Laurent-Neva moderated the session. It was a thought-provoking event attended by over 50 semio, semio-adjacent, and semio-curious folks from around the world. A terrific kickoff for 2023.
Forthcoming sessions — on topics including ARTIFICIAL INTELLIGENCE, BIOSEMIOTICS, UMBERTO ECO, and ANALYZING THE UN-ANALYZABLE — have been scheduled through the end of the year.
SEMIOVOX.COM
I'm the editor here at SEMIOVOX, our consultancy's eponymous website. Here's what we published during 1Q2023.
MAKING SENSE WITH…
Last year, SEMIOVOX began publishing MAKING SENSE WITH…, a series of Q&As dedicated to understanding what makes semioticians tick. I've asked my commercial-semiotics colleagues from around the world to answer 10 leading questions.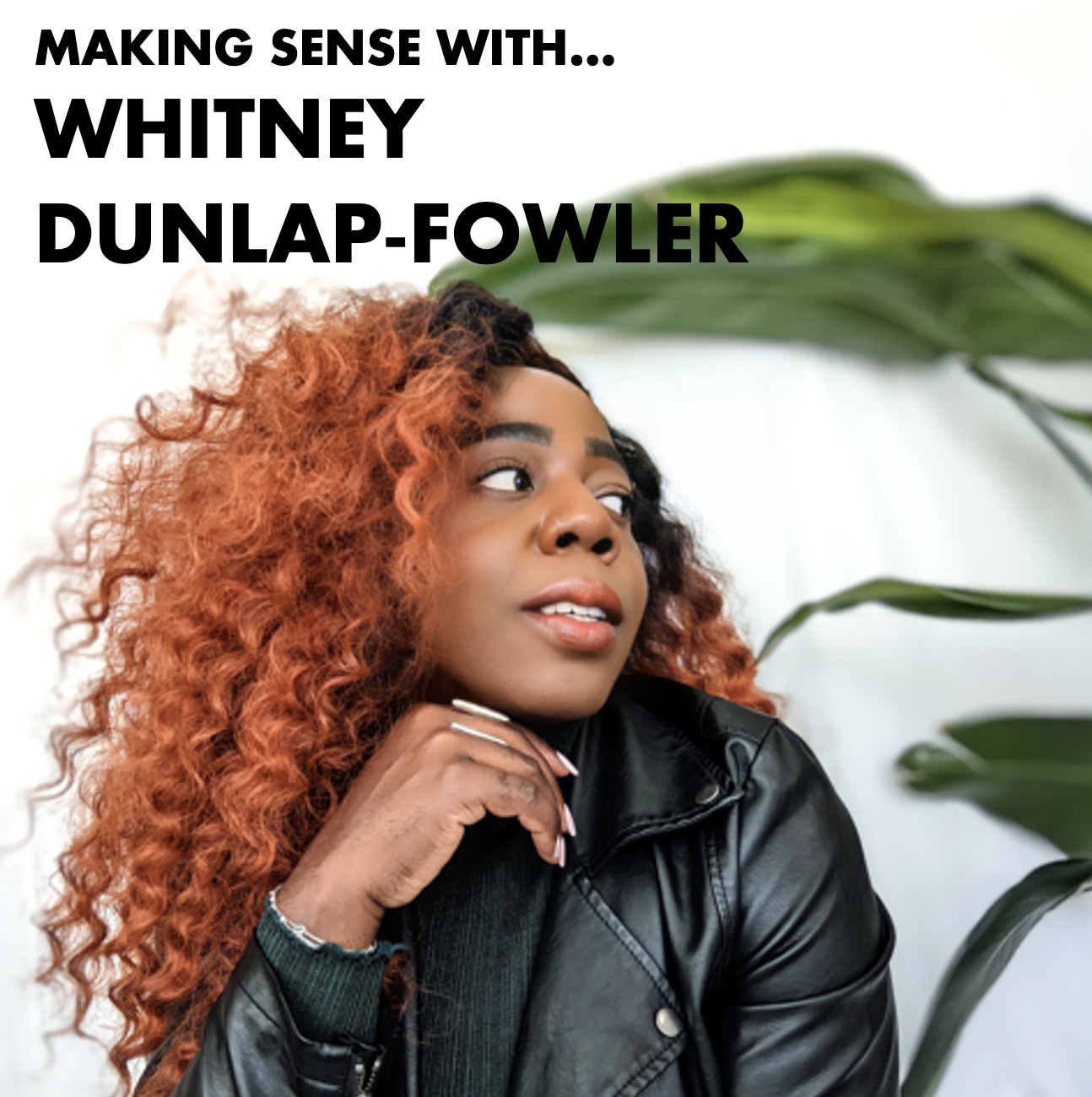 Here's the 1Q2023 lineup:
VIJAY PARTHASARATHY (USA) | DIMITAR TRENDAFILOV (Bulgaria) | SÓNIA MARQUES (Portugal) | LUCIA LAURENT-NEVA (England) | VLADIMIR DJUROVIC (China) | WHITNEY DUNLAP-FOWLER (USA) | ALFREDO TRONCOSO (Mexico) | KAIE KOPPEL (Estonia) | AUDREY BARTIS (France) | THIERRY MORTIER (Sweden) | XIMENA TOBI (Argentina).
Coming up in 2Q2023:
CHRIS BARNHAM (England) | MACIEJ BIEDZIŃSKI (Poland) | WILLIAM LIU (China) |Lucia Laurent-Neva (England) on TEAL BLUE VOYAGER | Rachel Lawes (England) on DEVIL GREEN | Charles Leech (Canada) on STORMTROOPER WHITE | Ramona LYONS (USA) | CHIRAG MEDIRATTA (Canada) | ELODIE LAYE MIELCZARECK (France) | SERDAR PAKTIN (England) | COLETTE SENSIER (England) | TIM STOCK (USA).
See 2022 MAKING SENSE WITH… series installments here.
COLOR CODEX
In March, SEMIOVOX published the first three installments in COLOR CODEX, a new 25-part series — the contributors to which will be commercial semioticians from around the world — that explores the unexpected associations evoked for us by specific colors found in the material world.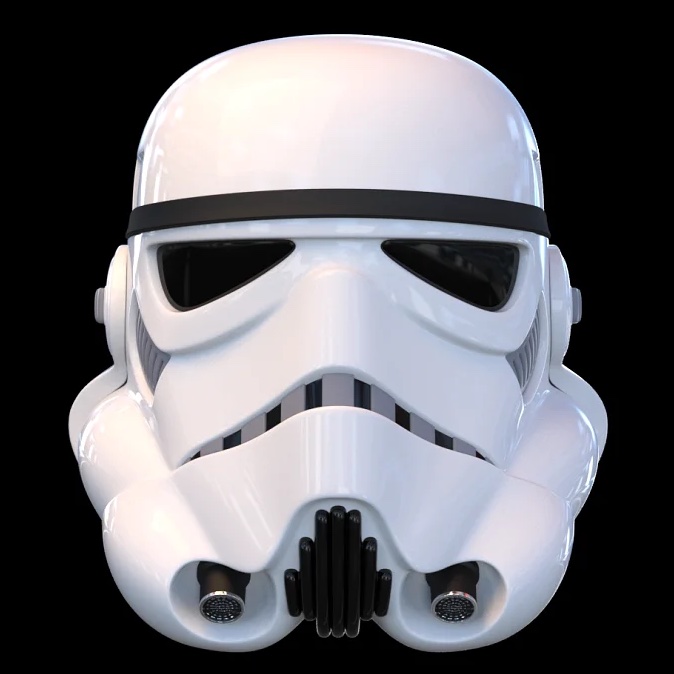 Here's the 1Q2023 series lineup:
Aiyana Gunjan (India) on LETTERBOX RED | Charles Leech (Canada) on STORMTROOPER WHITE |Lucia Laurent-Neva (England) on TEAL BLUE VOYAGER | Rachel Lawes (England) on DEVIL GREEN | Charles Leech (Canada) on STORMTROOPER WHITE | Ramona Lyons (USA) on GOTH PURPLE.
Coming up in 2Q2023:
Maciej Biedziński (Poland) on SKIN-DEEP ORANGE | Whitney Dunlap-Fowler (USA) on RESURRECTION CANARY BLUE | Lucia Laurent-Neva (England) on TEAL BLUE VOYAGER | Sónia Marques (Portugal) on RUNAWAY BURRO | Max Matus (Mexico) on CALIFORNIAN BLUE | Clio Meurer (Brazil) on PARIS WINTER SKY | Maria Papanthymou (Greece) on AGALMATOLITE WHITE | Vijay Parthasarathy (USA) on ALPHONSO MANGO | Serdar Patkin (England) on AMBIENT AMBER.
CODE-X
SEMIOVOX continued to offer glimpses into various audits we've done — via installments in the series CODE-X.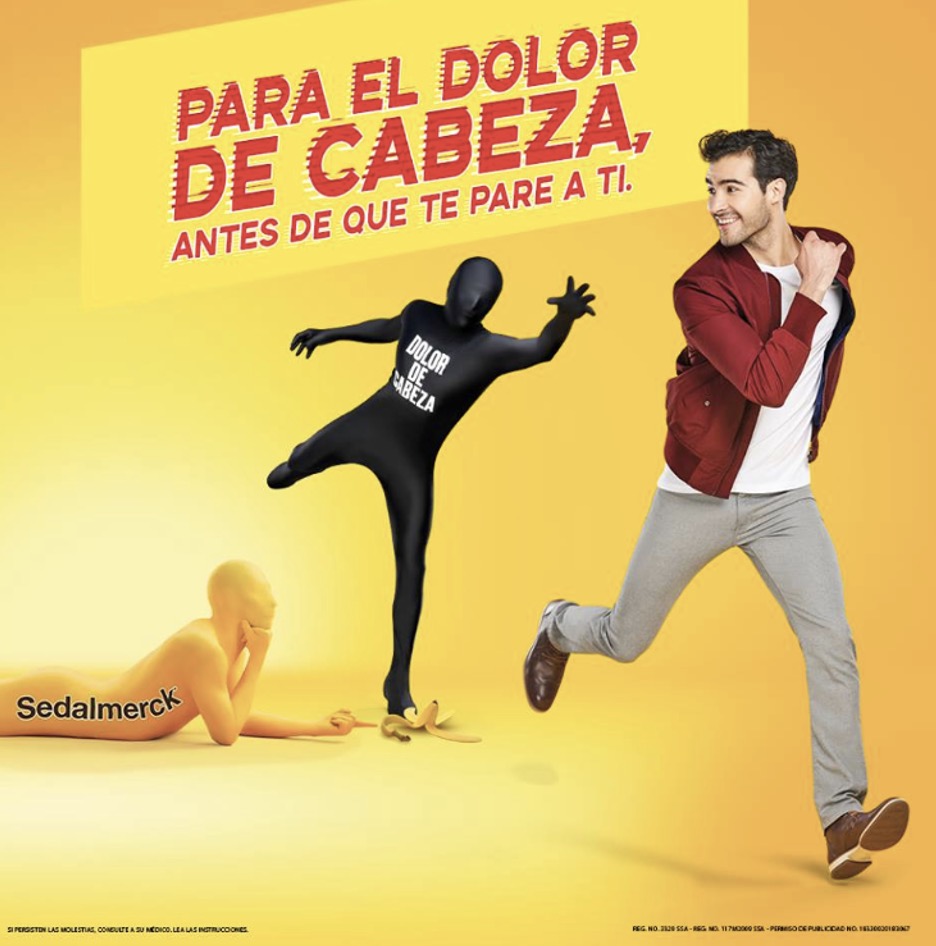 CODE-X installments from 1Q2023 include:
STATUS SYMBOL (BROWN SPIRITS): SILKY SMOOTH | IRONIC BLING. PRIDE IN TRADITION (BROWN SPIRITS): EURO-ELEGANT | MASTER DISTILLER | RARE & PRECIOUS | HOME & HEARTH | CRAFT HERITAGE | ORIGIN MYTH | SPIRIT ANIMAL. REINVENTING THE GAME (BROWN SPIRITS): CREATIVE ELITE | SOUTHERN HIPSTER | SOULFUL REBEL | NO BULL. TREAT YOUR SYMPTOMS (MEXICO PAIN RELIEF): FEEL THE BURN | HARD DATA | MICRO-TARGETING | EMPATHETIC ADVISOR | MEDICAL AUTHORITY | MY BODYGUARD | GENTLE MEDICAL.
See 2022 CODE-X series installments here.
---
Also see these international series: COVID CODES | SEMIO OBJECTS | MAKING SENSE WITH… | COLOR CODEX
ELSEWHERE…
HILOBROW
During 1Q2023, at our sister website HILOBROW, I published SCHEMATIZING — a series using found circular diagrams to depict the intellectual and emotional highs and lows of developing a semiotic schema.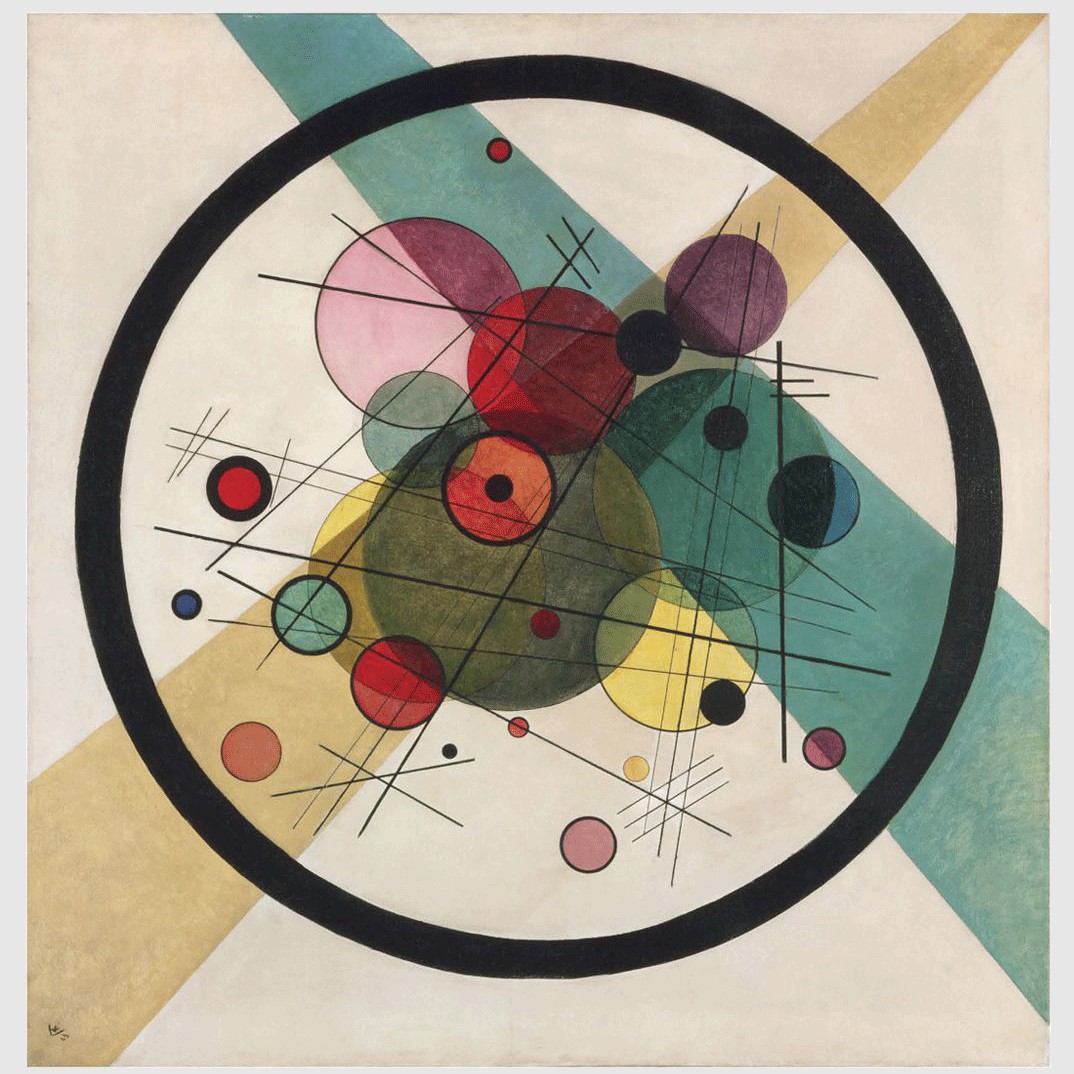 All of this is a reference to the squared-circle "G-Schema" that I've developed in recent years. (You can catch a glimpse of it via my "thick description" of Caddyshack, or else in my Appendix to The Adventurer's Glossary).
Here's what we've published recently: HILOBROW 1Q2023.
RADIUM AGE SERIES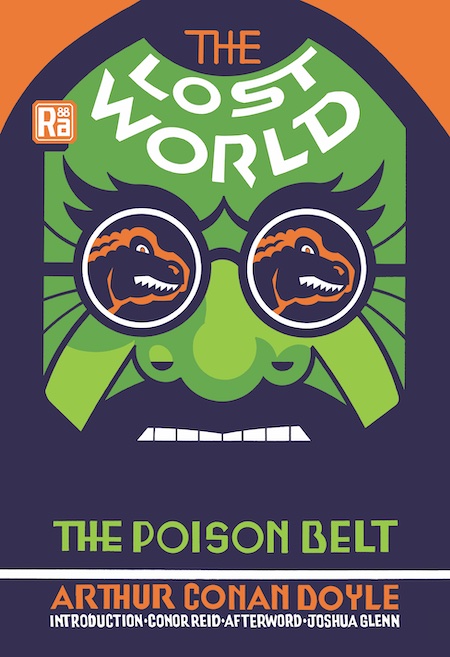 During 1Q2023, the MIT Press's RADIUM AGE series, a proto-sf reissue project for which I serve as editor, published these titles:
Arthur Conan Doyle's THE LOST WORLD AND THE POISON BELT (1912–1913), with a new introduction by Conor Reid and a new afterword by Josh Glenn. Cover illustration by Seth. "The Lost World and The Poison Belt is a wonderful snapshot of the Edwardian scientific mind, both its virtues and its defects." — Katherine Addison, author of The Angel of the Crows.
Cicely Hamilton's THEODORE SAVAGE (1922), with a new introduction by Susan R. Grayzel. Cover illustration by Seth. "Challenging last century's assumptions about the invulnerability of imperial civilization, Cicely Hamilton's 1922 novel is a grim, swift read — and an argument for pacifism as the first principle of survival." — Nisi Shawl, author of Everfair.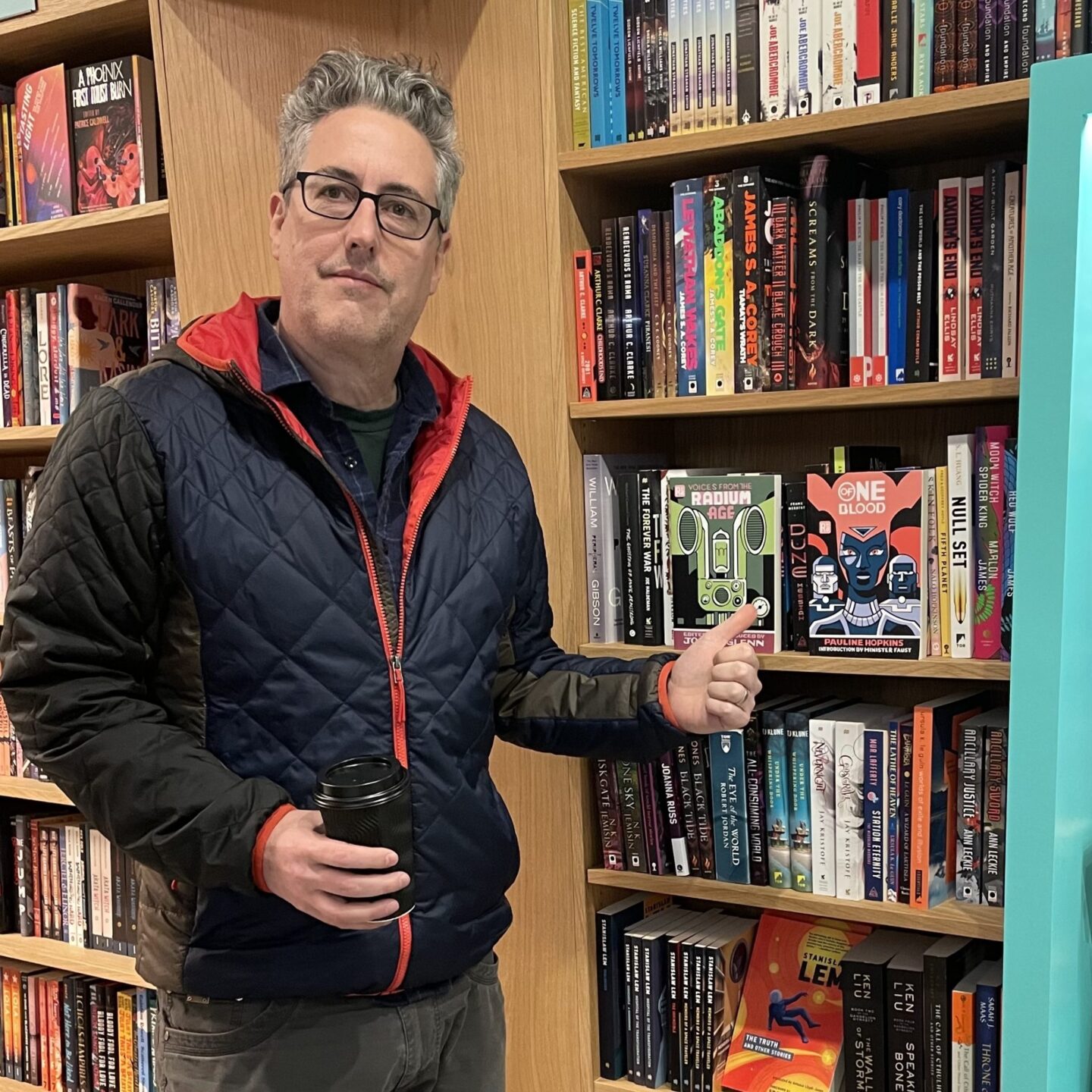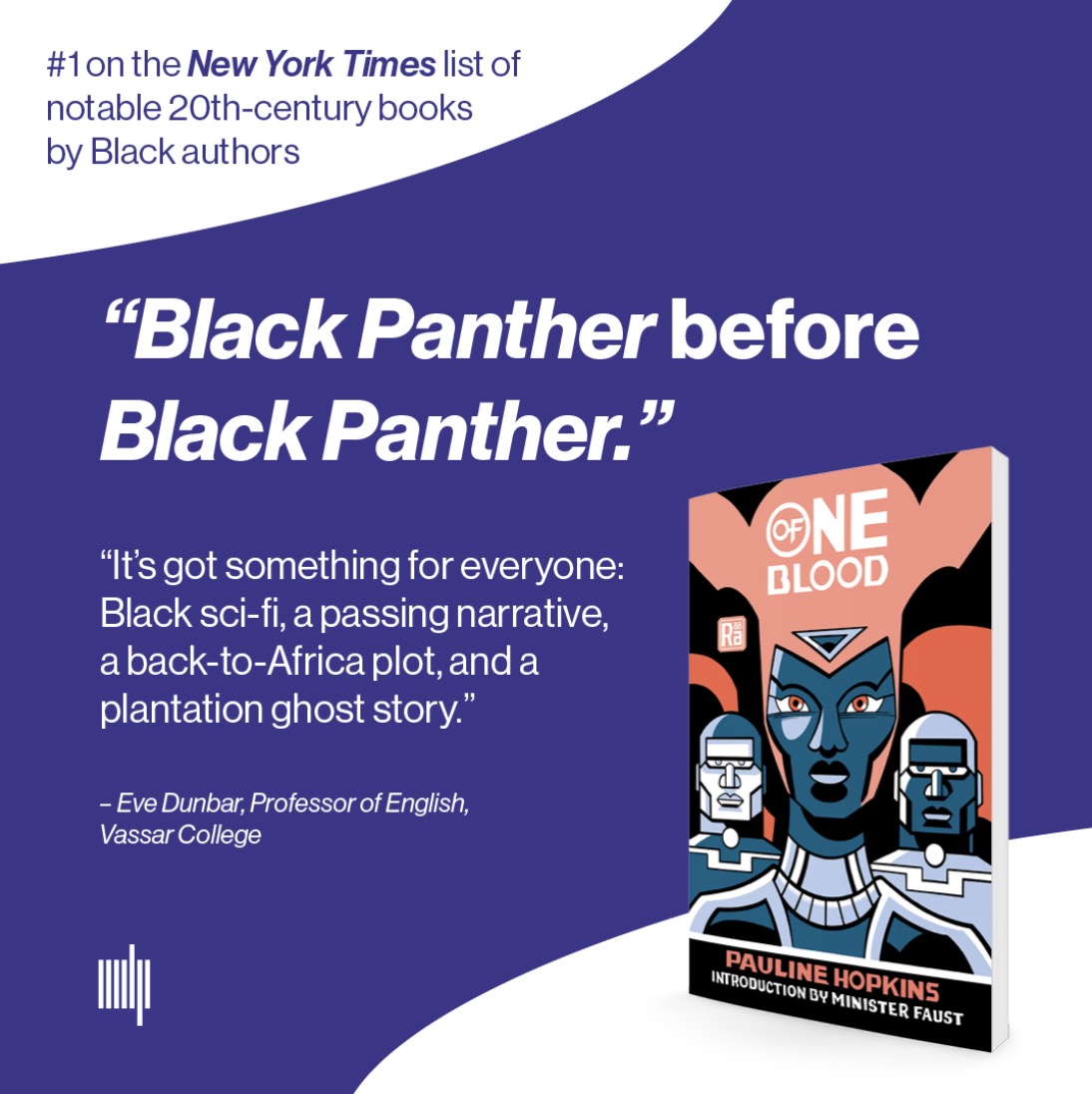 Some nice publicity: In "The New Black Canon: Books, Plays and Poems That Everyone Should Know" (from the March issue of "T" Magazine (from the New York Times), Adam Bradley, founding director of the Laboratory for Race and Popular Culture at U.C.L.A., lists Pauline Hopkins's Of One Blood as the first of 20 books that "help to tell a story of Black American literature that reflects the infinite number of ways of being Black in America — and of being in the world." Vassar professor Eve Dunbar is quoted as calling Of One Blood "Black Panther before Black Panther." It was a thrill to discover that the edition of the book shown in (and linked to from) "The New Black Canon" is the RADIUM AGE edition.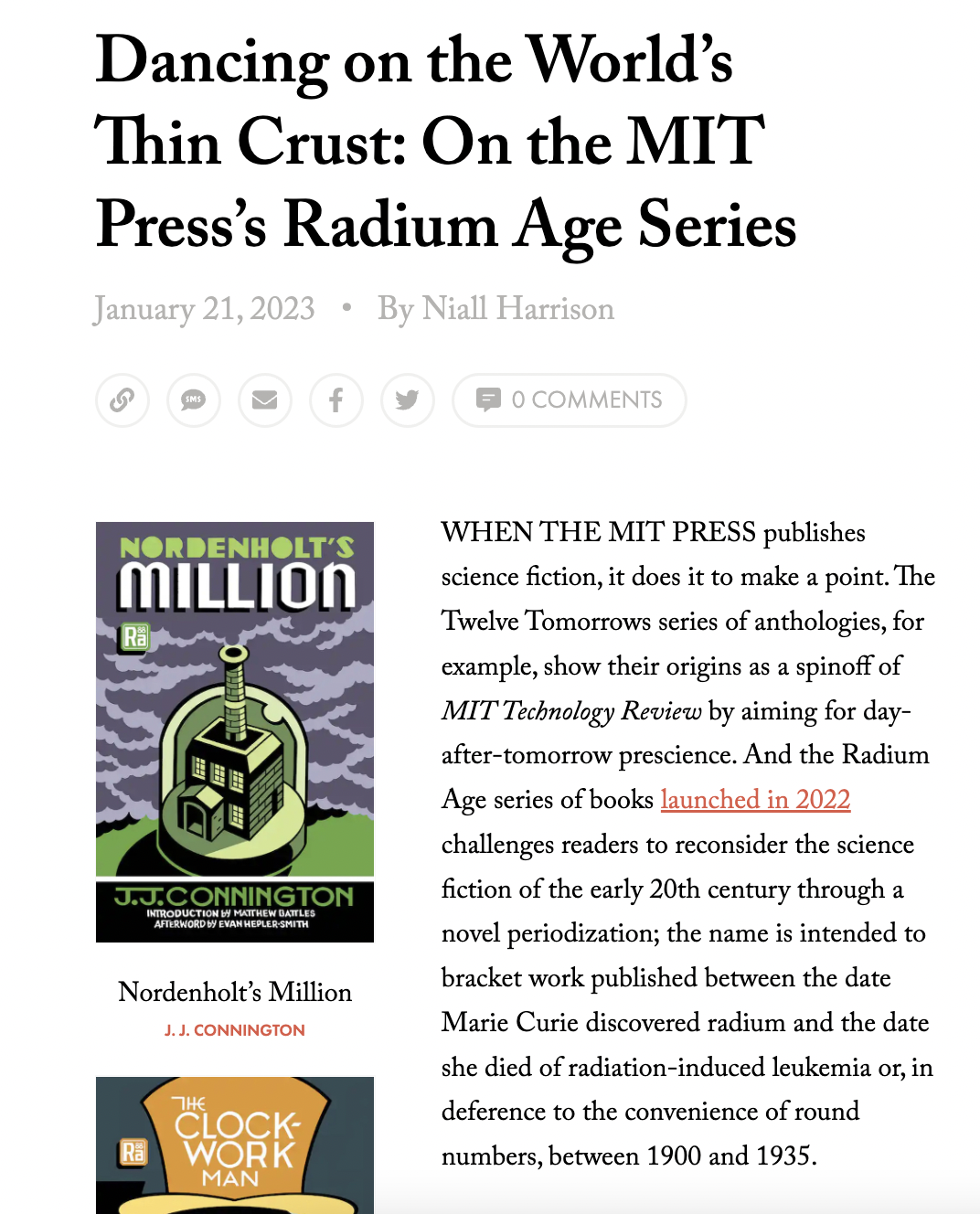 "It's an attractive crusade," Niall Harrison writes in a January 2023 Los Angeles Review of Books essay on the Radium Age series. In addition to comments on our editions of What Not, Nordenholt's Million, and The Clockwork Man, Harrison has the following to say about the series itself: "Glenn's project is well suited to providing an organizing principle for an SF reprint line, to the point where I'm a little surprised that I can't think of other similarly high-profile examples of reprint-as-critical-advocacy."
RADIUM AGE series updates: 2022 | 1Q2023. FULL SERIES INFO.
LOST OBJECTS
During 1Q2023, Hat & Beard Press officially published LOST OBJECTS. (Because of distribution problems, the book was "soft-launched" last year.)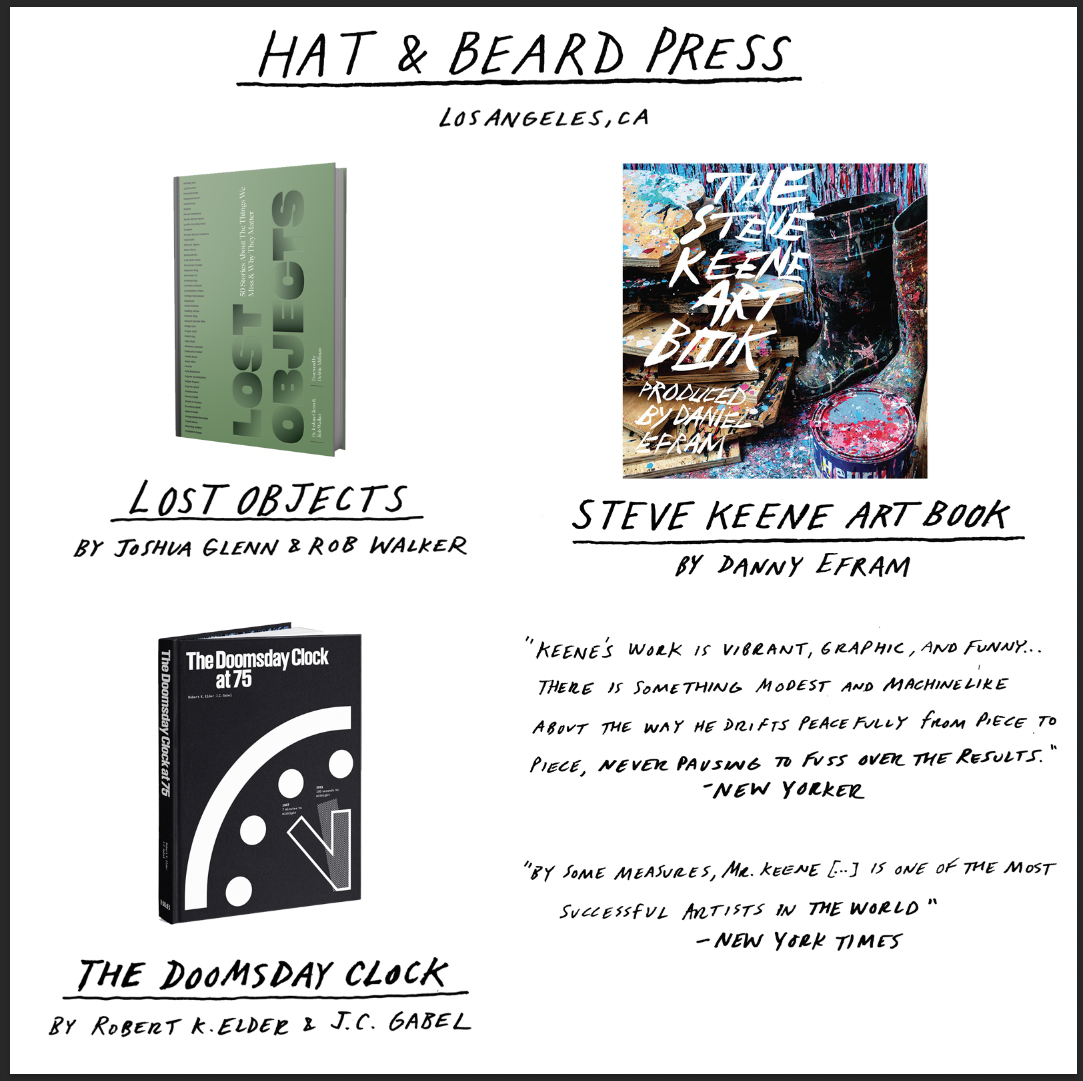 Designed by HILOBROW friends Tony Leone Design, and introduced by Debbie Millman, Lost Objects is a gorgeous book that evolved from nonfiction narratives and accompanying illustrations first published here at HILOBROW under the aegis of Project:Object. Rob Walker and I are the book's editors.
"The contributors to this book have imbued a palpable, living soulfulness into the items that have disappeared or were misplaced or given away. Now — here in this book — that love can be discovered all over again." — Debbie Millman | "This ridiculously entertaining book performs a neat conjuring trick. You will find your own lost objects flying back to you as you read about other people's dearly departed things. The conceit is ingenious and the beautiful illustrations make each writer's 'rosebud' flare into radiant life again." — Jenny Offill | "These micro-tales are the best of the short confessional. They leave you with that same wonderful feeling you sometimes get on one of those special nights in the corner of a bar with a few friends." — Air Mail | "Filled with exotic and eccentric things, this book proves that discarding hoarded items is not always the best way to take existential control of our lives." — The Daily Heller
During 1Q2023, we began planning LOST OBJECTS events at art book fairs later this year — in Los Angeles and San Francisco.
A complete list of Lost Objects authors and illustrators, as well as a look back at 2022 LO publicity, events, and excerpts, can be found here.
SPREADING THE WORD
In February, I enjoyed speaking (via Zoom) with Andreina Sosa's INTRO TO VISUAL SEMIOTICS class, at Paier College in Connecticut. Course description: "This course aims to build a semiotic toolkit that lets you intentionally and effectively design and decipher visual communications." I wish every school offered courses like this!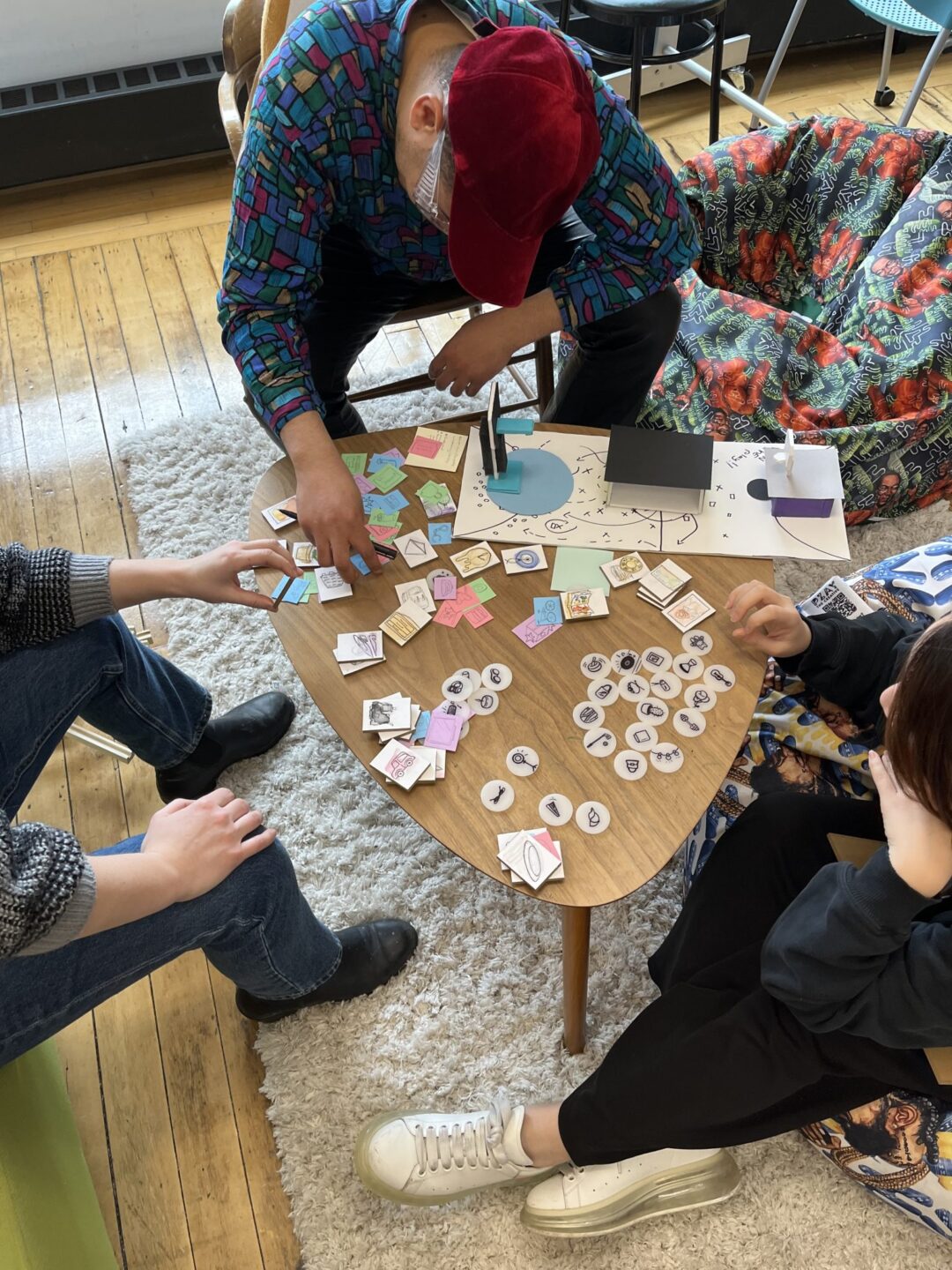 In March, I paid a couple of visits to Tom Weis's RISD Graduate Introduction to Industrial Design class — the topic of which is Objects and Exhibitions — to discuss my LOST OBJECTS project and my semiotic methodology. Fun! Shown above: Students developing taxonomies of their meaningful possessions — symbols for which they've rendered in material forms.
---
Also see: SEMIOVOX 2022 | SEMIOVOX 1Q2023.