Skataway Jacket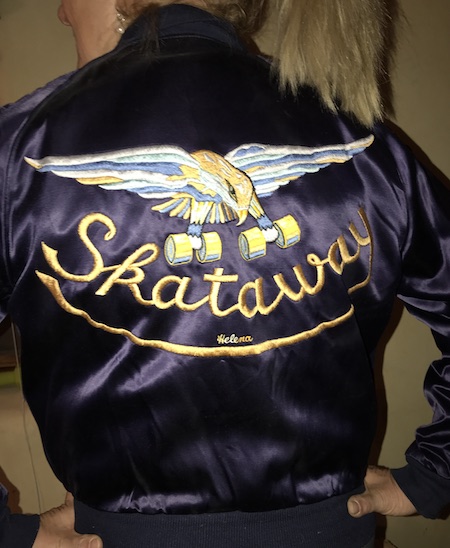 Like many teenagers, I had a split personality. My convent school uniform was a navy pinafore with nasty white polyester shirt underneath, knee socks and crepe-soled shoes. On Monday nights, I put on a dress slit up to the hips, shiny tights, leg warmers, and roller skates. And my Skataway jacket.
Navy blue satin acetate with shirred piping on the sleeves, reversible to bright lavender. An eagle roller-skating fiercely across the back. Over the left breast the inscription "Legs" under the date I became a Skataway member, 1979.
Each jacket was hand-sewn by the designer Richard Tyler, before he became famous. Color choices for the lining were green, white, red, pink and champagne. (Helena hated yellow and loved champagne.) Marlon Brando had one ("Slim"); Jack Nicholson had one ("Johnny"); Cher had one ("Cher"). A concert promoter went for "Pope John Paul II: 1979 U.S. Tour." Jon Voight's girlfriend's jacket read "Starfucker" and his read "Starfucked."
The actress Helena Kallianiotes started a roller-skating club the previous year, after holding a birthday party for which the only instructions were to meet her at the corner of Reseda Boulevard and Sherman Way, and bring socks. She'd been a teenage skating champion in South Boston before making her way to Hollywood, where she played the villain in Kansas City Bomber, opposite Raquel Welch. Helena's gang was the cream of 1970s Hollywood: movie stars and rock stars. But Skataway was democratic: the night of her birthday party there were some great skaters at the rink, Johnny Pool and Miguele Norwood, and Helena embraced them instantly.
Helena launched the roller-disco craze of the 1980s. (It features in Chic's classic track "Le Freak" — the epitome of glamour.) And I, at the age of fourteen, was her secretary. I typed membership lists and sold T-shirts. The football star Jim Brown wore a skin-tight size small.
Membership was coveted, and given only if Helena liked you. Some members could bring one guest, some could bring three, and a select few could bring as many as they wanted. You showed your card at the door.
Cameras were forbidden, so that famous people could fall on their asses without ending up on the front of the National Enquirer. Soft drinks only; no alcohol. If Helena caught you tooting up in the bathroom she threw you out, because she was serious about safety. And the rule was, everyone had to wear skates. No spectating.
Helena liked to be exclusive, so with impeccable timing she closed Skataway after four years, before it got old. I turned 18 and went to Oxford University. I've never worn the jacket again, but I love seeing it gleam in the depths of my closet — a fossil of the once-weekly blaze that got me through some very gloomy years.