Martian Fink Ring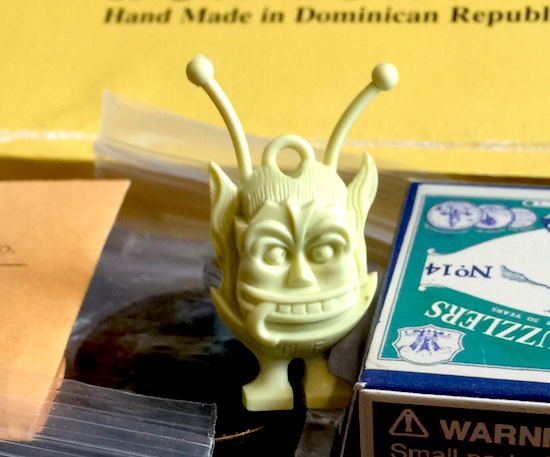 As a little kid in the 1960s with limited access to television, my role models were my friends' big brothers. My friends certainly weren't role models — they were dweebs like me. And grown ups — they might as well have been a different species, with a way of thinking that made them impossible to relate to. Big brothers were still kids, but infinitely more sophisticated and wiser than 6-years-olds like me (who big brothers regarded with indifference at best and as sticky-fingered pests at all other times).
It was a thrill to walk past a big brother's open bedroom door and sneak a glimpse in their rooms to find Aurora Monster Models, Mars Attacks trading cards, black light fluorescent posters, MAD magazines, Green Hornet's Black Beauty model car, Cowsills LPs, Lost In Space View-Master reels, Super Balls, Sixfingers, and Ka-Bala game boards. To me, these treasures will forever be imbued with big brother mojo.
I have a talisman that I can use to summon big brother mojo. It's a Martian Fink ring — a little armless vinyl creature with pointed ears, antennae, square feet, and a long tongue curling from its leering mouth. It's attached to a plastic ring so I can wear it on my finger (I don't).
The Martian Fink is a knock-off of the much more popular Rat Fink character created by custom car builder Ed "Big Daddy" Roth. It was manufactured as a gumball machine novelty in 1965 by the Henal Novelty and Premium Co. Anyone with five cents could buy one, but I didn't know that at the time. I was too dense or shy to ask my friend's big brother, who had one in 1967, where he got his. As a big brother, he simply had access to cool stuff that I could only dream about.
I bought mine on eBay 15 years ago, and keep it in a box in my bed table drawer. I try not to look at it too much, because I don't want the magic to run out.