Magnatiles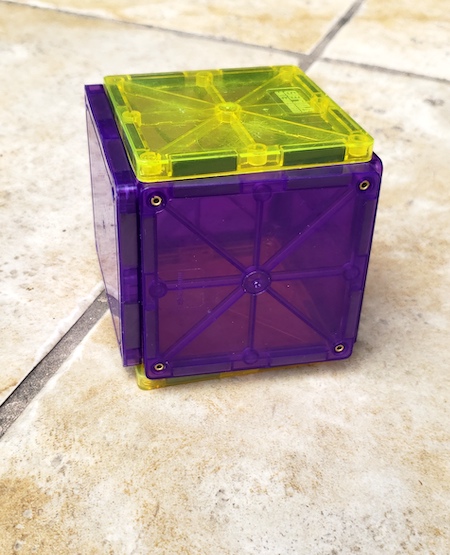 When the box arrived from my sister, containing colorful plastic tiles with magnets on the edges, I dutifully wrapped the Chanukah gift, and expected another trip to Goodwill in the not-so-distant future. I'd seen them before — toys called magnatiles — at our local children's museum; normally the table was too crowded for my often-tentative kids to push their way in.
But now there was an entire box of them, all for my kids, all brand new. The tiles themselves are made of translucent plastic in bright jewel colors that give them the look of stained glass: the magnets along the edges are barely noticeable. The obligatory thank you phone call from my daughter had a prayer-like quality: "Thank you for the magnatiles and may you give me some more for my birthday."
I soon wanted more myself. I was unprepared for the deeply satisfying click when two tiles connect. When cleaning up the tiles that seem to migrate all over the house of their own accord, I loved using the first one to collect the others, as they snap-snap-snapped together into a big stack.
Even lovelier, I soon discovered, was the feeling that comes from building a cube, popping the final tile on the top. I began to reserve a few — well, six, that is — at my desk, so I could build and re-build cubes during my endless work calls. I've never shared my activities with the person on the other end of the call, that I'm multitasking with a new-age building block.
More tiles have since arrived and my kids have built innumerable towers, castles and apartment buildings. We now even have some triangular ones that allowed us to build a camp site for Fisher Price people.
The smooth plastic and the rounded edges make them fun to hold — hollow, they feel fragile and sturdy at the same time. As I've learned at this point, they will hold together enough to be held and transported but collapse with pressure on the corners. Then you can build them again.