Knee-High Boots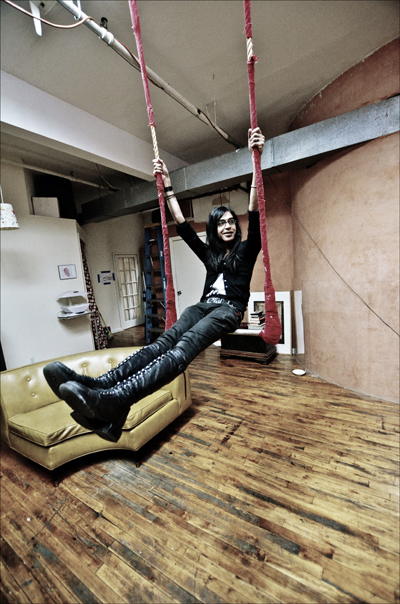 I've lost count of how long these boots have been in my life, but when I first saw them I felt like I'd levelled up. I was, and still am, a goth. I used to wear Doctor Martens — starting with oxblood 12-eyelets and graduating to black 20-eyelet shin huggers. They were all quite clunky, with their rounded, swollen toes, aggressive yellow stitching and bouncing soles. I also dabbled in pointy elfin ankle boots with silver buckles that made me look like a refugee from Ren Faire. But at some point, neither these nor the DMs seemed to suit me anymore.
When I found this pair, my goodness, it was a moment of alignment. These lovelies were simultaneously soft and badass. The toes are softly rounded but not balloon-like. Seven grommets that you thread the laces through and 13 catches above that for speed lacing. 1-½" heels, neither too flat nor too ostentatious. And a soft structure that ensured that they wrapped snugly around my skinny calves. Combat boots for amazon warriors.
But these boots also played a part in making me realise something about myself that transcended fashion or subculture, something that reached into the depths of gender: being goth, for me, was a gateway to becoming trans. Under the protection of subcultural codes, I was defying accepted gender presentation and exploring femininity without being fully aware of what I was doing. Unlocking my transness felt organic — my appearance and presentation never shifted radically — but my identity coalesced and became focused, sharper.
Being trans requires a certain level of defiance. Some days just going out, being in public, feels like a battle. And some days you need armor for that. You need long black hair, now threaded with gray, that drives the stockbroker on the F train to think that maybe you are a witch. You need a strong spine, posture that gives you instant gravitas. And, honey-child, you need boots that will bequeath to you, despite your 110-pound frame, the power to make everyone just a little bit afraid.