Charm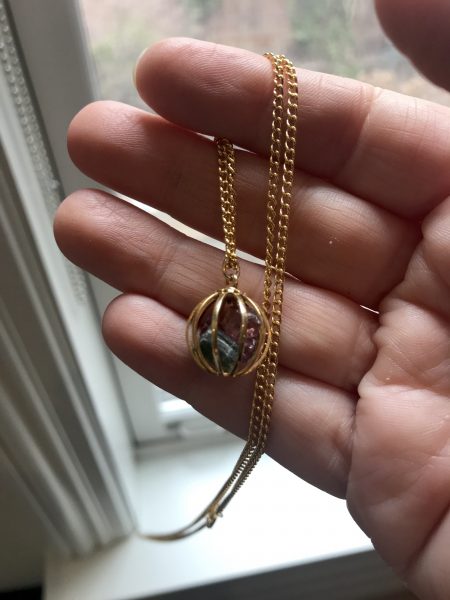 When I was a little girl, I had a babysitter named Nancy. I was so taken with Nancy I attempted to emulate everything about her: I tried to dress like her; I parted my hair on the same side, and I wore ponytails in the identical style that she did. She always brought me a pack of gum, and she read to me before I went to sleep. She was the most glamorous person in my life. I loved her.
Nancy always wore a gold chain necklace with a small spherical charm in the form of a cage. The cage held brightly colored loose stones. This sparkly necklace mesmerized me. She let me play with it, and I would hold it in the center of my palm and imagine that the cage held all of the stars in the universe.
At the beginning of third grade, my dad got a new job and we moved from Howard Beach, Queens, to Staten Island. I was devastated to leave my little world behind: my friends, my classmates, and my dear Nancy. I cried as we said goodbye. Before she left, she put a little box in my hand. I knew what it was before I even opened it: the magical necklace. I was elated.
But somehow, in the chaos of our move, my magical necklace got lost. Over the next four decades, I scoured vintage shops, jewelry stores, flea markets and eBay, in an effort to find a similar necklace. I never told anybody about my quest, I never stopped looking, and I never found it.
What remained was the memory of Nancy: her generosity, her warm encouragement. And it was with a deep sense of giving back that in the fall of 2003 I became a mentor to a 15-year-old student named Alexandra at the High School of Art and Design in New York City. Alex was incredibly cool and amazingly talented and loved anime and horror movies. She lived in Harlem and had one of the most extraordinary sketchbooks I had ever seen. I mentored Alex for three years. Alex was unsure about pursuing design, worried that she might not be talented enough. I was insistent that she not make any decisions out of fear, but rather do the very best she could. And her hard work paid off: she was accepted at the School of Visual Arts, one of the best design schools in the country.
At her high school graduation, Alex handed me a beautifully wrapped little box. I opened it and saw a lovely bracelet with dangly whimsical charms. I hugged and thanked her, put the box in my purse and beamed with pride at her success.
The next morning, I decided to wear my new bracelet. As I removed it from the box, something glinty caught my eye and my heart skipped a beat. There it was: the familiar globe, the sparkly loose stones, the little gold cage: it was identical. My long-lost charm. It was on the bracelet, and now, once again, in my hand.
I think when we give something of ourselves, continuity develops. You give something away, you get something in return and the cycle is perpetuated. And every once in a while, magic happens.