The Lady Vanishes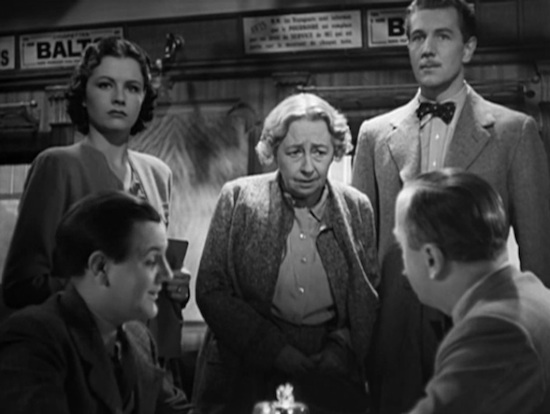 I'm not one of those obsessive train-thriller buffs, but I am a sucker for early Hitchcock, British WWII propaganda and quasi-propaganda movies, and Naunton Wayne and Basil Radford; so The Lady Vanishes is one of my all-time favorites.
In this scene, fifteen minutes from the movie's end, the enigmatic Miss Froy (May Whitty) finally breaks character — she's a spy who's been posing as a harmless governess ("Bless me, what an unpleasant journey!") — and breaks it down for her fellow English travelers. "We're not in England, now," she says; in fact, they're embroiled in a Central European revolution.
A tableau vivant forms around Miss Froy: though the cricket-mad Caldicott and Charters (Wayne and Radford) remain blinkered and obtuse, the no longer woolly-headed musicologist Gilbert (Michael Redgrave) and formerly shallow socialite Iris (Margaret Lockwood) gaze fiercely into the future. The dining car, where the English characters had gathered for afternoon tea, represents their beleaguered island home — outside it, the savage continentals have gathered. They're poised to strike.
Let them: England shall rise to the occasion!