The Thirty-Nine Steps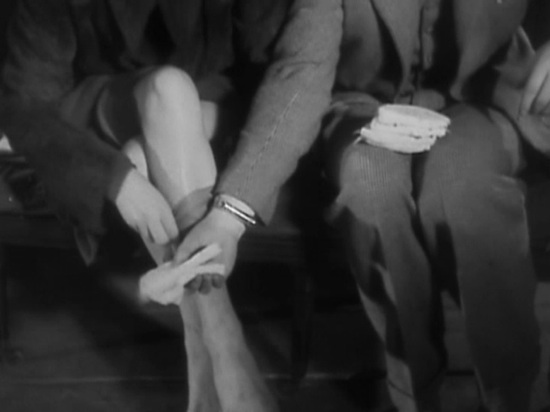 Along with Robert Louis Stevenson's Kidnapped and Geoffrey Household's Rogue Male, John Buchan's The Thirty-Nine Steps is among the greatest British thrillers ever written. Yet even though it pokes fun at Buchan's yarn, Hitchcock's adaptation is an improvement on the original — thanks to the introduction of Madeleine Carroll's strong-willed character.
Pamela is handcuffed to innocent-man-on-the-run Richard Hannay (Robert Donat), who drags her into the Scottish fog while escaping from his captors. Having arrived at a rustic inn, the two perform a screwball routine, complete with slapstick action and fast-paced repartee, which reaches its apogee when Hannay holds Pamela's sandwich while she removes her stockings.
The blocking in this farcical scene is not only sexy and thrilling, but — thanks to the sandwiches — very British indeed.