Barbarella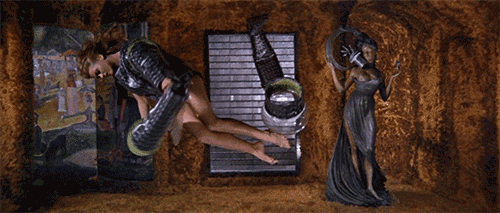 Critics love to hate Roger Vadim's cartoonish sci-fi movie Barbarella, and I'm not going to argue with them — although I do enjoy and admire it. I just want to say a few words in praise of the zero-gravity shag-pile strip-tease cockpit title sequence, particularly the moment when Barbarella (Jane Fonda) removes her space helmet, releasing not only her luxurious locks but the letters of the actress's name.
This eye-popping blocking — an effect created by building a section of the cockpit on its side, so that the camera could peep up (down? Outer space is confusing!) at Fonda squirming around on a sheet of glass — speaks volumes about 1968, the midpoint and apex of the Sixties (1964–1973). Barbarella appeared just after the sexual liberation movement's triumph, and just before second-wave feminists argued persuasively that sexiness restricts women to second-class citizenship. In its silly way, this is a movie about female sexual power — the parameters of which, this scene's blocking suggests, can be neither confined nor defined… because there's always something new to learn, always new territory to explore.
Barbarella is not a feminist movie — but is it, therefore, a sexist movie? I don't think so, but I'm not sure. Which is one of the reasons it's so fun to watch.