Monty Python's The Meaning of Life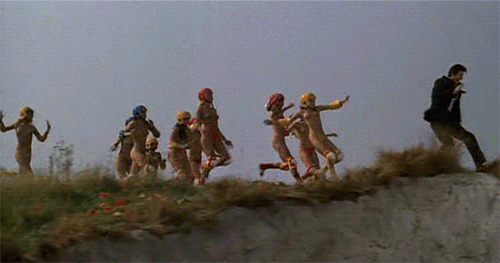 I was 15 when Monty Python's The Meaning of Life played in Boston; it was rated "R", so my friend John Dooley's dad took us. The movie was a surrealist return, for Monty Python, after Holy Grail and Life of Brian, to (formless) form. So by the time the scene "Part VII: Death" arrived, my frontal lobe was already a wreck. Sensory information was arriving willy-nilly from my thalamus to my fore-brain; my dopamine-sensitive neurons had given up the struggle to regulate it.
Once it was announced that Arthur Charles Herbert Runcie MacAdam Jarrett (Graham Chapman), a man convicted of "making gratuitous sexist jokes in a film," was to be killed in a manner of his choosing, I was prepared for anything to happen. Anything, that is, except for a non-compact topological group of bare-breasted women in G-strings and — why? — crash helmets!
Later that year, the movie was awarded the Grand Jury Prize at the Cannes Film Festival; for the blocking in this scene alone, it richly deserved the honor.