Rock'n'Roll High School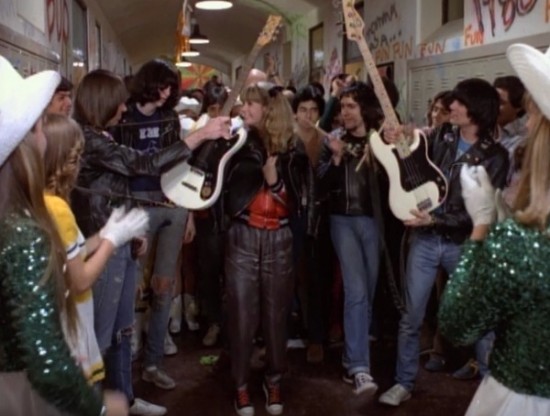 Near the end of Rock'n'Roll High School, as the forces of law and order lay siege to the occupied school building, Johnny Ramone (as himself) tells perky high-school rebel Riff Randell (P.J. Soles) that "we're gonna make you an honorary Ramone." Joey Ramone places a leather jacket over her shoulders, while Marky Ramone leads Riff's fellow students in applause. Johnny and Dee Dee Ramone then hoist their instruments over Riff's head, forming a half-assed triumphal arch.
Exactly like the celebration scene at the end of Breaking Away (also from 1979), the blocking is shambolic — the point being that losers don't have the faintest idea how to behave triumphantly when they win. Which is why they're loveable.
Having just witnessed Joey leading a crowd in a "Gabba Gabba Hey!" chant, a few scenes earlier, those of us who have seen the Tod Browning movie that inspired the song "Pinhead" are in a unique position to grok this dramatic tableau. The anti-anti-utopian message of this movie, produced at the apex of the Seventies [1974–1983], in which brainiacs, burnouts, and cheerleaders dance to punk rock and blow up their school, is that everyone either already is — or else ought to become — a freak.