The Long Goodbye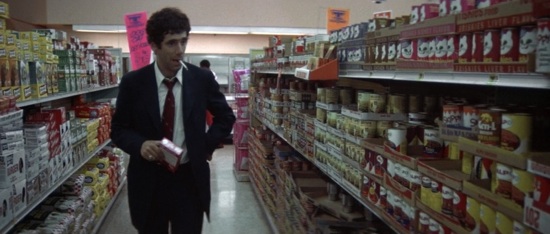 Robert Altman's 1973 adaptation of Raymond Chandler's The Long Goodbye was criticized, at the time, as an ironic put-down of classic private-eye movies. Instead, it is a long goodbye to the Sixties (1964–1973), the last era during which intellectuals believed that social control is exercised through anything so palpable as class domination.
In the scene shown here, Altman's avatar of Philip Marlowe (Elliott Gould) wanders the aisles of a supermarket at night muttering to himself. The garish ranks of cat- and dog-food cans are late capitalism's invisible-prison bars; Marlowe is more imprisoned, in this scene, than he is when he goes to jail the following day.
Although the only antidote to such Baudelairean spleen is volupté, i.e., the boundless freedom of which we catch a glimpse when at the beach, Altman's Marlowe is a creature of the night and the city, a scuttling cockroach (think of all those shots in which he peers fretfully into the California sun from a darkened room). Via this conceit, Altman is entirely faithful to classic private-eye movies.