Iverson Sneakers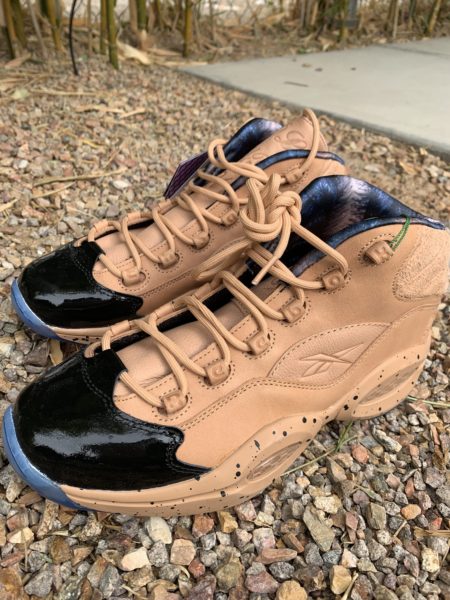 I was in a moment of personal transition — moving from Philly to Las Vegas for a writing residency — when I splurged on the Melody Ehsani Iverson Questions, a redesign of Allen Iverson's signature Reebok Questions. They're a collaboration with the LA fashion designer Ehsani, who is becoming known for exploring the legacies of oft-misunderstood black icons like Iverson and Lauryn Hill. She uses soft, vegetable tan leather and rough-sounding polyamide fabric to create thrilling contrasts that hint at celebrity personas and their complicated layers.
The Questions' name is a cheeky reference to Iverson's nom de play, "The Answer," but it ended up subversive, invoking more about his mind and famous evocation — "Practice? We talkin' 'bout practice?" — which would come years later, after the shoe's 1996 premiere. Iverson, The Answer, is more of an asker. Iverson is more open than a mouth that gives way to a wagging tongue, or the analogue of that organ you'll find in a basketball shoe, wide and ready for you to step into. This is especially true of the Questions' luxurious texture, which invites you to sink in like quicksand, or the slowly dawning realization that the '90s and all they connote has been over for a very long time.
The Ehsani Questions feel like space shoes on my usually boot-and-vegan-shoe-bedecked feet. Their camel and navy blue colorway recalls a groovy lava lamp planet in a sci-fi film, or the abutment of Vegas's sand-colored strip malls and the black mountains that peak behind them mid-afternoon, when the sky makes them look more indigo. The shoes are the shade of some tailored suits Iverson might have worn to a Virginia courthouse in the mid-'90s, when he was on trial for supposedly "maiming a mob" at a Hampton bowling alley in 1993. His 15-year conviction was later overturned, and he was free to become what he became.
Even though I didn't really have the money, I purchased the shoes as a hometown souvenir. I bought them on my phone while I was in the airport waiting to board my plane, on what felt like a whim, but which was really the result of years of harboring desire. I'm not a sneakerhead; rather, I have long pined for A.I.'s form of artistic practice, which is some combo of moving with determination, being aware of one's humility, embodying confidence, and rigorously interrogating what's around you. This includes arbitrariness and its ills, the idle hands of NBA bureaucrats and bad dressers.
I don't think I'll wear the Questions too many times in Vegas, because the taupe-colored dirt and pebbles that line the city's xeriscaped streets will inevitably find their way onto my shoes. The sand might render the debossed version of Iverson's "Hold My Own" tat, printed on the sneaker's tongue, illegible. But then again some erasure might make them more true-to-form, because every time someone raises a quizzical eyebrow at the muddied lettering, they'll have to stitch the meaning together.
Present-day Philly basketball culture is all about "The Process," or the Sixers' gradual installment of a winning culture and ultimately a championship after years and years of tanking for valued draft picks. I grew up in the city during Iverson's reign — the team's "Answer" era — and it feels strange yet linguistically satisfying to move from a state of definitiveness to one all about being in the unfolding of something.