Fish Scaler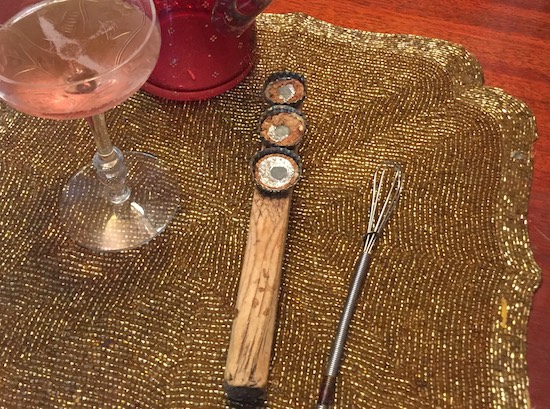 My mother's father made this fish scaler. He grew up hunting and fishing on the Illinois prairie, like a character in a story by Laura Ingalls Wilder.
During summer visits, he taught me to fish from the shore or on rowboat. My grandparents owned a cabin near Idlewild, Michigan, a famous African-American resort called "America's Black Eden" in pre- Civil Rights days. During the Depression, my mother's family would vacation on Lake Idlewild where my grandfather fished the lake for bluegills, largemouth bass, black crappie and yellow bullhead. In the evenings, my grandfather rowed a boat across the lake to take my grandmother dancing at the Paradise Gardens night club on Williams Island. Snug in their beds, my mother and her brothers listened to the music of Louis Armstrong's orchestra float across the lake.
My grandmother owned the fish scaler; it resided in the kitchen drawer, not the tackle box. My grandmother was a legendary cook and baker. I can see the utensil in my grandmother's hands, deftly making translucent scales rain down into the kitchen sink as she scaled, gutted, and flayed each creature lying on her cutting board. She taught me to dredge fillets in seasoned cornmeal and fry them until golden brown in a large, black cast iron skillet filled with hot lard. The final result would be a crispy pieces of fried fish served on a plate with home grown raw tomatoes and fried potatoes. A slice of white bread and a bottle of hot sauce always sat nearby.
The fish scaler reminds me of a time before the era of disposable culture and large-scale manufacturing. When I look at the fish scaler, I see my family's frugality and ingenuity. I've moved again and though I don't use it, because I can easily buy fresh fish — cleaned or fried — at the supermarket now, the fish scaler remains in my kitchen. It is the embodiment of my grandfather's motto, "Watch your pennies and the dollars take care of themselves."