Tender Mercies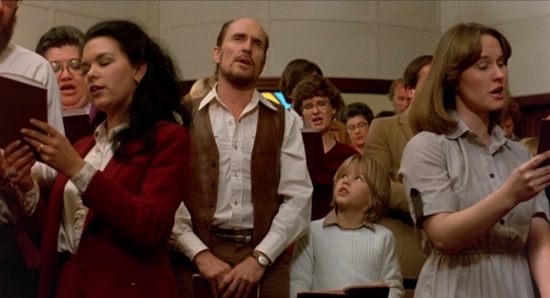 If you thought Jeff Bridges deserved the Academy Award for Best Actor for his scene-chewing performance as Bad Blake in Crazy Heart, then you cannot have seen Tender Mercies. The latter, better movie is not so much about a down-and-out, alcoholic singer-songwriter who tries to turn his life around after beginning a relationship with a younger woman and her child as it is about redemption: from a living hell born of pride, avarice, selfishness, wrath.
Though it was directed by Bruce Beresford, I'm going to credit leading man and co-producer Robert Duvall (who co-produced and acted in Crazy Heart, and who won the Academy Award for Best Actor in Tender Mercies) for the inspired blocking in this scene, in which Mac Sledge attends church for the first time in years. The arrangement of actors (in this and other scenes) reduces Sledge to little more than a chastened, bewildered, deeply grateful vector of southern-fried redemptive forces: family, religion, community, music. Which is as it should be!
Along with The King of Comedy and Rumble Fish, Tender Mercies was one of the very last New Wave movies of the Seventies (1974-83); the four movies in which Tom Cruise appeared (not to mention the remake of Breathless as a Richard Gere vehicle), that very same year, heralded the end of an era.