Originally published by the Boston Globe's Brainiac blog, May 2008.
The next big Marvel Comics movie adaptation — why not Doctor Strange? It makes perfect sense. After all, according to Marvel aficionados, Doctor Strange's vibe — his thin, elegant, pencil-mustached appearance; and his air of barely suppressed internal conflict and chastened, hard-won reserve — was inspired by a certain movie star's vibe. But which movie star?
Here, the aficionados divide into three warring camps.
Created by Stan Lee and Steve Ditko, Doctor Strange (the Sorceror Supreme) first appeared in Marvel's Strange Tales #110 (July 1963); splash panel from that issue, shown above. A hit with college students, thanks to its surrealistic-trippy visuals, the Ditko-drawn (then Ditko-drawn and co-plotted, and eventually drawn and solo-plotted) Doctor Strange stories appeared in every issue of Strange Tales from #114 through #146. They continued after that, but Ditko was no longer involved.
From the character's origin story, which appeared in Strange Tales #115 (December '63), we learn that Stephen Strange is a famous, selfish neurosurgeon whose hands had been damaged in a car crash. Seeking a miracle cure, Strange had journeyed to the Himalayas in search of the Ancient One, a master of the mystic arts; there, he'd become the Ancient One's disciple, learning the secrets of energy projection, teleportation, telepathy, and astral projection. Determined to fight evil, the Master of Black Magic had then returned to America.
Graeme McMillan, of the science fiction blog io9, likes the idea of a Doctor Strange movie, and offers a casting suggestion:
The story of an arrogant famous surgeon who survives a terrible accident but without the finger dexterity to keep slicing and sewing, only to become the world's most powerful magician after a Tibetan retreat, it's Nip/Tuck meets Iron Man meets Harry Potter. Get someone like Guillermo Del Toro to direct and George Clooney to star, and your summer blockbuster is all taken care of.
Sounds great! Except for Clooney: the worst work that he ever did was as a superhero. For Strange, you need to cast someone tall, thin, elegant, troubled but articulate. Leo, for example. [Editor's note — As we all know by now, Benedict Cumberbatch eventually got the job.]
On to the three hypotheses I've encountered out there…
THE NIVEN HYPOTHESIS
Stan Lee has said, in interviews, that he thinks Ditko based Strange's look on David Niven, a British leading man in mostly American films.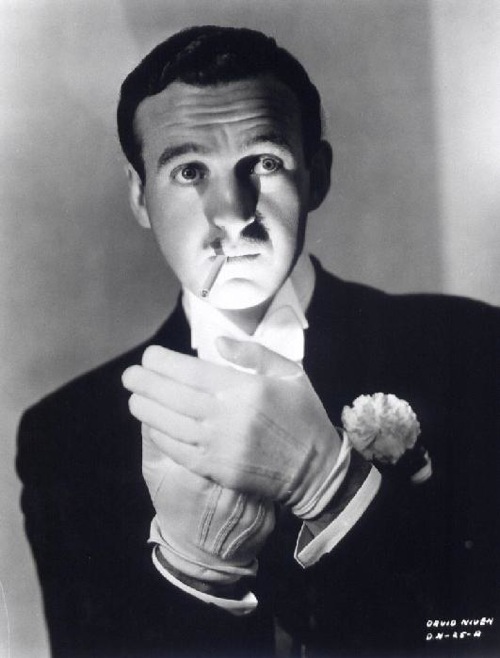 This does make some sense: Doctor Strange is not a muscleman, and Niven was known for his portrayals of elegant adventurer types: e.g. the titular gentleman burglar in Raffles (1939); Phileas Fogg in Around the World in 80 Days (1956); Corporal Miller in The Guns of Navarone (1961); Sir Charles Litton, a.k.a. "the Phantom," in The Pink Panther (1963); and the original James Bond in Casino Royale (1967). Also, Niven had an iconic mustache.
The look fits… but what about the vibe? As some Doctor Strange fans have pointed out, Niven's persona — unflappable, supercilious, superioristic though self-mocking — is all wrong for the tortured, scholarly, eldritch Strange. It seems unlikely that Ditko would have been inspired by Niven. However, I do buy the theory that Niven was the model for DC's Sinestro — i.e., Green Lantern's arch-enemy, whose first Green Lantern cover appearance, in November/December 1961, is below.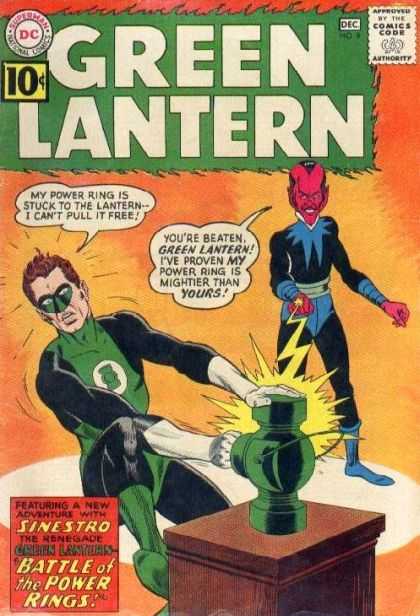 Moving on, then…
THE PRICE HYPOTHESIS
Vincent Price was an American actor with a British accent. When one thinks of Price, one thinks: mustache.
Though he did a lot of TV and radio work, Price is best remembered for his roles in horror films, from The Invisible Man Returns (1940) to House of Wax (1953), The Fly (1958), and Witchfinder General (1968, also known as The Conqueror Worm); and, in particular, for his fruitful collaboration with Roger Corman on a series of low-budget Edgar Allan Poe adaptations: House of Usher (1960), The Pit and the Pendulum (1961), Tales of Terror (1962), The Comedy of Terrors (1963), The Raven (1963), The Masque of the Red Death (1964), and The Tomb of Ligeia (1965).
In The Raven, which came out on Jan. 25 of the year that Lee's and Ditko's Doctor Strange first appeared, Price plays Dr. Erasmus Craven, a sorceror whose long, elegant fingers shoot mystical bolts of energy and form shields. Much like Doctor Strange's bolts of energy and shields…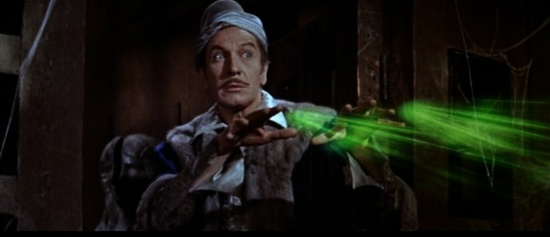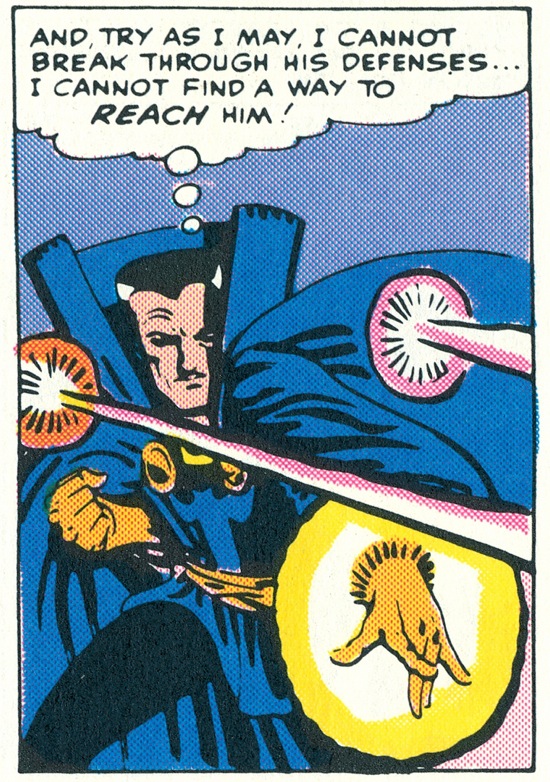 This is strong circumstantial evidence, indeed! However, it's been argued that the publication date of Strange Tales #110 suggests an actual release date of May, which means that the story must have been finished a month or two before that. But… Ditko might still have seen The Raven before drawing the story; in fact, if one imagines him going straight home from the theater and sketching Doctor Strange, then this theory and its timeline only sound all the more plausible. (Of course, Ditko might have seen a preview of the movie weeks or months before the movie premiered.)
Forget the timeline, though. Price's vibe is wrong. Doctor Strange is a melancholy intellectual, flawed yet heroic; Price, in every role, is a sly, wink-winky hambone. Also, although Strange is not a muscleman, he is a heroic, adventurous figure; Price is not. It's not impossible that the visuals for Strange's spells were inspired by Dr. Craven's spells… but Strange himself? Personally, I subscribe to the following, little-known hypothesis.
THE COLMAN HYPOTHESIS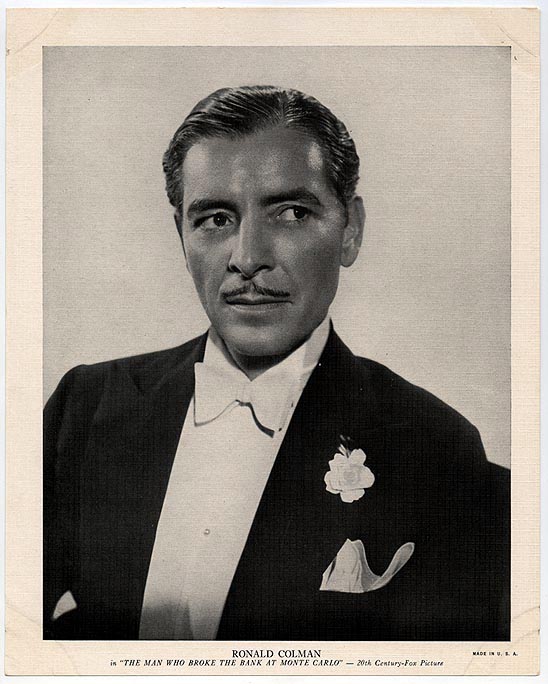 British actor Ronald Colman is best remembered for his roles as the titular private detective in Bulldog Drummond (1930); the titular gentleman burglar in Raffles (1930; Niven was in the '39 remake); a drug-addicted nobleman and his double in The Masquerader (1933); dissipated lawyer Sydney Carton (but not his double) in A Tale of Two Cities (1935); the prisoner and his double, Major Rudolf Rassendyll, in The Prisoner of Zenda (1937); Robert Conway in Lost Horizon (1937); and a stuffy law professor in the romantic comedy The Talk of the Town (1942). He won the Best Actor Oscar in 1948 for A Double Life. And he sported a dashing thin mustache.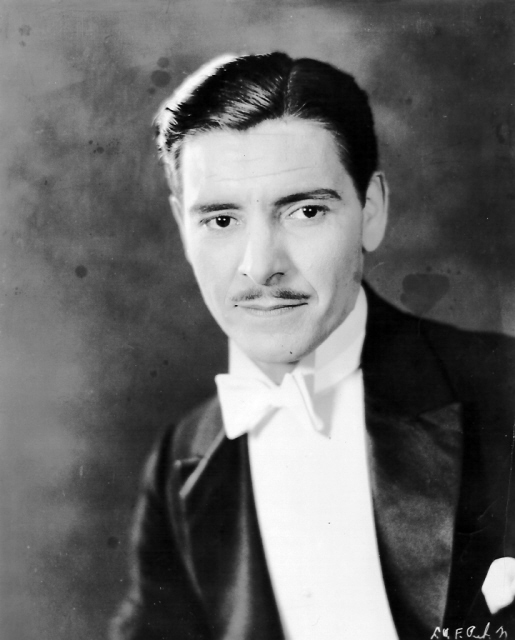 Though handsome and dashing, Colman's face has a gaunt, slightly peakèd quality; he looks like a man who's been through an ordeal. Or a man who has something to hide, who leads a double life — as Colman's characters do in so many of his movies. And then there's Colman's vibe: Sydney Carton was said to be his favorite role, and he played Carton as a man of great intelligence and courage who's let himself down, hence the melancholy wit and ironic stance. Even when in action hero mode, Colman is understated, suave, intelligent, guarded.
There's circumstantial evidence for the Colman hypothesis, too! Doctor Strange's origin story is obviously influenced by the movie Lost Horizon. In the movie, Colman plays Conway, a writer, soldier, and diplomat whose plane crashes in the Himalayas, where he is befriended by the High Lama of Shangri-La — who names Conway his successor, and to whom he decides to impart his knowledge of magic (or science so advanced it seems like magic). Although he may not fire mystical bolts of energy from his fingerips, Conway does sport some sweet robes.
What do you think, readers?