Passport Holder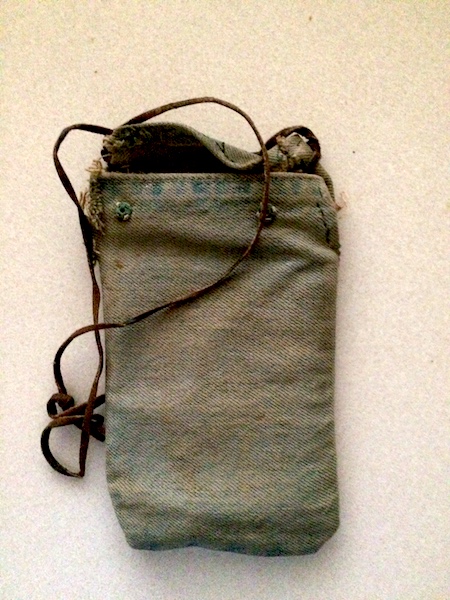 The pouch is hand-made from denim with a leather lariat as tough as a hobo's shoe. It was sewn by my sister, a present when I embarked on a backpacking trip through Europe in 1986. I was travelling with my best friend from high school. We each carried a Fodor's guide, three changes of clothes, a Swiss Army knife, a (film) camera, and a book. I brought A Portrait of the Artist as a Young Man and he brought The Tin Drum. We each had $500 dollars and our passports.
I worried about my money and my passport. We had Eurorail passes so we could spontaneously travel from country to country. We planned on sleeping on the train when not staying in youth hostels. I wanted to visit Montparnasse and he wanted to hang out in Venice. Rome was likely because we were both Fellini fans. Would we visit Omaha Beach? Hike the Pyrenees? Visit Auschwitz to please our parents? Or head to the Mediterranean coast hoping to get laid?
We had heard stories of kids getting robbed by sneaky Sardinians with knives or losing their passports on benches and beaches. We could tuck our documents into the recesses of our ponderous metal-framed backpacks, but what would happen when we went to sleep? Our passports were too rigid to fit comfortably into our pockets and fanny packs were for middle-aged tourists from Kansas. The pouch was the solution.
Neither of us had travelled outside of America. We landed in Frankfurt and boarded an overnight train heading south. We had no particular destination. The sleeping compartment was thrilling: heavy metal sliding doors that thunked closed, narrow bunk beds, the stale smell of cigarettes, and the sway of the train as it hurtled over junctions. We felt like we had entered the past, the post-World War Two era of Middle Europa, where cynical men in overcoats stood in the shadow of doorways.
Around three in the morning the door abruptly slid open. A uniformed conductor asked for our tickets. Holding a small flashlight in his hand, he looked them over. He then swept the beam across our faces and demanded our "reisepass" — our passports. I fished in the pouch that was hanging from my neck. "Türkisch?" he asked threateningly. My hands were shaking as I unsnapped the pouch and took out my passport. I handed it to him. He brightened. "American," he said in accented German. "Welcome aboard!"
During those fifteen seconds when I had anxiously fumbled with the pouch, I experienced the fear of being suspected to be an illegal immigrant. For a terrifying moment my history, my memory, and my family didn't exist until I could prove otherwise. The pouch had protected my identity. I never felt more Jewish, more American, nor more naïve.