Funeral Flower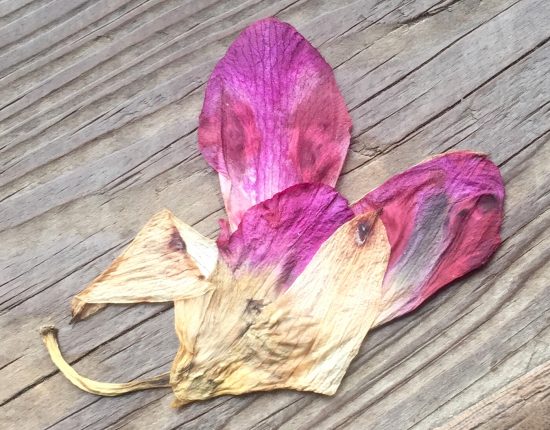 The classiest thing about Minneapolis was that in the foyer of the club, there were fresh orchid blossoms scattered here and there on the black-cloth-covered table where people left their drinks when they went outside to smoke. I've never been to a rock show decorated with expensive flowers, or any flowers. So I completely failed to live up to the elegance of the moment and palmed a flower and squashed its tender petals into my purse, alongside all the shredded receipts and pens without caps.
We were at First Avenue, the club that was Prince's home base in his hometown, and he had been dead for only about four months, a long, sad summer. The Revolution was playing in his memory, at this place that was so meaningful to the band and the city and the Artist and the magical, lacy thing they had all been together, and in its way, it was like a public mourning ritual — hence the orchids, the funereal little blooms with their Prince-purplish petals.
It was sold out, of course, and pulsating with feelings. I say "pulsating" because it's kind of a sex word (Prince, duh) but also just a body word: the crowd, the staff, and the band were giving off the most intense vibrations of grief and excitement. There was sweat, and tears, and a lot of noise from the crowd that was somewhere between cheering, and singing along, and languageless howling.
I love Prince, but I'm not sure if I've ever met anyone who loves Prince the way my husband loves Prince. We have more than one terabyte-sized hard drive full of outtakes and demos and bootlegs, plus every possible movie and documentary and fuzzy episode of Minneapolis public-access TV from the '80s that Prince appeared on. When my husband was 13 years old, he was the lead singer in a Prince cover band called Rated X — his voice hadn't changed yet, so he could do the falsetto, and also, in Mt. Vernon, Ohio, everyone else thought it would make them look too gay. At First Avenue, I saw him absolutely disappear into Prince, back into the years of everything Prince had meant to him and the cresting waves of grief that were sucking the whole room out to sea. At one point, he ran back to me from the front and told me, without any preamble: "Every day after school, after I got beat up again by the jocks and the farmers, I would put on my headphones and listen to them," he said. He meant Dez and Wendy and Lisa and Brown Mark and Bobby Z. "I was alone all day. But I didn't have to be alone at night, because I had them." His face was wet. He was shaking a little. He loved these people so much — they had pulled him through — and together with them he had loved that strange, funky, resolutely original sprite, and now, together, they were all facing his absence.
Later we all calmed down and went for drinks, or something. I found the flower at the bottom of my purse after we got home to New Orleans and I put it in between the pages of a notebook. I thought I wouldn't tell him I had pilfered it, until later, in case we needed it? It felt like it was our whole marriage somehow. It felt like the kind of physical thing you bring back from Narnia, or Wonderland, or a place that must be a dream until you find the thing in your pocket and touch it and realize it was real.