Good Attitude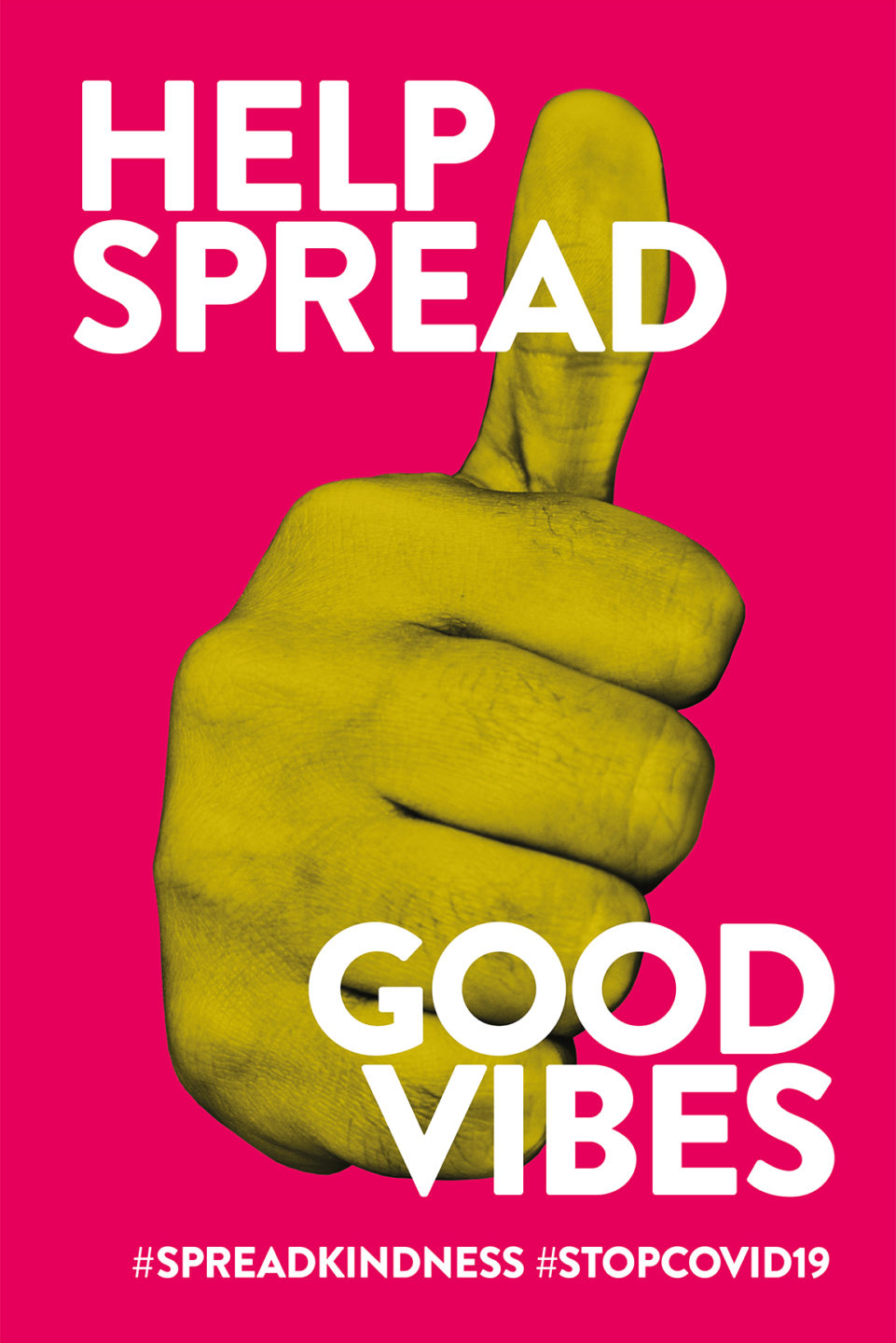 This is the 11th in a series of 16 posts offering an analysis of "Covid Codes" from a global perspective. SEMIOVOX has invited consulting semioticians from around the world to augment the Coronavirus-related meaning map whose lineaments we revealed here in a Spring 2020 series. We are grateful to our talented and generous colleagues, who are individually acknowledged in each series post that features their contributions.
The theme we'll explore in this installment is: GOOD ATTITUDE. By which we mean: Leveraging the healing power of positive thinking.
Brands activating against the norms and forms of this thematic complex encourage us to cultivate optimism and positivity, looking inward for reassurance, hopefulness, and a sense of purpose, rather than outward to experts and authority figures.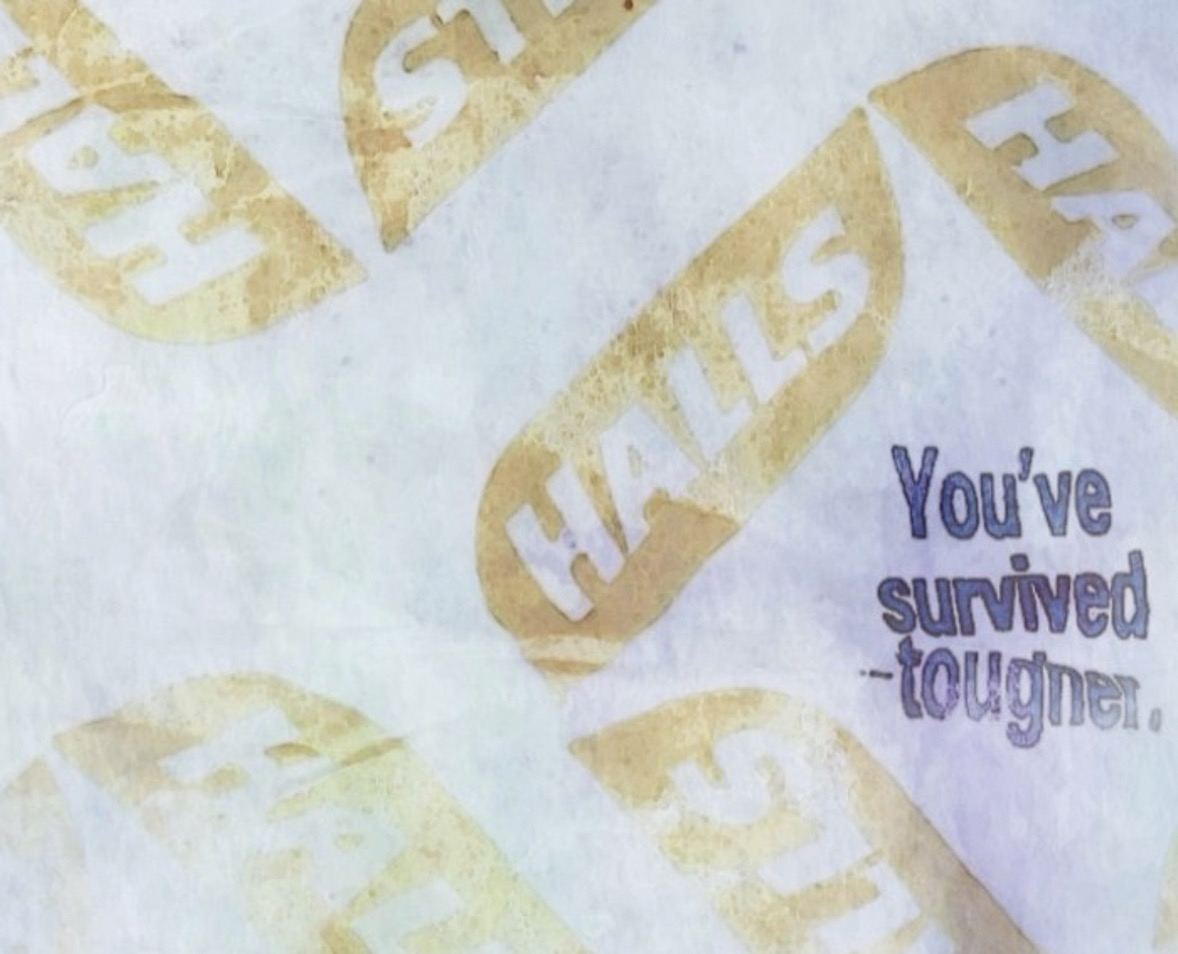 Like the previous installment in the series, BIG PICTURE, this theme is governed by the paradigm "Counselor." The Counselor — think of a psychiatrist, therapist, minister, or other wise figure — urges us to use illness as an opportunity to reflect on what matters most. The Counselor, in this space, is a trusted figure but not an authority figure per se; that is, they do not issue directives, but encourage us to trust in our own abilities.
If within the space we've been analyzing, the Doctor is sometimes a semi-villainous figure (see INFALLIBLE AUTHORITY). i.e., one whose methods and aims we fear and resent even while we feel passively bound to submit to them, then the Counselor is this space's rebellious hero(ine). Does the doctor demand that we submit ourselves — passively, patiently — to their infallible authority? The counselor urges us instead to proactively tap into our own inner resources, to take matters into our own hands.
Profound change begins with your mindset, is the message of this complex. In other words, you can actively participate in your own healing simply by training yourself to think and feel differently about life's challenges.
The power of positive thinking is, of course, a homegrown American secular religion — one established, in 1952, by Methodist clergyman Norman Vincent Peale's book of that title. Through affirmations and visualizations, Peale promised, one could permanently achieve an optimistic attitude — which would result in higher satisfaction and an improved quality of life. The book sold more than 5 million copies worldwide and was translated into over 40 languages; Donald Trump has called Peale (who officiated at Trump's first wedding) his pastor. When brands who've committed to posting something every single day on Facebook or Twitter run out of anything else to say, their social media teams start mining Inspirational Quotations databases for Peale-esque words of wisdom about the material benefits of an optimistic outlook.
Our study suggests that the GOOD ATTITUDE thematic space is brought to life by at least four "source codes" (signs): Positive Thinking, What We've Gained, Dark Humor, and Tuning Out.
Positive Thinking
The Positive Thinking source code's norm (idea, value, higher-order benefit) can be described as follows: An optimistic outlook has material benefits — for our health, wellbeing, and sense of proactive agency.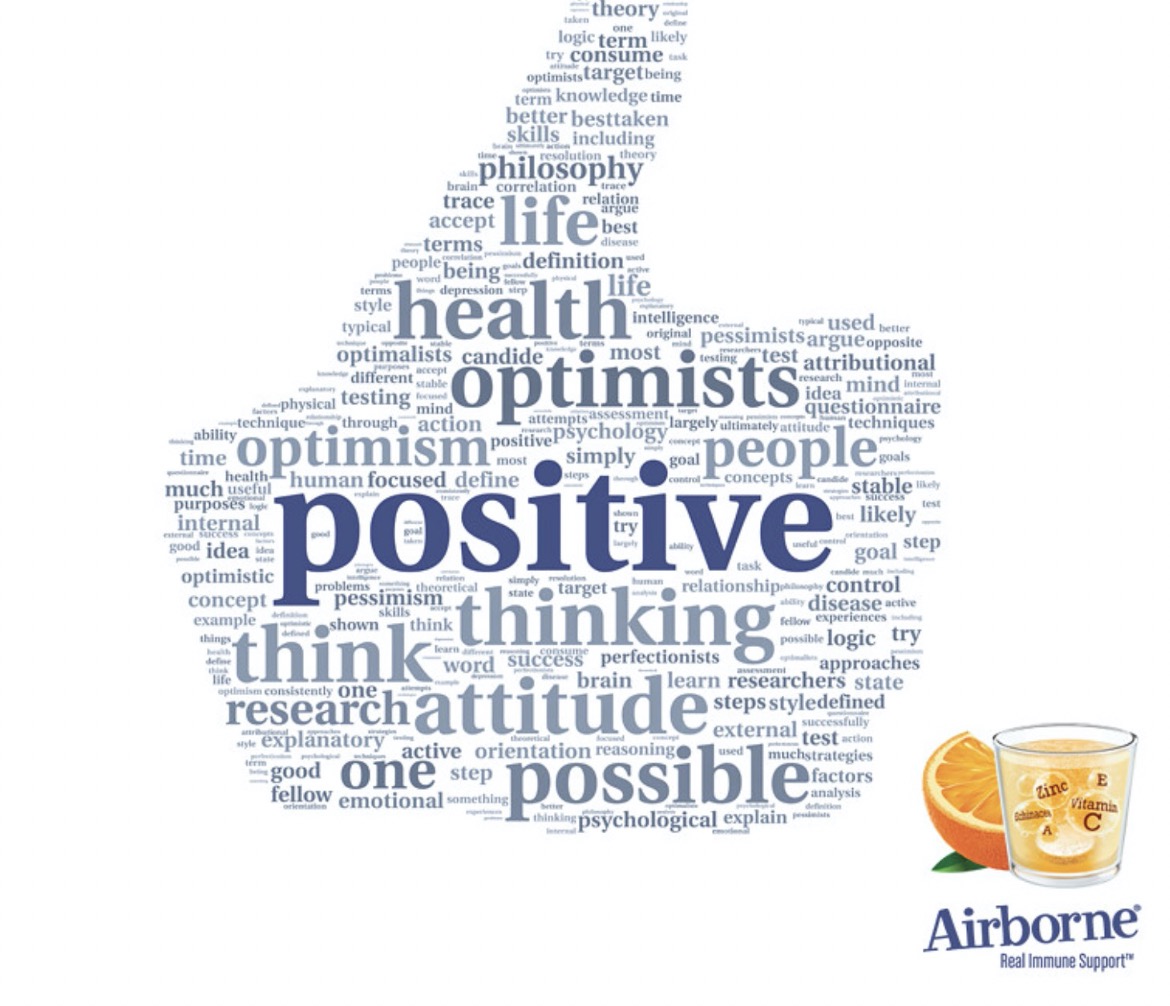 Visual cues of the Positive Thinking source code include:
Optimistic symbols — thumbs up, smiley faces
Bright colors, child's coloring-book aesthetic
Handwriting, as though a note from a friend
Little notes, as though from a parent to a child
Verbal cues of the Positive Thinking source code include:
Pep talks, coach tonality: "You've survived tougher," "You can do it and you know it," "Summon your strength," "Bet on yourself," "March forward."
Power of positive thinking mantras: "Adopting the right attitude can convert a negative stress into a positive one," "All you change is yourself, but sometimes that changes everything," "Today I choose joy."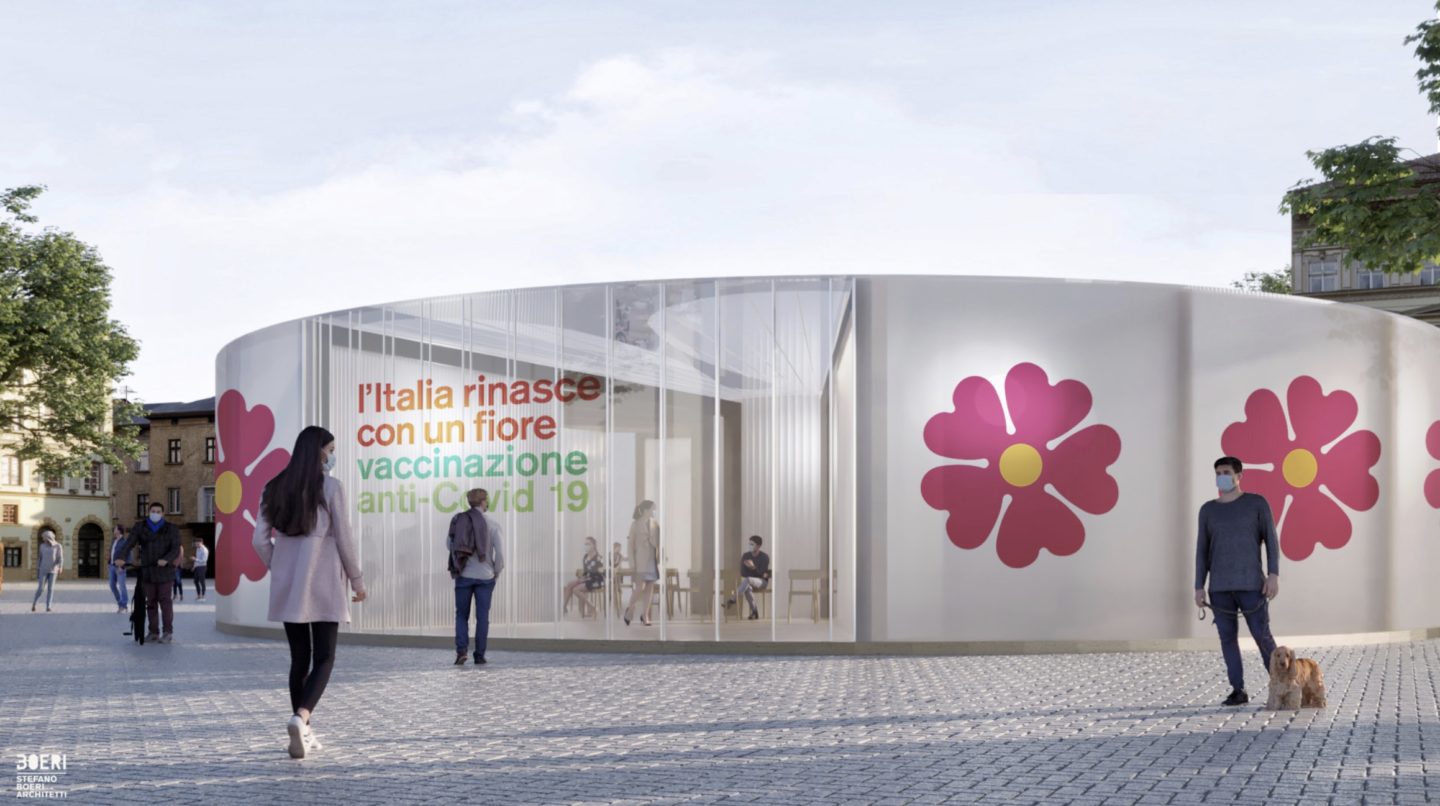 Luca Marchetti (France/Italy) directs our attention to the booth that architect Stefano Boeri conceived to host the staff and the material necessary to Italy's first anti-Covid19 vaccine campaign. "Assuming the wider population will start to be vaccinated during the spring, the booth was identified by a primrose (pink daisy). A choice which crystallizes diverse values and connotations: organicity (physicality etc.), relief (let's say 'optimism' at least…), spring (since the daisy is the first wild flower to appear on the ground at this season), and 'opportunity' and luck (since, in Italian popular culture it's said one has to catch the first spring-daisy as a lucky charm for the rest of the year)."
Chris Arning (UK) notes that "looking in the bright side" communications can be tone-deaf and outrageous. The PSA above, for example, seems to suggest that dancers and other artists whose livelihood has been devastated by the Coronavirus lockdown should think of their art as a hobby rather than a career. "Ironic of course that it is the digital hollowing out of our economy that has already served to impoverish the middle class #EpicFail."
Chris notes that the government's PSA was roundly mocked and satirized, for example by the image above.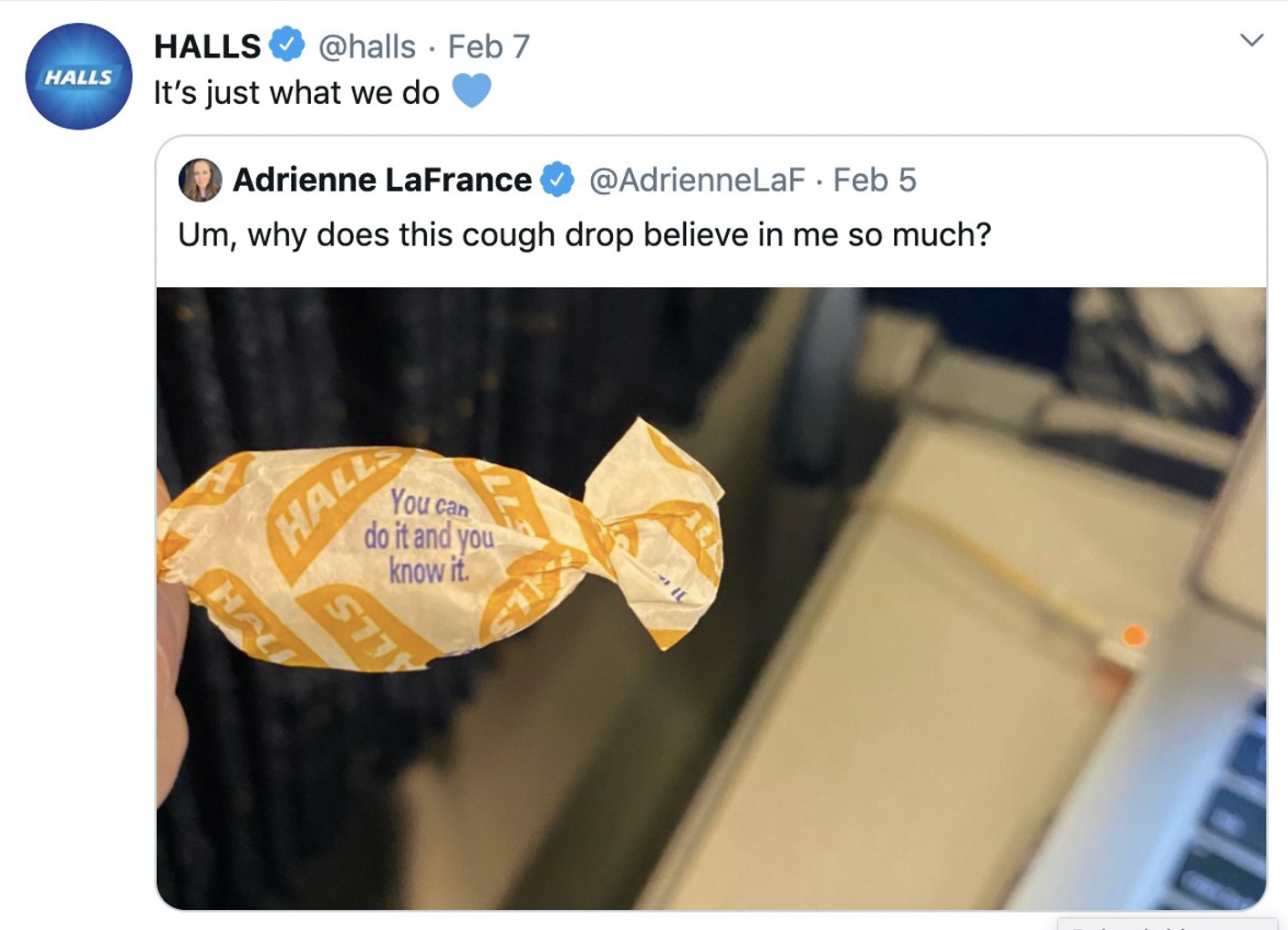 Cold-EEZE and Halls, in particular — among the Cough/Cold/Flu Relief brands included in our audit — are tireless in their rah-rah positivity. Beginning back in 2010, Halls' "A Pep Talk in Every Drop" campaign added inspirational quotes ("The show must go on," "Fire up those engines," "You've survived tougher," etc.) to their wrappers. Although some Halls customers have been nonplussed — "Um, why does this cough drop believe in me so much?" asked one Twitter user, in a tweet at Halls — it's apparently been a successful campaign.
Vijay Parthasarathy (US/India) notes that Dr. Anthony Fauci fully leveraged his expertise and COVID-era fame as America's doctor as he appeared in this wink-wink Christmastime CNN video aimed at cheering up kids and adults alike. "The myth of Santa must remain unbroken for children even — and perhaps especially — in moments of extreme strife," Vijay notes.
Serdar Paktin (Turkey) sends along a commercial in which couriers for Getir, a delivery service for supermarkets and department stores, change the company's slogan from bi mutluluk (bring happiness) to bi umutluluk (bring hopefulness). "I think this was a strong message, and it was an interesting human touch to change the slogan by hand on each package."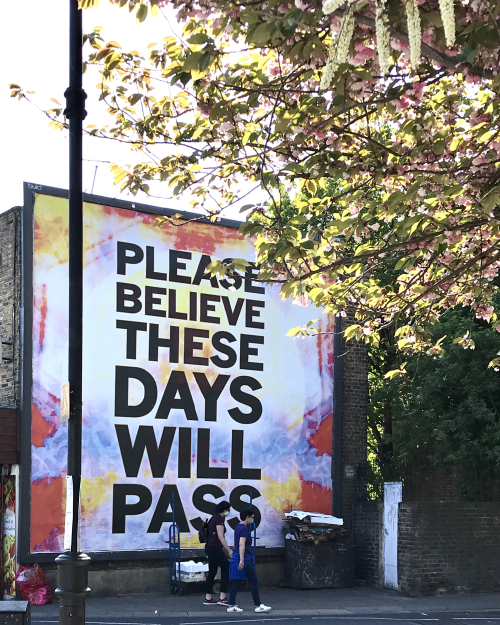 Louise Jolly (UK), says of this London Fields banner — which reproduces English artist Mark Titchner's work Please believe these days will pass — that "It's a complex message — some desperation in the tone beneath the apparent hope."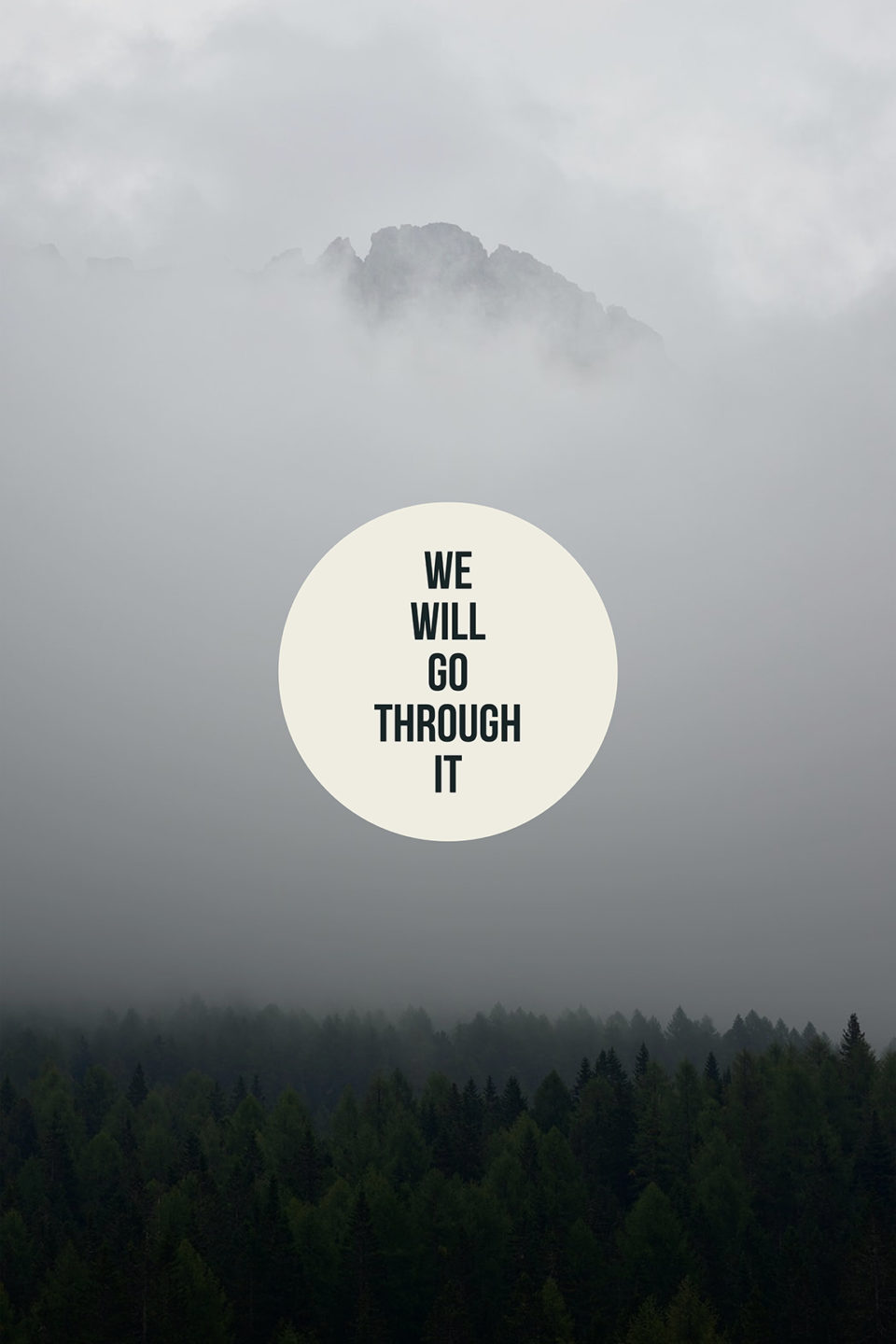 Maria Papanthymou (Russia) writes, regarding the poster above (by a Georgian artist), that resilience and hope are very relevant topics for Georgian culture. The artist himself adds: "We all must step over of this and be back more strong and more happy!"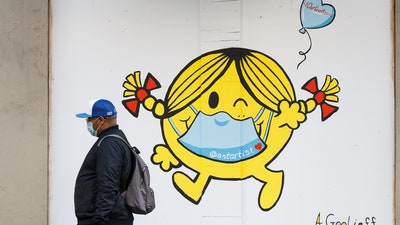 Sarah Johnson (Canada) describes the aesthetic of this Vancouver mural as "Sort of a leftover British influence (Little Miss books) meets West Coast leftover '60s sensibiilty? The wink is definitely disarming."
What We've Gained
The What We've Gained source code's norm (idea, value, higher-order benefit) can be described as follows: Surprisingly, in this difficult period we've discovered unexpected pleasures and sources of satisfaction.
As the sweet Coronavirus Lost and Found website put it, "Unexpected pleasures coexist with all this sadness, though they don't diminish it. We find surprising things while we're compelled to stay at home or keep our distance." The NFL's "Stay Home Stay Strong" PSA is adorable — featuring a panoply of tough guys playing with their kids. "Embrace your stay home hair," suggests Great Clips. A Domino's Pizza commercial about contactless delivery depicts a guy recreating Tom Cruise's dance scene in Risky Business. Apple's "Creativity Goes On" commercial is marred by the piano theme that we're all tired of, but who doesn't like watching people stuck at home get creative? Social trends offer more evidence that this is an emergent space: active music discovery is on the rise; Amazon can't keep up with demand for Jenga, vibrators, gardening tools, and other products related to (re)discovering "unexpected pleasures."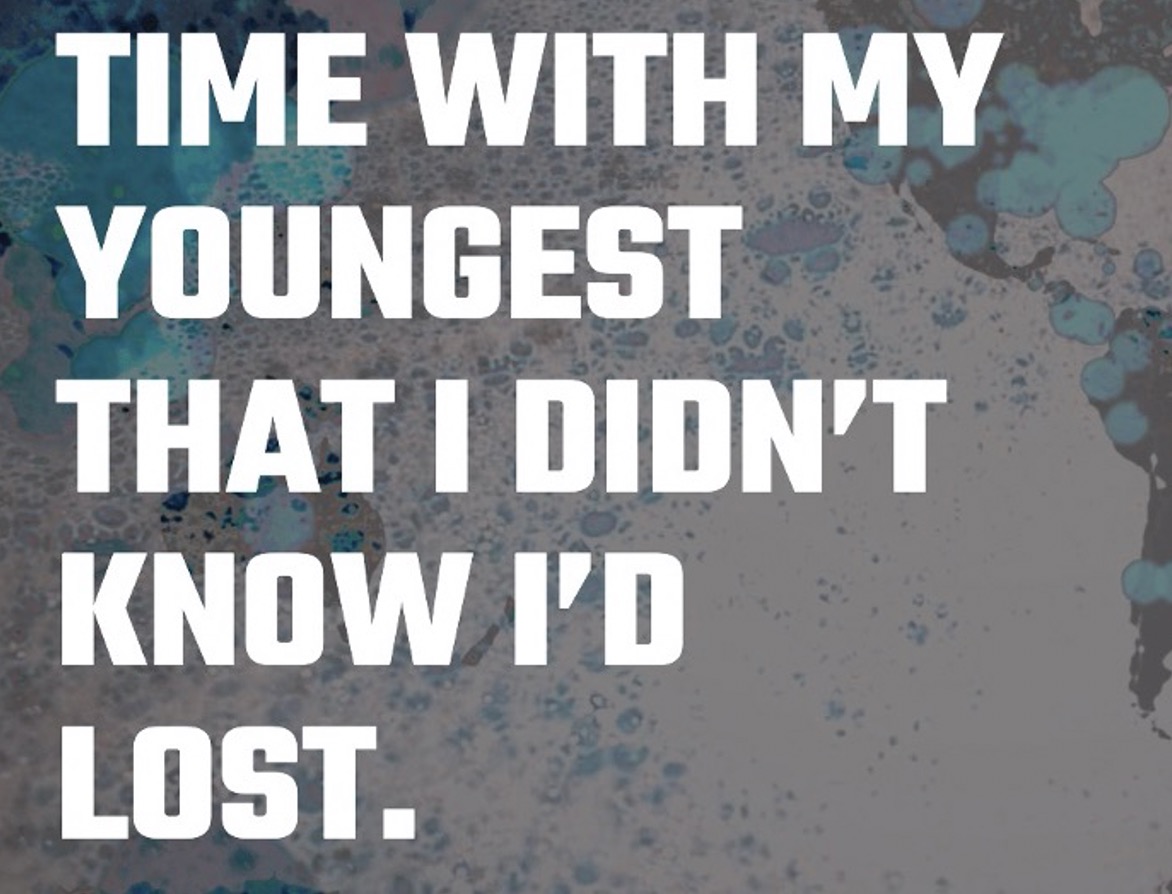 Visual cues of the What We've Gained source code include:
People enjoying meaningful time at home with their families
People enjoying solitude, time to reflect
People enjoying not going into an office
People resuming hobbies, catching up on reading or music discovery, etc.
Verbal cues of the What We've Gained source code include:
Expressions of gratitude: "Time with my youngest that I didn't know I'd lost"; "We have society's permission to say no"; "Quarantine and chill"; "Coronacation"; "JOMO" (i.e., Joy of Missing Out)
Think-pieces on how the world might improve post-epidemic, e.g., "162 benefits of coronavirus"; "The opportunity of a lifetime"
Sónia Marques (Portugal) shares a Tourism Authority commercial "Visita Portugal — Tu podes" (Visit Portugal, you can) in which non-Portuguese actors sing sorrowfully about how much they miss visiting Portugal. "We, the locals, contrarily to tourists, can in 2020 enjoy the worlds' favourite destination. We can travel to the world's best destination. Facing the advice 'do not travel abroad' and a huge hotel crisis, the Tourism Authority found a way to present the problem as an opportunity for Portuguese people."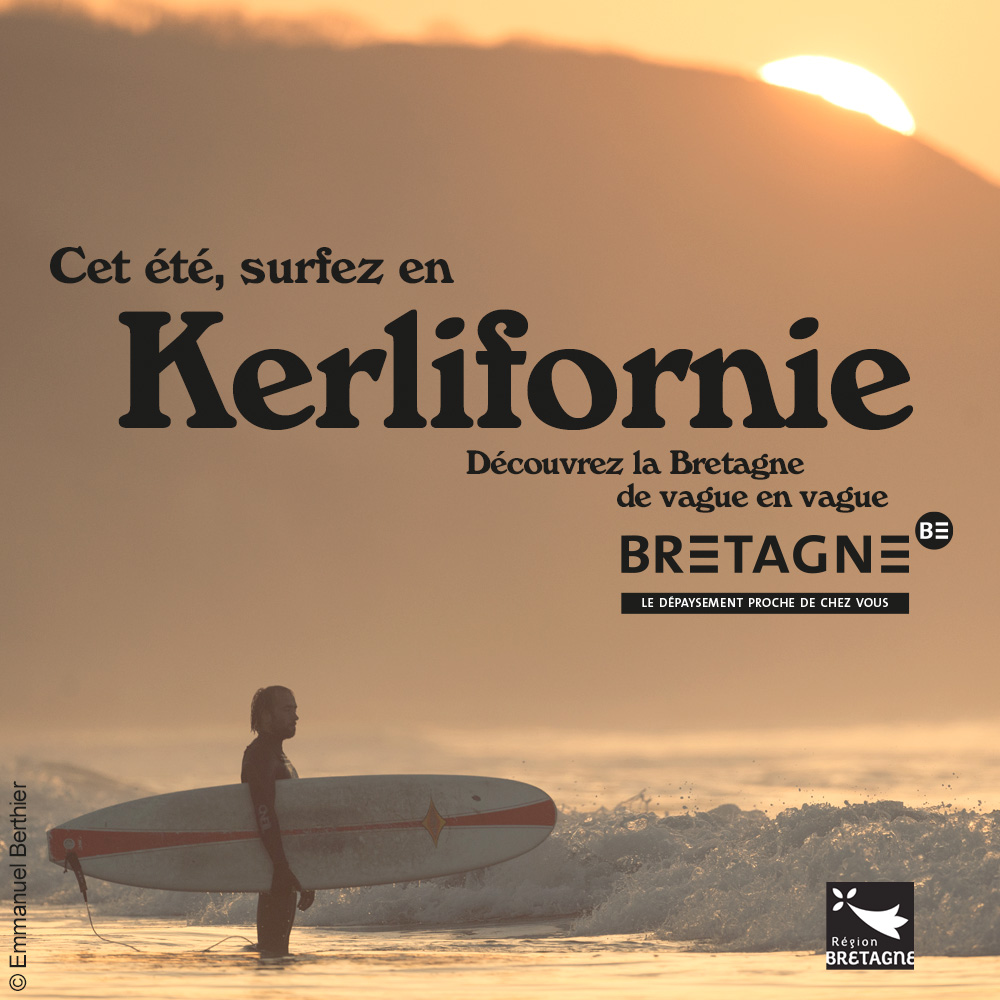 Samuel Grange (France) points to a similar effort in France: "Since we can't travel, some French location have tried to attract tourists by mimicking with some more sexy destinations. The names sound as though they are from [that part of France known as] Brittany, yet you can clearly recognize the non-French inspiration…"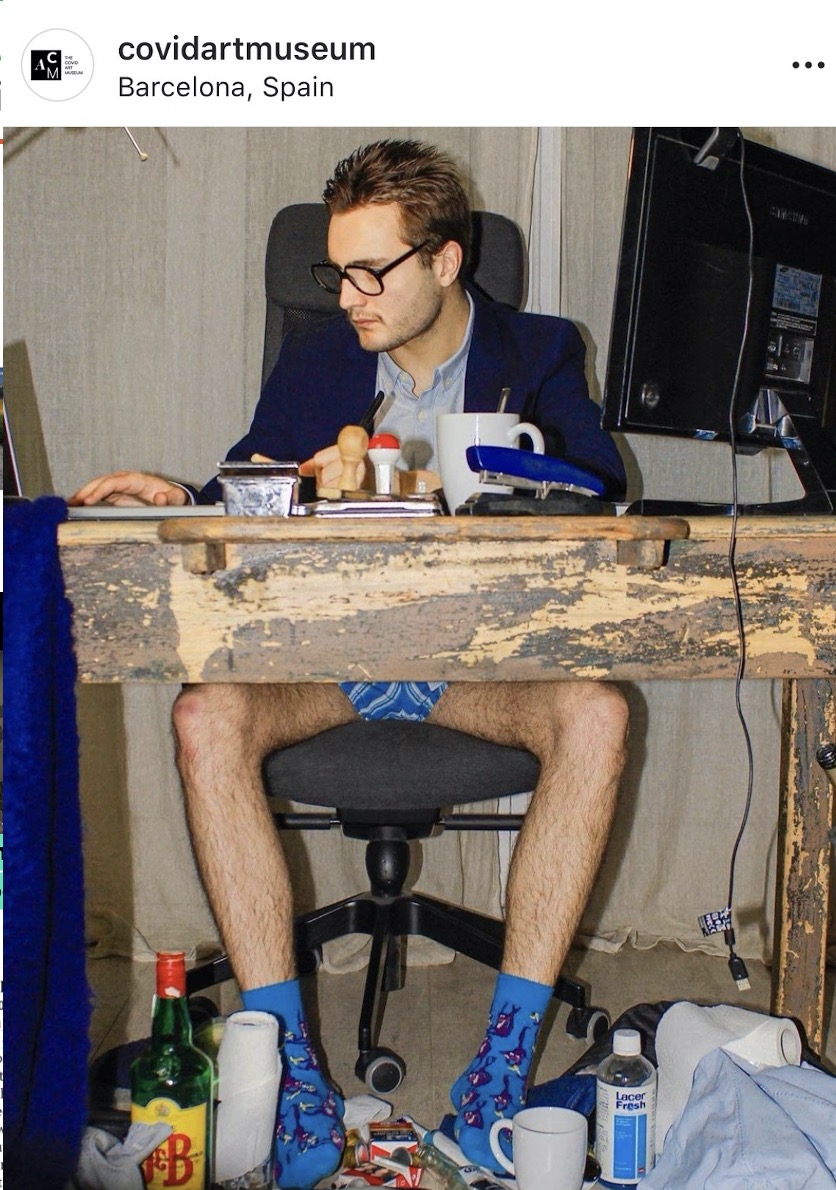 Aiyana Gunjan (India) sends along a popular WhatsApp forward in which a fresh-faced, smiling actress recites a New Year's poem about "braving the storm." "Passing through this year, I have also gone through this difficult times. Having broken into pieces, I have now come out clean. I have maintained distance from loved ones and taken a vow not to touch. Phone call, video calls have been my life line, and have celebrated Diwali on screen. Within a 4×4 room, I have lived both joy and sorrow. … It's now time to change the calendar. The dates may change but the hardship is immense. My hopes are on the ventilator but my courage is soaring. Mask on face, sanitiser in hand, I am fully prepared."
Dark Humor
The Dark Humor source code's norm (idea, value, higher-order benefit) can be described as follows: Right now, laughing might be the best way to stop ourselves from crying.
Visual cues of the Dark Humor source code include:
Cleverly repurposed pop culture images
People imitating celebrities, etc.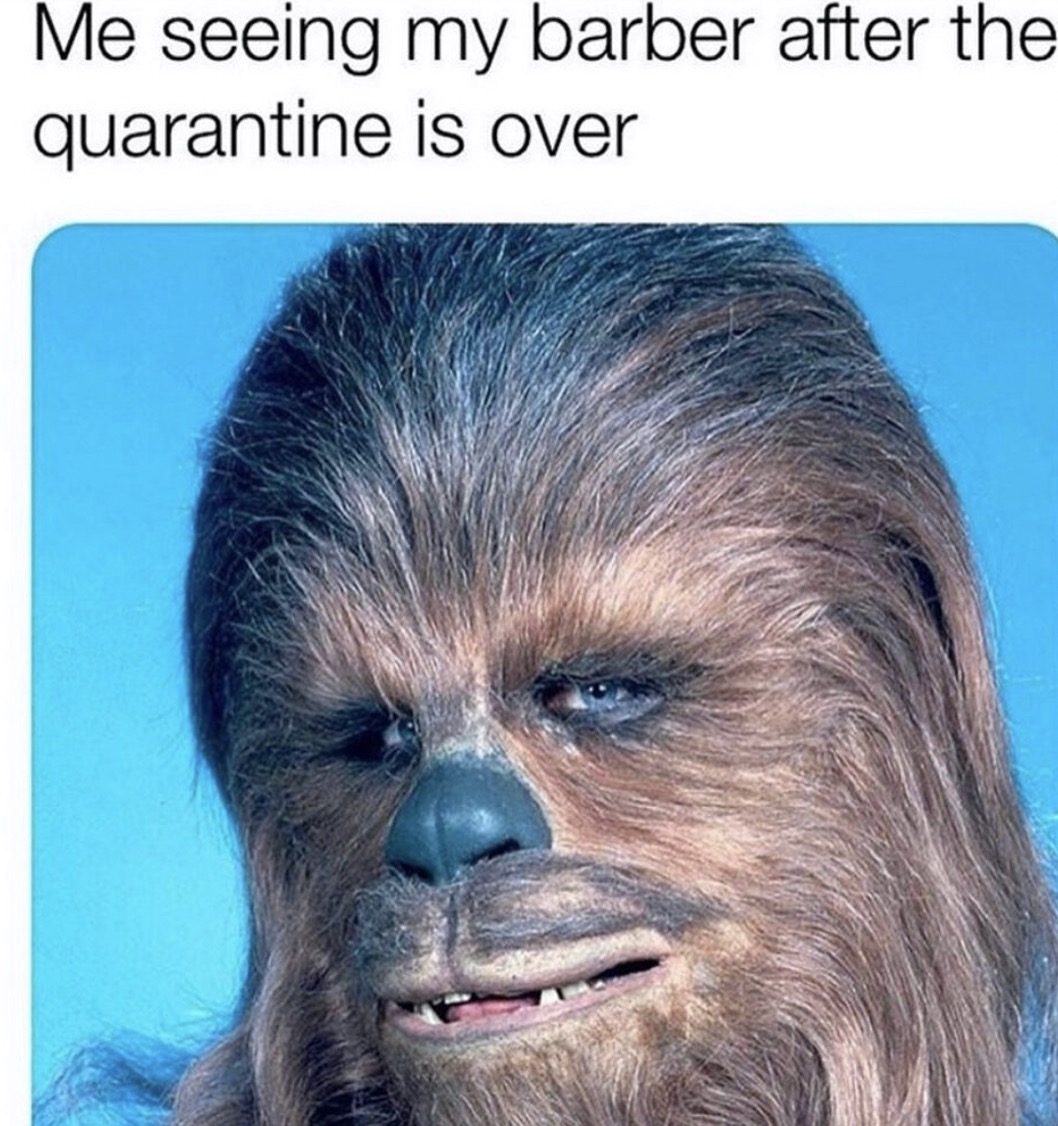 Verbal cues of the Dark Humor source code include:
Dark jokes about…
Stimulus checks and the economy
Impatience with how long this is lasting
Poking fun at the "Imagine" video
Being stuck in your apartment
etc.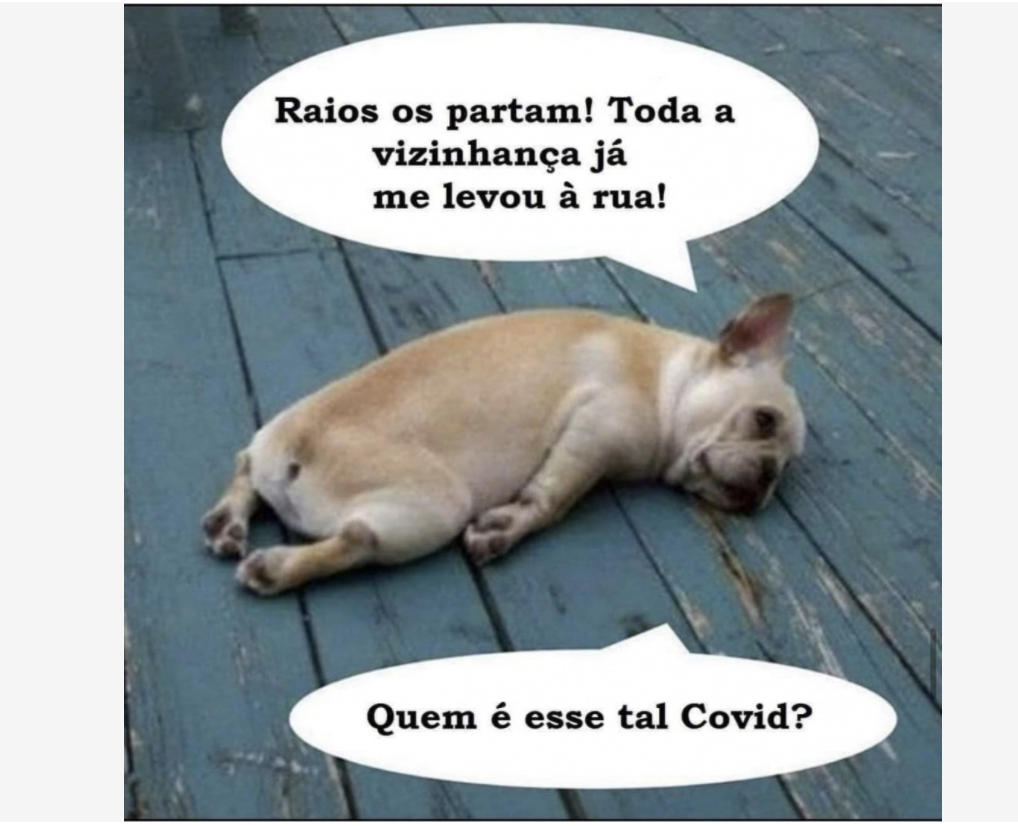 Sónia Marques (Portugal) sent the globally popular meme shown above, in which a dog — exhausted by having been taken for a walk by everyone in the neighborhood looking for an excuse to get out of the house — enquires, "Who is this asshole Covid?" Samuel Grange (France) sent the same meme.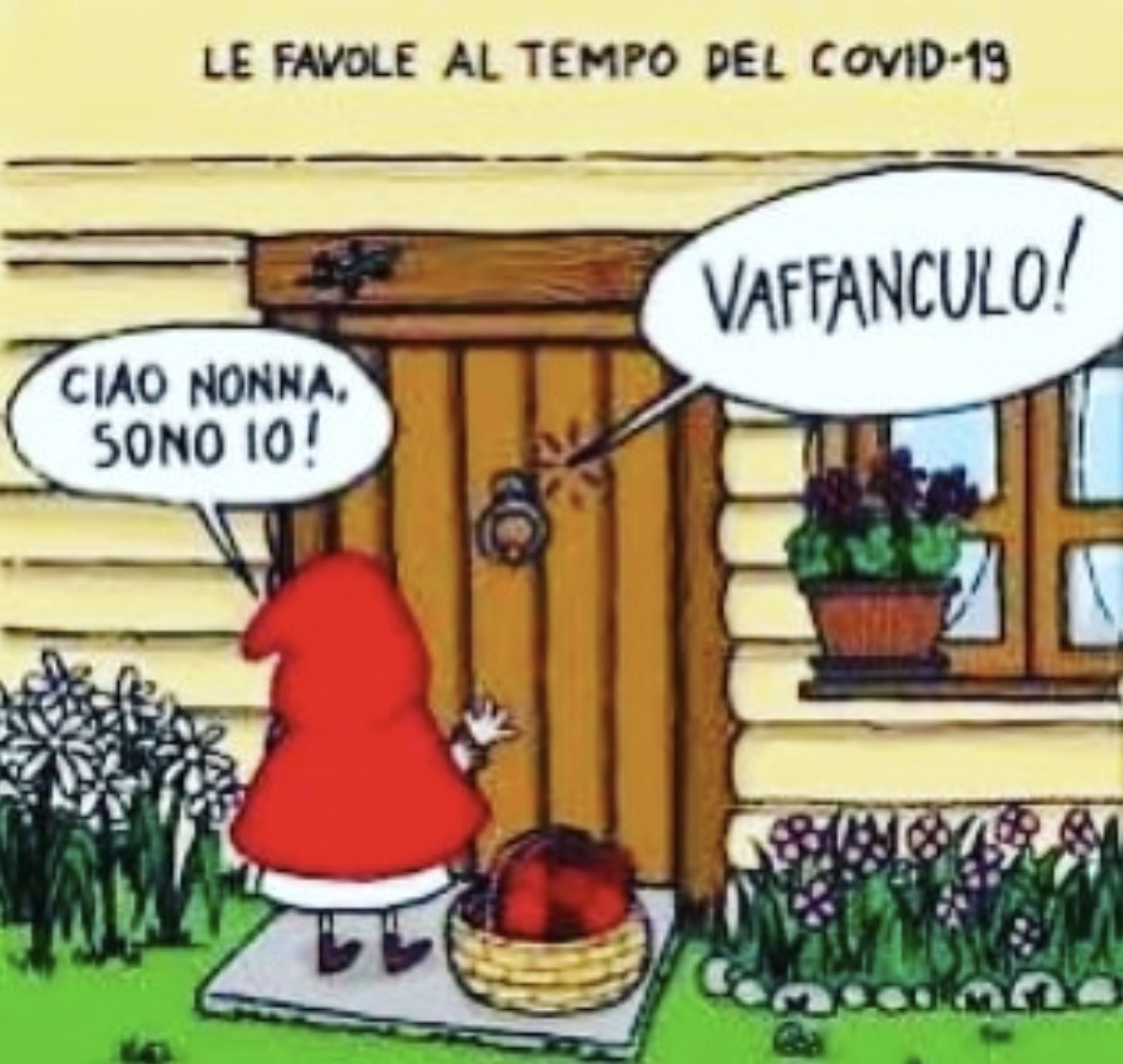 Daria Arkhipova (Russia/Italy) notes that, in Italy, it's customary to visit one's grandparents every week. However, when Little Red Riding Hood tries to visit "nonna" during Covid-19, she's told to "fuck off."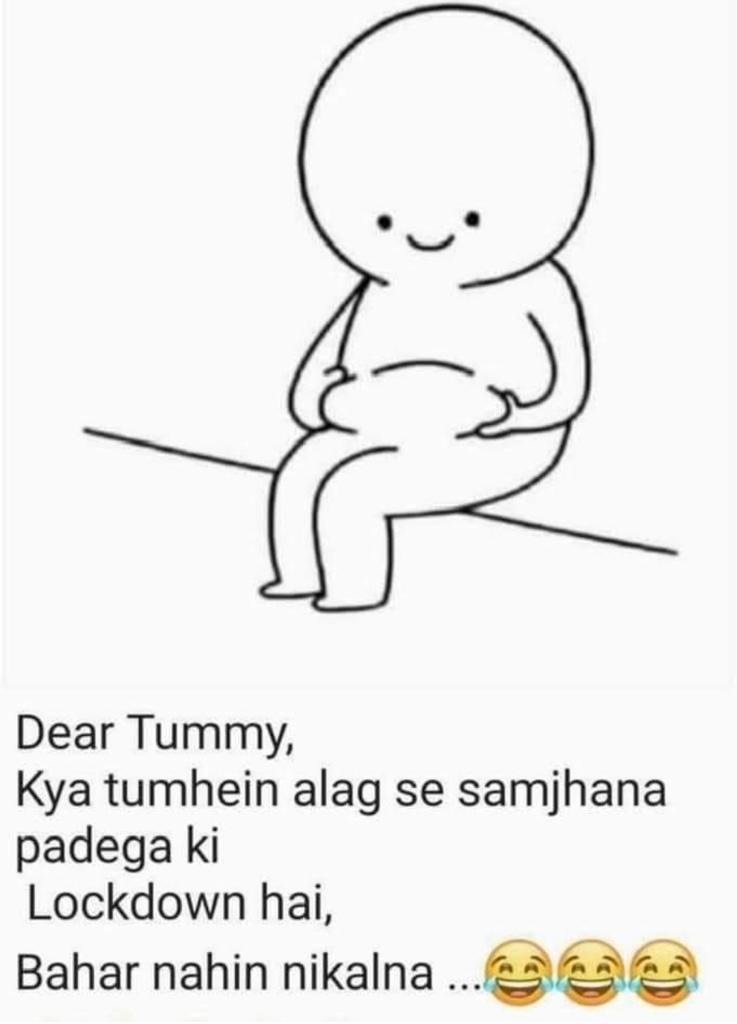 "Dear Tummy," we read in a meme sent along by Aiyana Gunjan (India), "I will have to explain to you separately — it's lockdown, do not come out."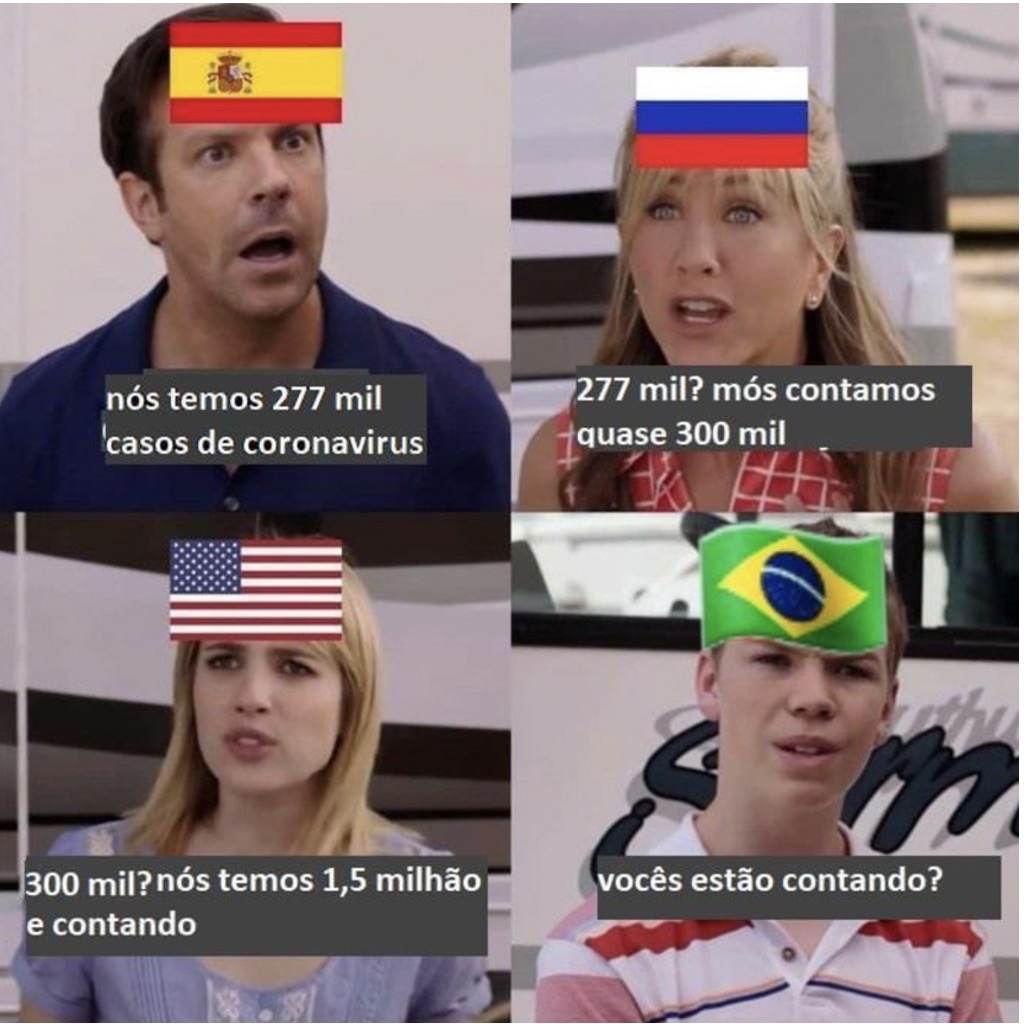 Mariane Cara (Brazil), sends along a Brazilian meme in which the characters from the movie We're the Millers react (or don't react) to the numbers of cases in their respective countries. "[Spain] 'We have 277 thousand cases of coronavirus.' [France] '277 thousand? We counted almost 300 thousand.' [USA] '300 thousand? We have 1.5 million and still counting.' [Brazil] 'Are you counting?'" (This is very dark humor, indeed. Note that the US, Brazil , and France currently have the highest number of cases, while the US and Brazil have the highest numbers of Covid deaths globally.)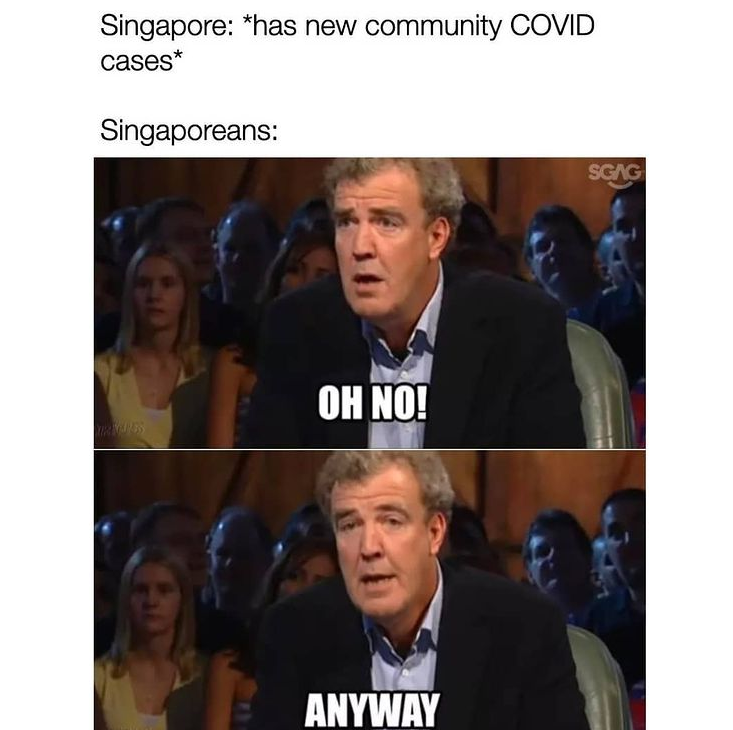 Meanwhile in Singapore, where the Covid-19 death rate is the world's lowest, Wei Fen Lee (Singapore) notes that "although the government continues sending updates through Whatsapp, there has definitely been decreased concern and attention paid to these messages. This is in stark contrast to April/May last year, when the numbers were high on a daily basis (going up to 200 or more a day), and attention was paid more to where the clusters were, and the news at hand. "
Tuning Out
The Tuning Out source code's norm (idea, value, higher-order benefit) can be described as follows: Staying focused, calm, and productive means ignoring the news, at least some of the time.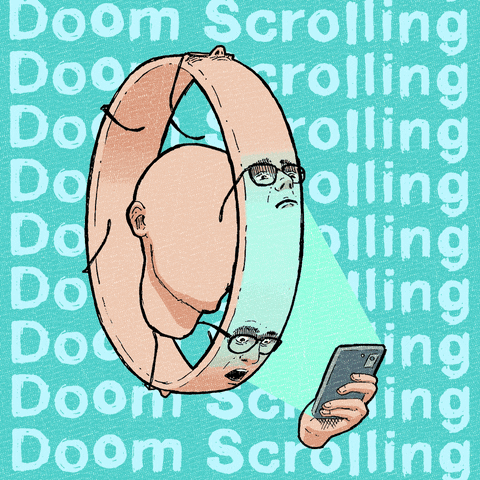 Visual cues of the Tuning Out source code include:
People reading news websites or newspapers with unhappy looks on their faces
Visual metaphors for "news overload" or "news fatigue"
Verbal cues of the Tuning Out source code include:
Coronavirus news fatigue: "Coronavirus news fatigue is real and it could become a big problem"; "How much news is too much news these days?"
Soothing suggestions: "Tune out the quarantine-era noise." "Here's how to stay informed without being overwhelmed."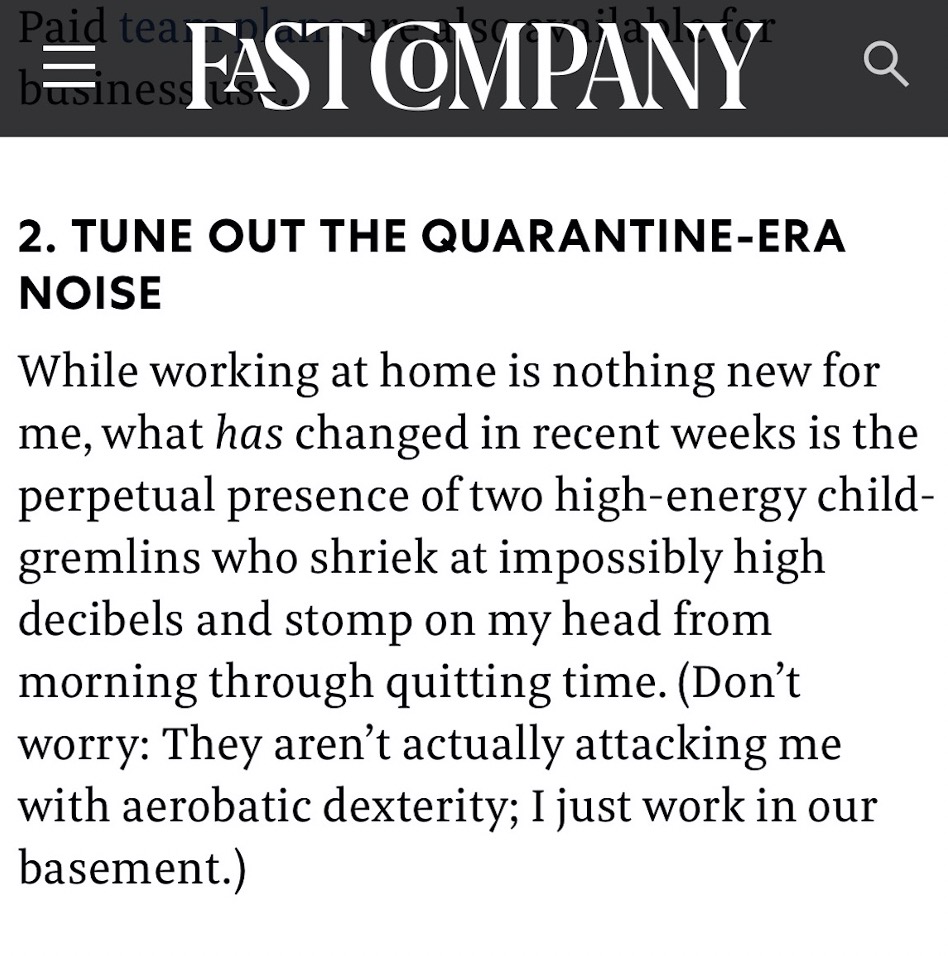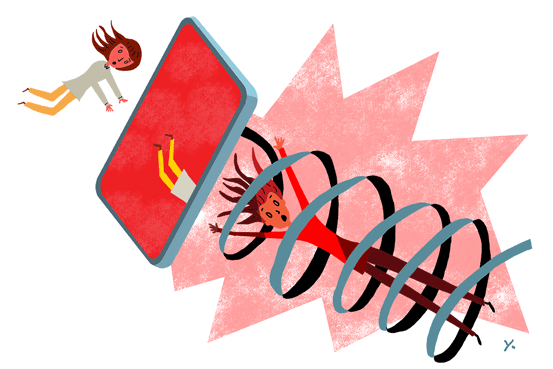 ---
Thank you for reading our Covid Codes series. Next week's installment will be on this theme: TRUE GRIT.
Also see these series: COVID CODES | SEMIO OBJECTS | MAKING SENSE WITH… | COLOR CODEX